Podcast: Story in the Story (1/3/2020 Fri.)
People's Daily app
1577987023000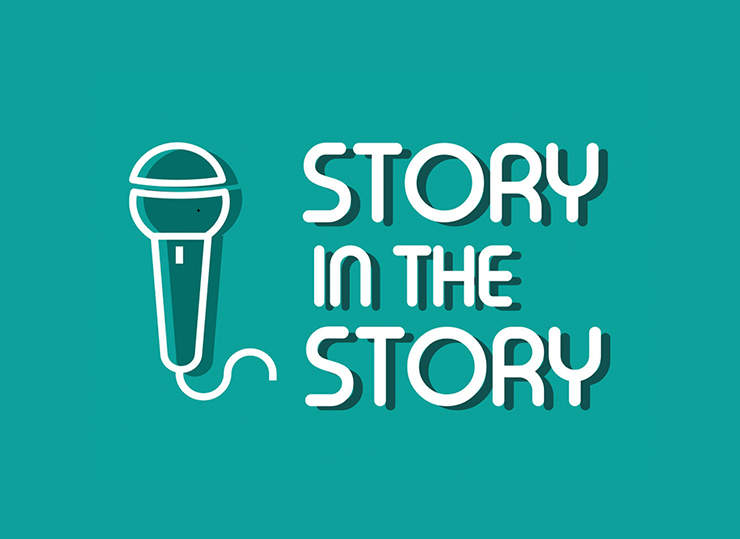 From the People's Daily App.

This is Story in the Story.
The proportion of teenage and young adult smokers in China has been increasing rapidly in recent years, which is an alarming trend, the president of the Chinese Academy of Medical Sciences said.
Last year, 18.6 percent of people aged 15 to 24 in China were smokers, compared with 12.5 percent in 2013 and 8.3 percent in 2003, said Wang Chen.
While there has been a general decline in tobacco prevalence among adults as a whole, he said the smoking rate in China is still higher than in most other countries.
Meantime, at a university in northwest China's Shaanxi Province, memes against smoking are taking the campus and Chinese social media by storm using a fresh and humorous approach.
"You won't find a girlfriend if you smoke," reads a slogan at the Xi'an Traffic Engineering Institute.
By doing this, the institute hopes to help students make more health-conscious choices as opposed to directly forcing them to give up smoking.
Today's Story in the Story looks at why health authorities are trying to make inroads on the number of Chinese smokers.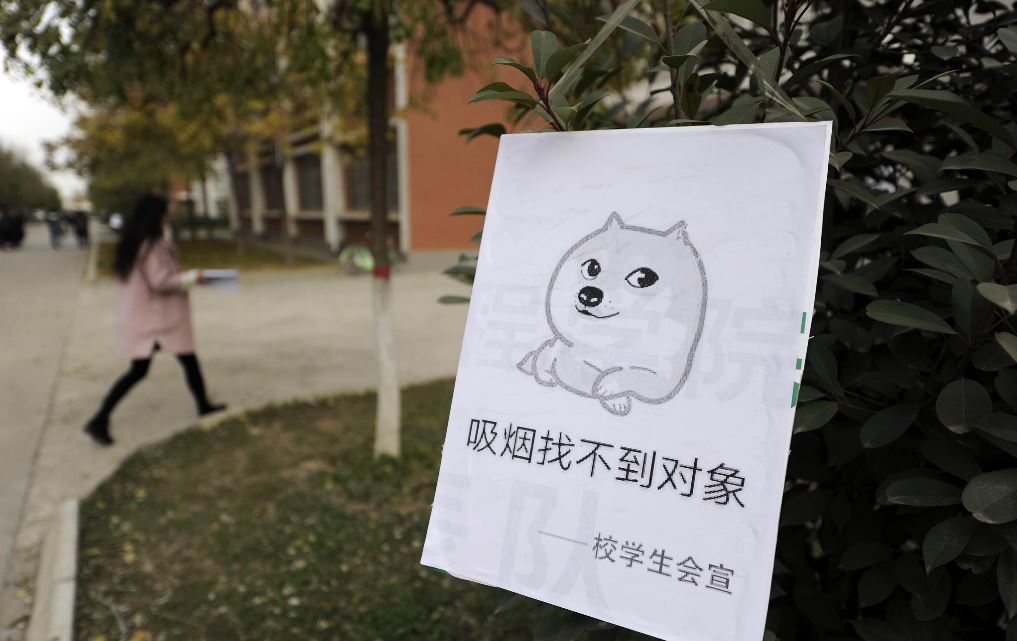 The meme "You cannot find a girlfriend if you smoke" can be seen on campus, which also went viral on Chinese social media. (Photo: VCG)
Smoking has been regarded as a major culprit in many chronic diseases, and tobacco control has played a significant role in health promotion efforts made in recent years by the Chinese government, which aims to reduce the smoking rate for people aged 15 and older to 20 percent by 2030.
He Jie, director of the National Cancer Institute, said smoking is one of the main reasons for the rising number of cancer cases in China in recent years.
"The smoke released when tobacco is burned contains hundreds of harmful substances, including at least 70 that can lead to cancer," he said.
In 2015, lung cancer alone caused 600,000 deaths in China, and about 43 percent of the deaths were attributed to smoking, he said.
Wang said a lot of young people are still not aware of the harmful effects of smoking, and more education is needed to reduce the rising smoking rate.
In addition, tobacco advertisements and rampant smoking footage in films and TV shows can also encourage smoking among teenagers and young adults, and they should be banned, he said.
Wang, also president of Peking Union Medical College, said experiences in countries such as the United States have proved that reducing smoking rates among the population can result in reduced incidences of cancer.
"Key groups, such as medical staff, schoolteachers, government officials and parents, should take the lead in quitting smoking to help create a nonsmoking environment for teenagers and young adults," he said.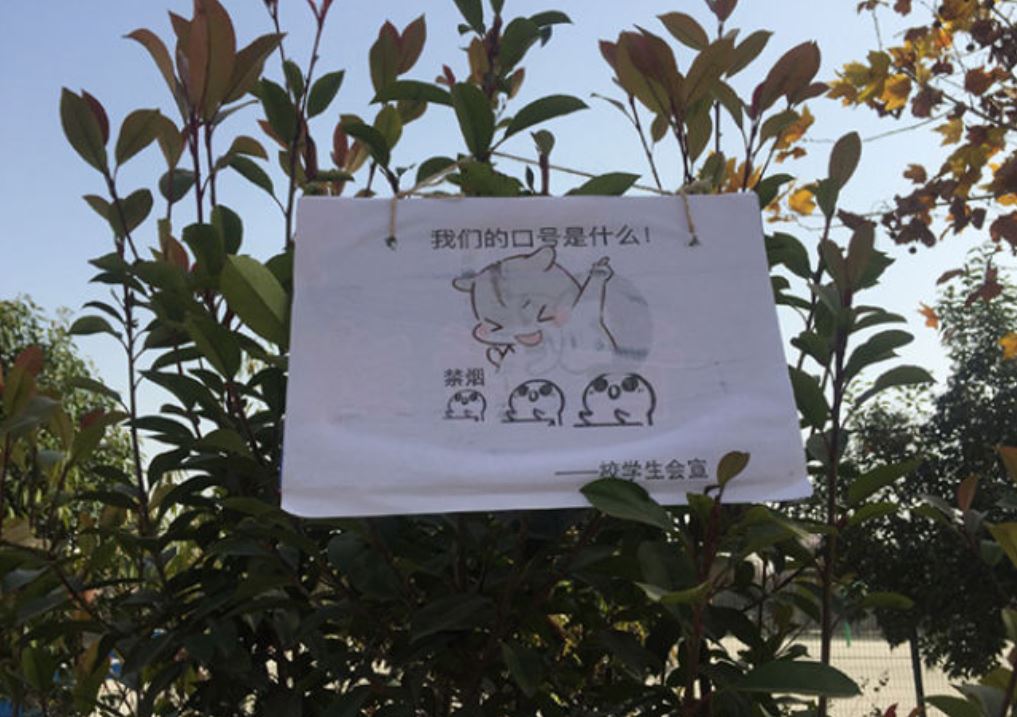 Another meme with a cute cat saying "What is our slogan? Banning smoking!" is seen on campus. (Photo via Weibo)
As the world's largest tobacco producer and consumer, China is home to over 300 million smokers, of which half of the men are regular smokers, and up to two thirds of them start smoking at a young age, according to estimates from the World Health Organization.
Various measures have been used in the past to regulate and control tobacco use in public spaces in the country. In major cities like Beijing, Shanghai and Shenzhen, various laws against indoor smoking have been introduced.
In an effort to combat this trend, the Xi'an Traffic Engineering Institute uploaded some memes on China's Twitter-like Weibo, garnering praise and outbursts of online delight at the campaign's creativity.
Chen Xiaonan (pseudonym), a sophomore at the university and one of the memes' designers, said that it was just a joke.
"There are so many great benefits to giving up smoking. Besides, for students who are single now, maybe they could find their boyfriend/girlfriend soon after they quit," Chen said.
"I think smoking really makes it hard for some people to find their partner," commented one student.
"We should focus on middle school students and help them get away from smoking since some of them are just motivated by curiosity from peer pressure," noted another. "After the age of 25, the rising pressure might drive them to start smoking."
In some encouraging news, the percentage of smokers aged 15 and older last year in China was 26.6 percent, down from 27.7 percent in 2015, according to a report released by the Chinese Center for Disease Control and Prevention.
(Produced by Nancy Yan Xu, Brian Lowe, Lance Crayon and Paris Yelu Xu. Music by: bensound.com. Text from China Daily and CGTN.)