​Roads, tourists & chestnuts revitalize villages at foot of Great Wall
People's Daily app
1599575772000
It is an awe-inspiring feat of ancient defensive architecture. The Great Wall of China vends its path over the rugged country and steep mountains of North China.

Villages at the foot of the Great Wall in Hebei Province were once mired in poverty. But today those villages have been transformed by new roads and tourism ventures to add a new dimension to scenery at the foot of the Great Wall.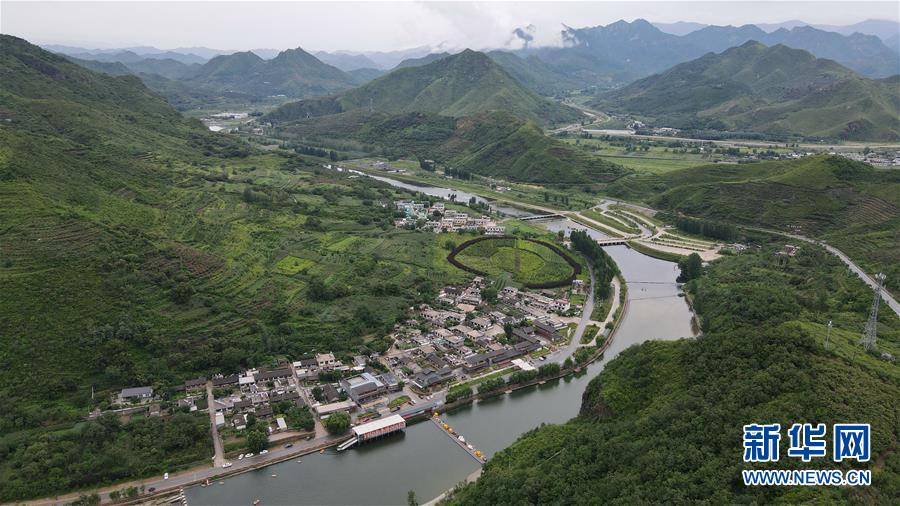 Aerial view of Fangzhuang Village in the city of Qinhuangdao, Hebei Province, on August 19. (Photo: Xinhua)
Rational resources
Dongjiakou in Haigang District of Qinhuangdao is close to the Great Wall. This village of 460 people sells more than 60,000 roast lambs a year to Tangshan, Jinzhou, Huludao and other places across the country.
Since roads first opened up the village a few years ago, tourists have been coming to appreciate the rural environment surrounding the Great Wall.
Today nearly 30 households in the village operate agricultural entertainment businesses.
Among the first to try was Sun Lili. The days of villagers depending on the weather and unable to pay tuition fees are gone, Sun said.
Today the village's per capita annual income has exceeded 10,000 yuan ($1,460).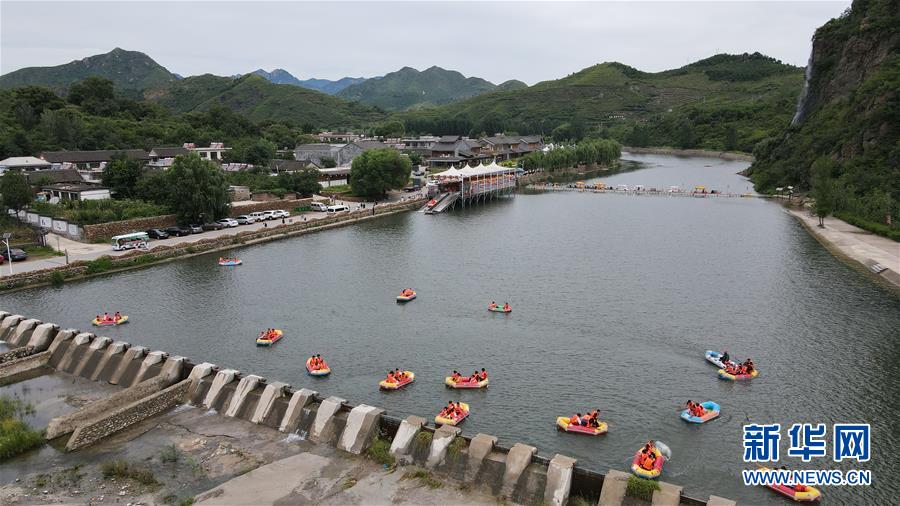 Tourists raft at Fangzhuang Village in the city of Qinhuangdao on August 20. (Photo:Xinhua)
Fangzhuang in Haigang District has grown richer from the tourism boom.
The village's per capita annual income has hit 20,000 yuan, 20 times more than a decade ago.
Previously the roads were potholed and the riverbanks were dirty. Young people tended to seek their fortunes outside the village, leaving behind the old and young.
Not anymore. With the improved environment, tourists have been coming and young people are returning home.
Fang Wenping was one of the villagers who returned home. Fruit and vegetable picking, mountain rafting and winter skiing earn Fang more than 15 million yuan ($2.19 million) annually.
The village has also set up a cooperative to offer home stays in idle houses with changed bedding and toiletries. The villagers sell their fruits and wild vegetables. In this way, all villagers have benefited.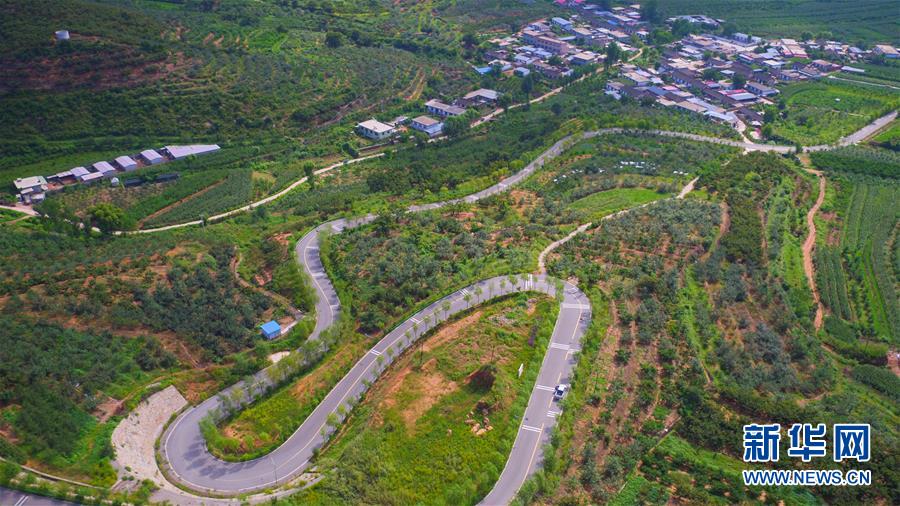 The Great Wall tourist road in Haigang District, Qinhuangdao City, on August 28. (Photo: Xinhua)
Baiyangyu in the city of Qian'an, home to an important strategic pass of the Great Wall, is another popular destination for tourists.
More than 40 years ago, nearly half the village's arable land was destroyed by a flood and the villagers had to rely on grain from the state for 10 years.
Today more than 70 percent of the villagers lead an official "well-off life" with the new roads, restoration of the Guanyin Pavilion, Great Wall preservation and professional management.
Cherishing history
Xu Guohua, a former coal baron from Banchangyu Village in Haigang District of Qinhuangdao, closed his mines 20 years ago to reinvent himself as a protector of the Great Wall.
At the foot of the wall, he accidentally found a Great Wall kiln, stone mines and cannons.
Banchangyu villager Xu Guohua at the Great Wall on August 21.
Xu has invested his coal profits in the construction of the Banchangyu Great Wall scenic area and built a pavilion at his own expense to house more than 1,300 cultural relics including Great Wall defense weapons, fire spears, bricks and tablets with carved words.
All were handed over to the cultural relics department for guidance and management. The Banchangyu Great Wall scenic area authorities have promoted farm business and local products sales in the village.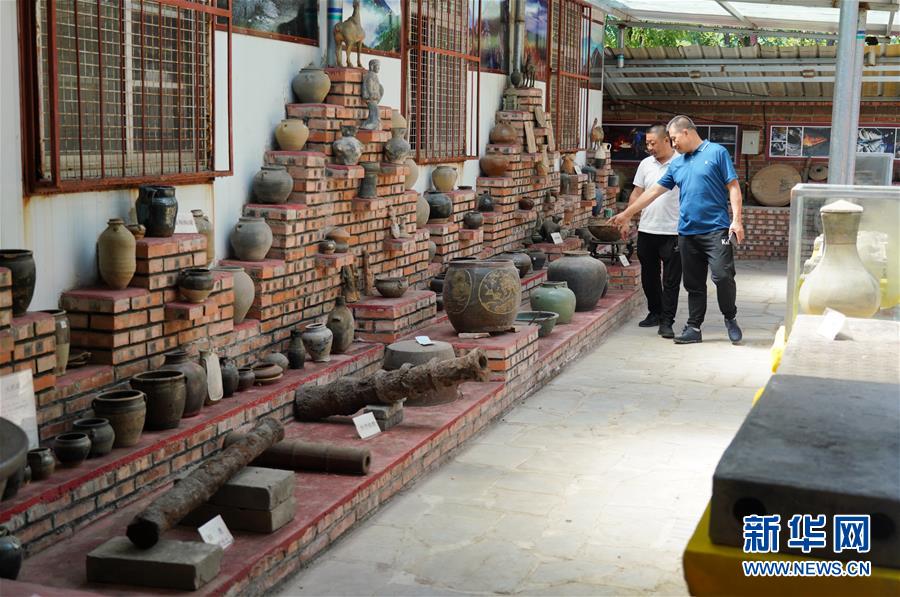 Tourists visit the Great Wall cultural relics exhibition hall established by Xu Guohua in Banchangyu Village on August 21. (Photo: Xinhua)
"In the past, it was common for people to demolish the Great Wall for bricks to build a pigsty, whereas villagers now work as voluntary protectors," said Beiyingzi Village Communist Party of China (CPC) Secretary Li Chengsuo.
The Great Wall is a cultural symbol of the Chinese nation, said Chen Yuguo, director of the Qinhuangdao publicity bureau.
Protecting the Great Wall benefits the people, Chen said.
'Notorious' village
Xuliukou in the city of Qian'an used to be notorious as a poor village of bachelors.
Today it has grown rich off Great Wall tourism, tofu technology and tilapia breeding in hot springs.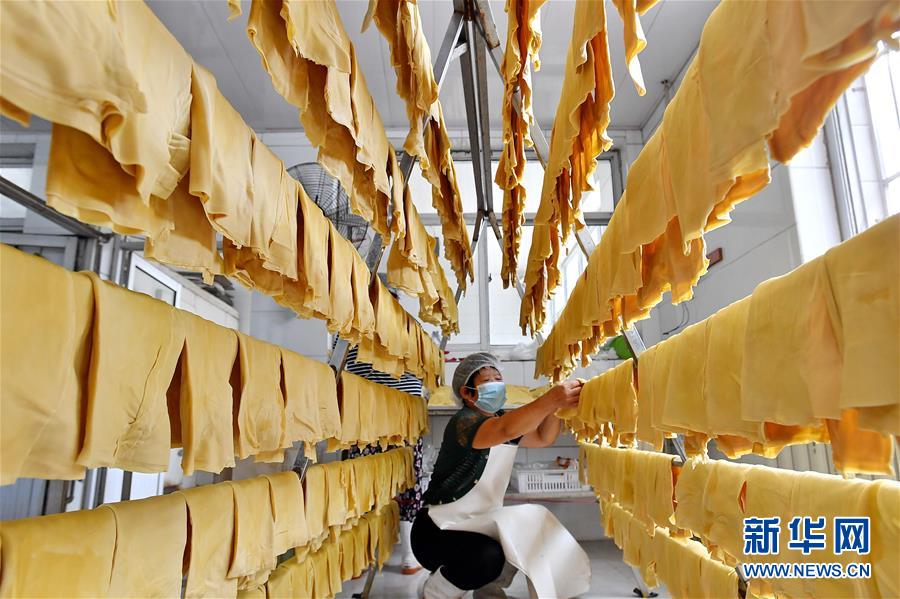 Villagers tend beancurd in a workshop in Xuliukou Village, Qian'an city on August 25. (Photo: Xinhua)
Longquanzhuang was another poor village in Haigang District. Wen Shouwen, CPC secretary of the village, promoted "green revitalization": digging wells to tackle the water shortage, building ditches, farmland and roads.
The once-barren mountains today are covered with chestnut trees. Villagers average 500 chestnut trees each, which can earn them more than 20,000 yuan annually.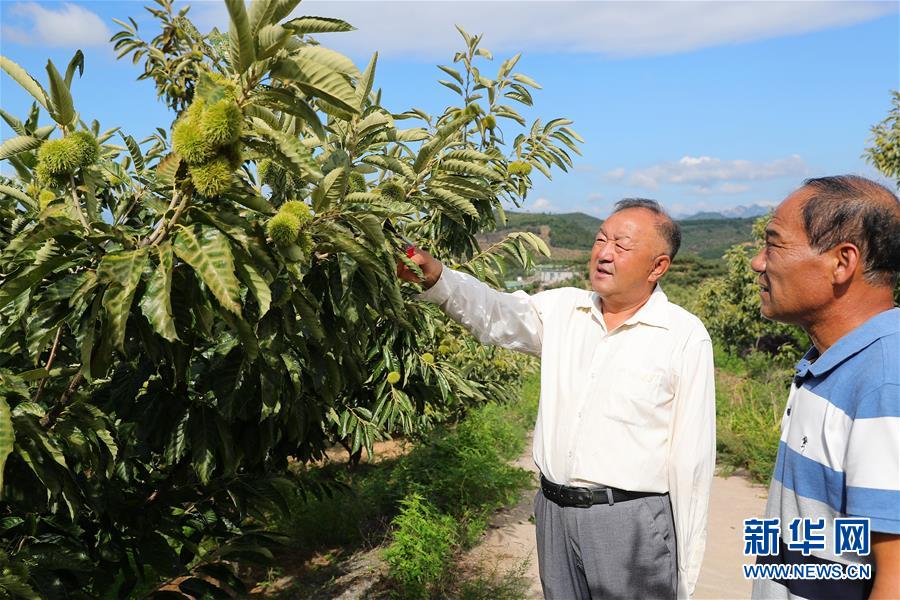 Longquanzhuang CPC secretary Wen Shouwen (left) shares chestnut skills with villagers on August 28. (Photo: Xinhua)
Haigang District authorities in Qinhuangdao have invested 700 million yuan to build a 175-kilometer tourism road along the Great Wall, connecting more than 40 villages, according to the district CPC Committee Secretary Fan Haitao.
Meanwhile, the government has strengthened river management and water conservation.
"A road leads villagers to prosperity," Fan said. "A dam brings vitality to a village."
Ji Yang, a professor of Northeastern University at Qinhuangdao says "Great Wall spirit" has been growing.
"The broad masses of cadres and people at the foot of the Great Wall have a kind of indomitable, brave and promising energy," Ji said.
(Translated by Wang Pengda. Edited by Huang Jingjing. Original story from Xinhua)