Why are HK residents and police calling for anti-mask laws?
Helmets, goggles and masks are essential equipment for those taking part in protests in Hong Kong, with a number of these items even selling out. As demonstrations spiral into violence, legal experts and concerned residents are once again calling for the introduction of anti-mask laws.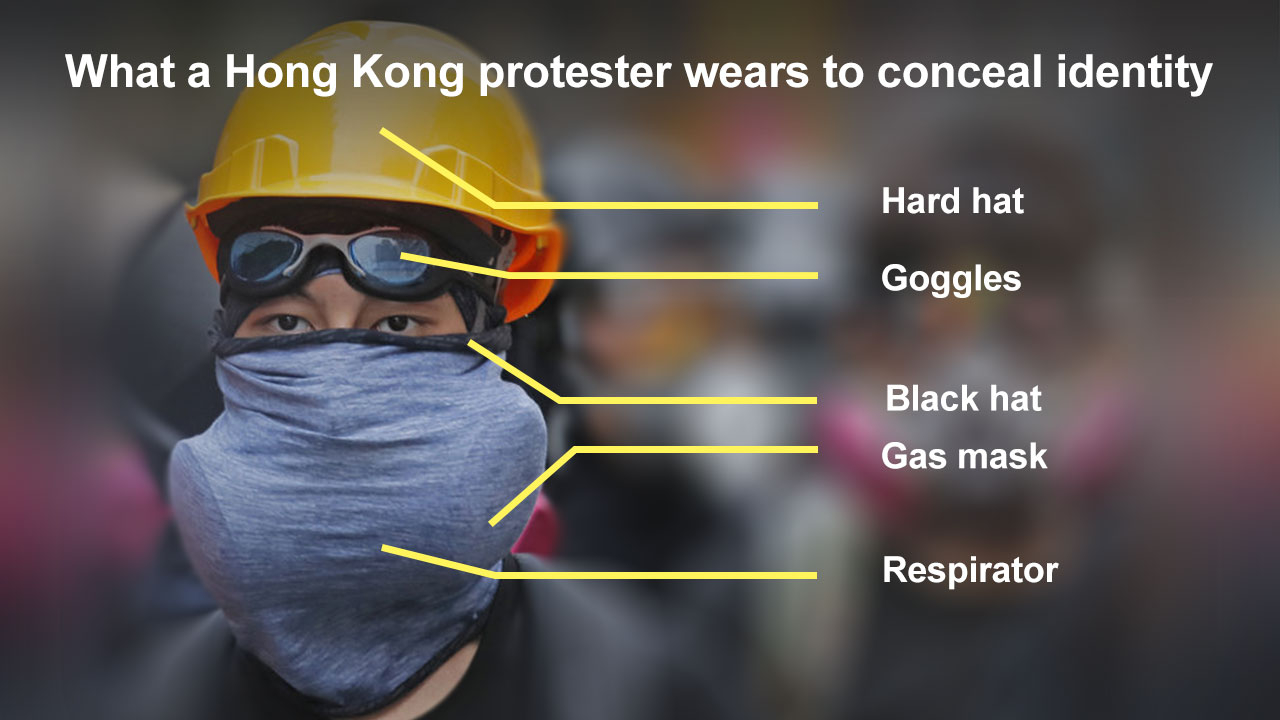 Poster: CGTN
Similar regulations are already in place in at least 15 countries, including France, Germany, Canada, Australia, Sweden, as well as dozens of states in the United States. France, for example, backed a bill banning protesters from hiding their faces during unlawful assemblies in 2010, with many legislators saying people are more likely to turn violent when they are masked.
The French law now bans wearing face-covering headgear, including masks, helmets and balaclavas in public places. Violators face one year behind the bars and up to 15,000 euros in fines.
Anti-mask laws around the world

Poster: CGTN
During riots or chaotic assemblies, police are always reactive, which means when protesters go violent, officers cannot identify and stop them for wearing a mask. The anti-mask law, according to experts, could assist police in attempting to identify people who engage in vandalism or other illegal acts so as to deter lawful protests from turning into riots. The law could also give police an added tool to protect themselves from being attacked without rioters being punished.
Many jurisdictions around the world have clearly noted that wearing masks at protests is a criminal offence.
In the United States, at least 15 states have anti-mask regulations. The first statewide law originated in 1845 in New York, making it a crime for any person to "appear in any road or public highway, or in any field, lot, wood or enclosure" with their "face painted, discolored, covered or concealed" or disguised in any manner to hide their identity. The police in New York City cited the mask law while arresting at least five people associated with the Occupy Wall Street movement in 2011 and 2012.
Many critics say anti-mask laws in foreign countries mainly target Islamic extremists not ordinary citizens, and posit that the anti-mask ban will not help solve problems in Hong Kong but instead add fuel to the fire instead.
Such claims do not hold water. Countries ban face coverings to better manage rallies, assemblies, marches and demonstrations. Those covering their faces for religious, weather, health and other legitimate reasons are not covered by the ban.
Sweden's anti-mask laws prohibit participants in demonstrations from fully or partially covering their faces in a way that complicates identification. The prohibition applies "only if there are disturbances of public order at demonstrations, or if there is an immediate danger of such disturbances." It does not apply to the covering of the face for religious reasons.
In February 2012, the Liberal and Conservative parties of Canada voted unanimously in favor of the legislation of Bill C-309, which made it illegal to wear a mask or otherwise to conceal one's identity during a riot or unlawful assembly. The offender may face a penalty of up to 10 years in prison. However, exceptions can be made if someone can prove they have a "lawful excuse" for covering their face such as religious or medical reasons.
In European countries like Germany, France, Sweden, Denmark, Austria and Italy anti-mask laws not only target Islamic extremists, but also violent protesters who attack police, vandalize public facilities and wreak havoc on the streets.
Hong Kong calls for a similar law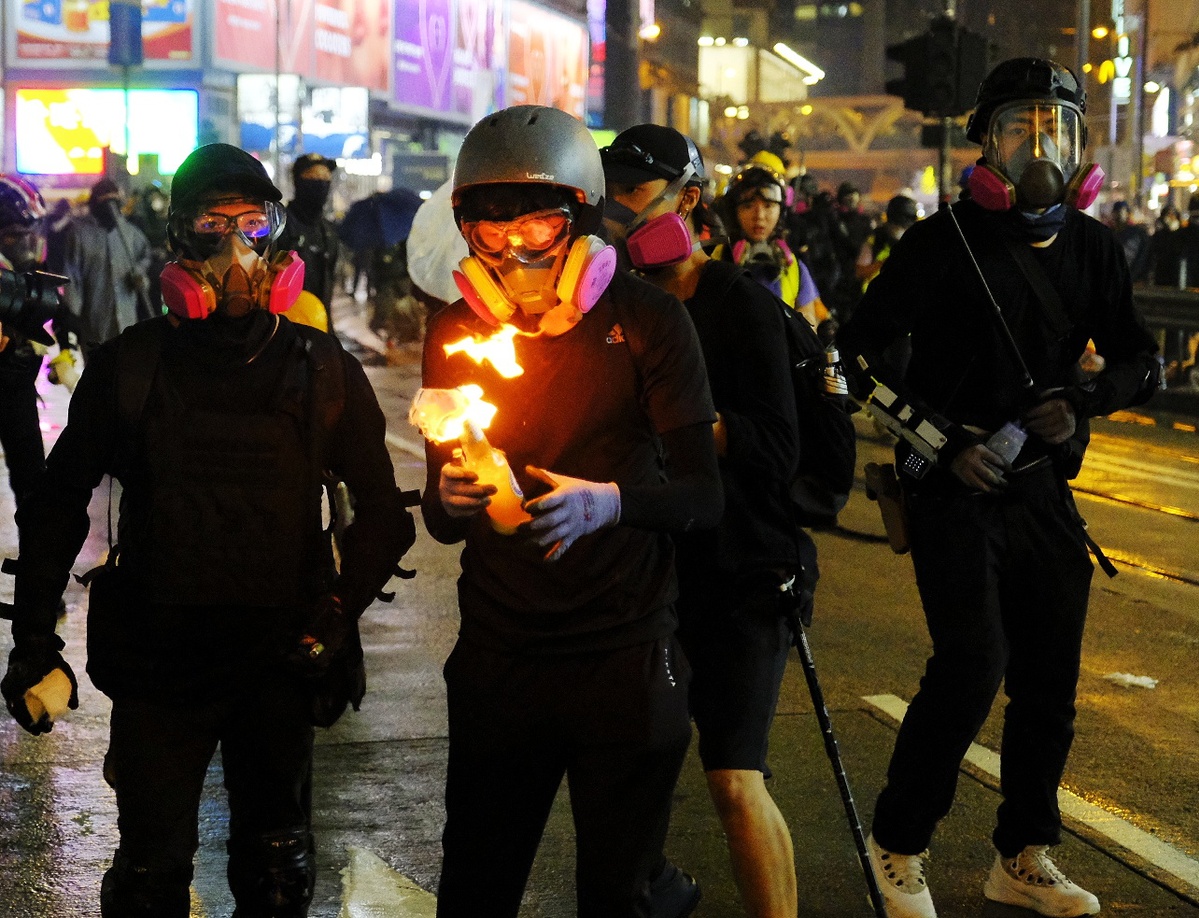 A protester prepares to throw a Molotov cocktail to the police at Causeway Bay in China's Hong Kong Special Administrative Region on Saturday. (Photo: Xinhua)
Hong Kong has long enjoyed the reputation as one of the safest cities in the world, firmly safeguarding the rule of law and social stability. However, the recent turmoil, many believe, has seriously damaged their sense of safety, and posed severe threats to HK's rule of law.
As a result, there are growing calls for local authorities to introduce anti-mask legislation and enforce it as soon as possible.
Thousands of residents in Hong Kong signed a petition last month urging the special administrative region (SAR) government to pass legislation that would ban the wearing of masks by demonstrators.
Two local non-governmental groups named Hong Kong People in Politics and Attention Group on Anti-Mask Law also petitioned to HKSAR Chief Executive Carrie Lam outside the government headquarters last Wednesday, urging authorities to adopt an anti-mask ban in accordance with international standards.
They held slogans such as "Masks only benefit crime, not law enforcement" and "One does not need to hide their face when demands are legitimate." Some raised banners, others shouted "Follow international standards, ban masked demonstrations."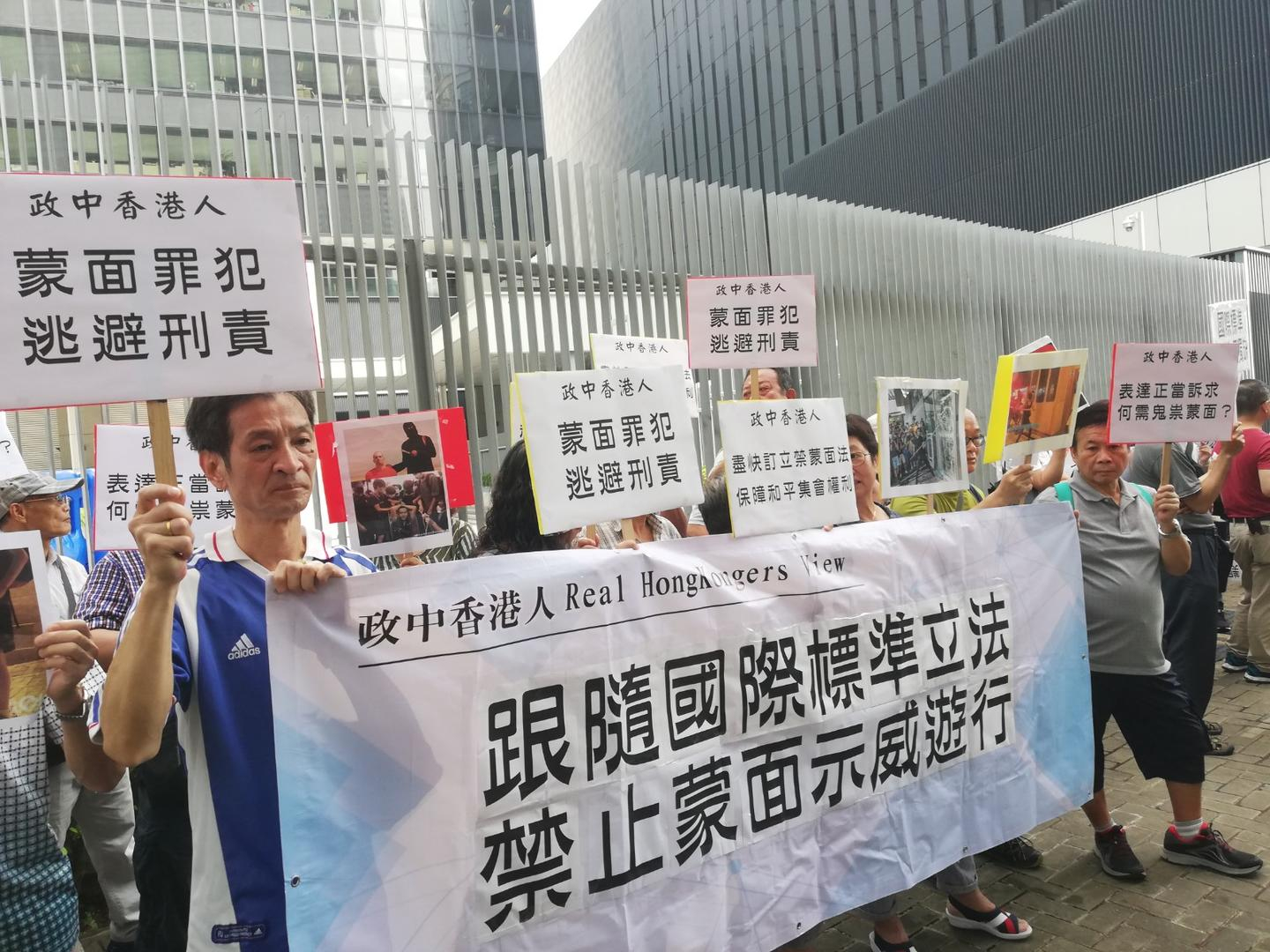 Demonstrators rally, calling for anti-mask laws in Hong Kong, August 28, 2019. (Photo: Xinhua)
A spokesperson for Hong Kong People in Politics said that peaceful demonstrations have turned violent in the past two months, with some violent demonstrators damaging public facilities and attacking police. However, it's difficult for police to identify them when they wear masks or hide their faces with heavy face-covering devices.
Kacee Ting, barrister and the executive council vice chairman for Hong Kong Legal Exchange Foundation told CGTN that violent protesters are now abusing Hong Kong's legal system, and suggested that it's possible for the HKSAR government to use its emergency powers, which could put anti-mask laws into place, authorize the government more power to arrest and detain any wrongdoers, and control any kind of properties suspected of being used to facilitate violent acts.
"With violence escalating, police are facing more difficulties in law enforcement. Every case requires evidence. If one is masked, how do the police collect evidence? How do they prove a person is involved in violence illegally? So, an anti-mask law is critically necessary," said Luk Soon-hung, a legislator of HKSAR.