HK police arrest five for informing rioters of police deployments
Hong Kong police said they have arrested five people suspected of being members of a mob that used private radio channels to inform violent protesters of police deployments. Police warned citizens that assisting rioters who commit violence is illegal and could result in a sentence of up to 10 years in prison.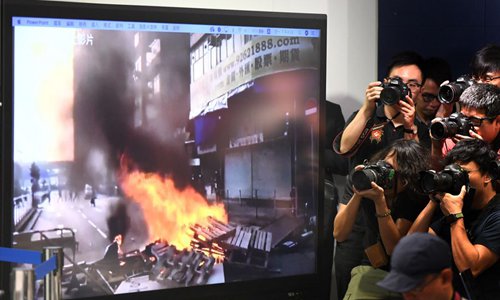 An evidence image of vandalism and arson by rioters is shown by Hong Kong police at a press conference in south China's Hong Kong, Oct. 21, 2019. (Photo: Xinhua)
Hong Kong Police announced on Wednesday on Facebook that three men and two women were arrested on multiple charges including aiding and abetting rioters, violating telecommunications ordinances, possession of fake firearms and possession of offensive weapons.
Police said they seized a radio transceiver, antenna and high frequency radio walkie-talkies at a residential apartment in Sau Mau Ping, Kwun Tong District, which is believed to have been the headquarters of an underground mob, Hong Kong media takungpao.com reported on Thursday.
Police said they arrested one of the leaders and a member familiar with radio communications in Happy Valley, Wan Chai District. In Tsim Sha Tsui they arrested another member of the mob who was in procession of a large quantity of weapons including four axes and a pellet gun, the report said.
The mob is suspected of providing information on police deployment since October, including the location of police vehicles and the number of officers at a location. The information was used by rioters to attack police and evade arrest, Hong Kong media outlet on.cc reported Wednesday.
Police told a press conference on Wednesday that members of the mob were assigned different duties. Some set up a wireless network with relay equipment positioned at high points in the city to expand radio coverage, other members were "callers" who messaged protesters, and some handed out walkie-talkies to protesters.
At the press conference police warned citizens that those who assist protesters in any manner, including offering money, providing supplies, helping protesters disguise their appearance and harboring lawbreakers, could be charged with violating the law.
Police warned citizens who assist people who commit violence could be sentenced to up to 10 years in prison, takungpao.com reported.
The police said that all the radio equipment involved in the case has been tested and their investigation is continuing.
According to Hong Kong legislation, a licensed radio operator who uses a radio transmitter in an unauthorized manner could be fined and sentenced to two years in prison.