Expert on virus outbreak: Hidden turning point of its rise exists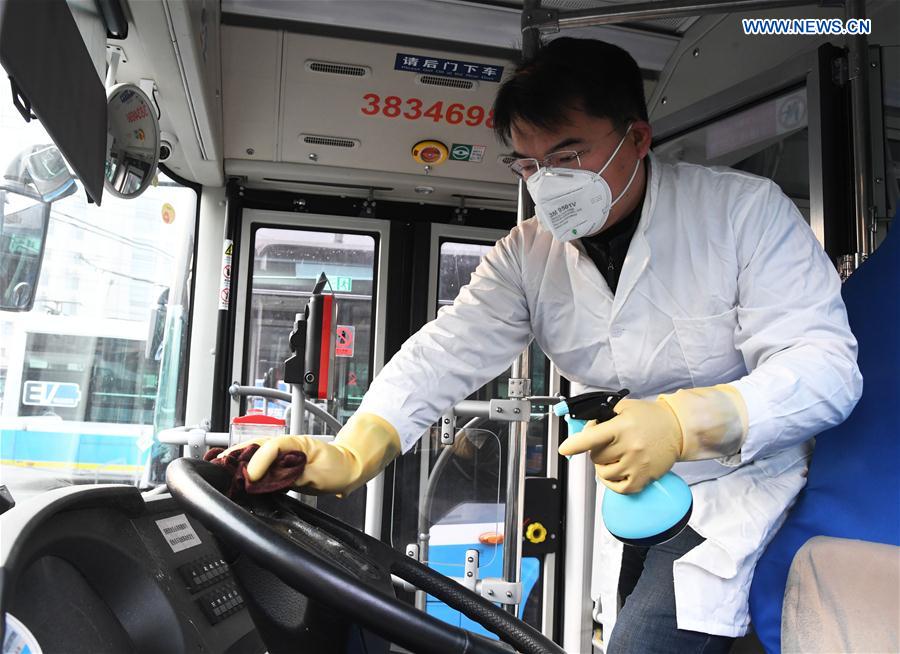 A staff member disinfects a bus at a bus station in Beijing, capital of China, Jan. 27, 2020. (File photo: Xinhua)
The turning point of decline of the current novel coronavirus outbreak has appeared. Still, there is a hidden turning point of its rise, Zeng Guang, chief epidemiologist at the Chinese Center for Disease Control and Prevention (China CDC) wrote on China's social media platform Weibo on Wednesday.

Zeng said that the "turning point" represents the epidemic variation trend. It's a point-in-time.
"There's no need to complicate the idea of turning point," he wrote, adding that the appearance of a turning point doesn't simply mean that the big picture is settled.
Areas outside of Hubei Province have seen a decline in confirmed cases for eight consecutive days from February 4 to 11, according to the National Health Commission.
The expert explained that the turning point is based on the number of confirmed cases. Before being diagnosed, every patient had to go through the process of exposure, infection, incubation period, onset, and being confirmed.
"The actual turning point should have occurred much earlier," Zeng said.
Chinese respiratory expert Zhong Nanshan predicted Tuesday that the outbreak will reach its peak in mid-to-late February, based on data model analysis, adding that it's hard to say when the turning point will appear.
Zeng wrote that experts of different specialties may have different perceptions about the turning point.
"As I know, experts from China CDC have been analyzing the turning point based on definite diagnosis time and onset time of patients," he explained. "The turning point of decline appeared on January 23, three days after the lock-down of Wuhan, as time goes on, this turning point becomes more and more clear."
Zeng predicted that the turning point of its rise is hard to be avoided since people are returning from their extended holidays.
"We can't underestimate the negative impact of the movement of 160 million people on the outbreak, areas of Pearl River Delta, Yangtze River Delta, and Beijing-Tianjin-Hebei Region will be the first to be affected," he said, adding that people travel in sealed environment such as long-distance buses, planes, and trains, are easy to be infected by the virus.
The expert wrote in the post that there would be an incubation period between the return travel peak and the turning point of its rise.
"There might be a week of latency based on the definite diagnosis time," he said.