Chinese overseas advised by physicians from home
Chinese medical experts have been working to provide medical information online to citizens stranded overseas as the pandemic accelerates its spread globally.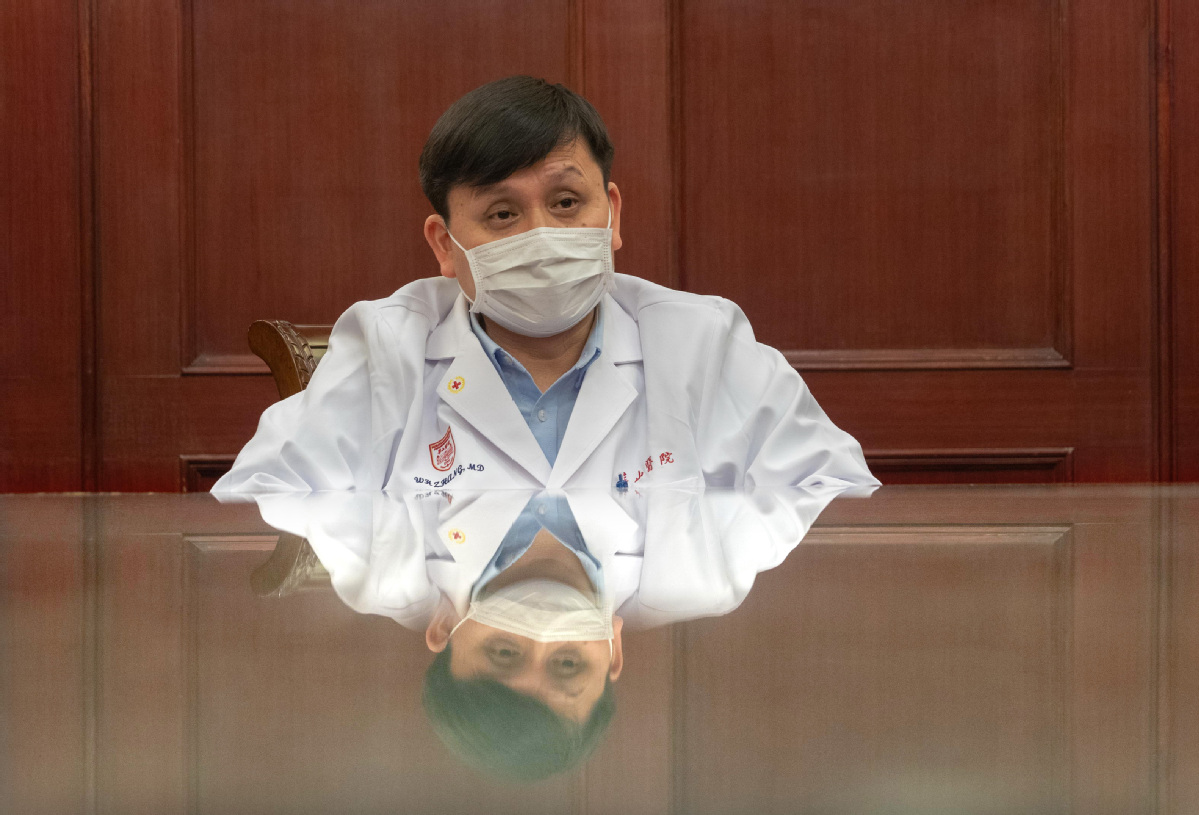 Zhang Wenhong talks about his insights on the control of the novel coronavirus pneumonia on Feb 26, 2020. (Photo: China Daily)
In Shanghai, Zhang Wenhong, leader of the Shanghai team of experts in the treatment of COVID-19 cases, answered questions online from Chinese in the United States on Thursday night. Zhang was invited by China Central Television to join a livestream with four Chinese in New York and California, Utah and Washington, respectively.
The show, which lasted for nearly two hours, got millions of views on social media. Zhang, also head of the infectious diseases department at Huashan Hospital in Shanghai, answered questions such as when will cases peak in the US, how to protect yourself, whether to wear a mask and should they return to China.
"It's hard to predict the turning point for the rising cases of infection in the United States because it'll depend on implementation of social distancing and other quarantine policies. The peak might come as early as in 10 to 14 days, but it could also come late, after four weeks."Zhang said, adding that the later it comes, the heavier the burden it will place on the US medical system.
The number of coronavirus infections in the US reached 85,996 on Friday, according to Johns Hopkins University in Baltimore, Maryland, overtaking China to become the country with most cases.
Zhang said he thinks the best preventative practice for the public is to stay at home and to avoid physical social gathering.
"Close contact is the main cause of contracting the disease. That's why the infection happened mostly within family members in China, and that also explains why young people, who love to be social, have relatively higher infection rates in the US," he said.
In reply to questions about medicine, he said, "the best 'drugs' to treat COVID-19 are water, eggs, milk and sleep," he quipped. He warned people not to buy hydroxychloroquine or chloroquine, medications for malaria and arthritis that are experimental for treating COVID-19 patients, because they haven't been proved effective in clinical trials and might have serious side effects.
Zhang also answered worries about Americans not wearing masks. Zhang said so long as people practice social distancing and avoiding social gatherings, wearing a mask is not necessary.
"It's more of a cultural issue, and if you cannot change others' behavior you have to adjust yourselves," he said.
In Europe, Chinese people living in Italy, a country hit hard by the outbreak, heard practical suggestions about self-protection from front-line doctors from China. A medical team of 12 experts from Zhejiang province arrived in Milan, Italy, on March 18. The team gave a one-hour online lecture to overseas Chinese on Wednesday.
More than 1,200 people, mostly Chinese students in Italy, listened via the internet and interacted with the doctors.
Qiu Yunqing, the leader of the Zhejiang medical team in Italy and executive vice-president of First Affiliated Hospital of the Zhejiang University School of Medicine in Hangzhou, said the best way to minimize the risk of being infected by the coronavirus is to stay at home.
Qiu advised Chinese people overseas not to rush back to China unless the trip is absolutely necessary.
"The risk of coronavirus infection could be higher on the way to China than at home," Qiu said.
Yang Junchao, vice-president of Zhejiang Provincial Hospital of Chinese Medicine, explained the applications of traditional Chinese medicine in the treatment of coronavirus infections in Zhejiang.
Based on the strict measures the Italian government has ordered to control the pandemic, Ling Feng, an official at the Zhejiang Provincial Center for Disease Control and Prevention, said the situation in Italy is developing in the right direction.
"If prevention and control measures are implemented strictly and the number of infected patients gets smaller over time, I believe the whole situation will turn better in the near future," Ling said.