Embassies help more overseas Chinese return home
Global Times
1586472117000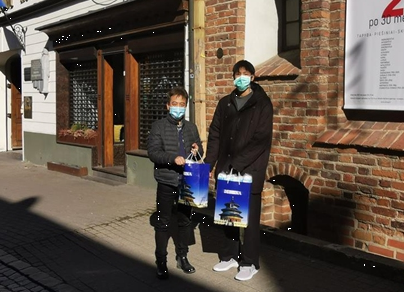 Counsellor Qu Baihua (L) of the Chinese embassy in Lithuania distributes masks to an overseas Chinese student in Vilnius, Lithuania, March 30, 2020. The Chinese Embassy in Lithuania distributed health kits consisting of face masks to the overseas Chinese students in Vilnius and Kaunas. (Photo: Xinhua)
As COVID-19 continues to ravage the world, more overseas Chinese, believing China is now "the safest place" and capable in containing the virus, are returning with the help of embassies.

On Thursday, a group of Chinese citizens, including 27 Hong Kong residents, returned to Guangzhou, South China's Guangdong Province from Casablanca, Morocco in a chartered plane arranged by the Chinese Embassy in Morocco, following the Northern African country's state of emergency announcement in early March, with transportation strictly controlled, according to the website of the Hong Kong Special Administrative Region (HKSAR) Government.

As of noon Thursday, there were 158 requests to the HKSAR government from Hong Kong residents in Morocco and 113 of them had already returned to Hong Kong with the assistance of the Chinese embassy. The Hong Kong residents who arrived in Guangzhou will be quarantined for 14 days for observation.

China is also considering sending chartered planes for minor Chinese students in the US and the UK. Zhao Lijian, a spokesperson of the Chinese Foreign Ministry, said on Wednesday that "The majority of overseas students have chosen to stay where they are. Considering that some Chinese students, especially minors, face real difficulties, our ministry is coordinating temporary flights to take them home in a gradual and orderly way."

Parents of these Chinese students studying in the US told Caixin magazine that the Chinese embassy informed them on Wednesday that the planes will be arranged from Thursday to Sunday and will fly back to four Chinese cities—Guangzhou, Shanghai, Tianjin and Taiyuan.

A Beijing-based expert on epidemic prevention and control who requested anonymity told the Global Times that more and more Chinese people are aware that China is the safest place in the world amid the COVID-19 pandemic, and this is why many of them want to return, and the Chinese government is trying to meet the demand, even as pressure to prevent virus imports remains heavy.

"China has enough resources to quarantine these Chinese nationals. Although there are a growing number of cases in China caused by overseas arrivals, it is still the government's responsibility to meet the demand and provide the service to these people. The key is quarantining, and those who arrive from abroad should be honest on their health condition and cooperate with the government," he noted.