Chinese premier meets World Bank chief on deepening cooperation
Global Times
1574380699000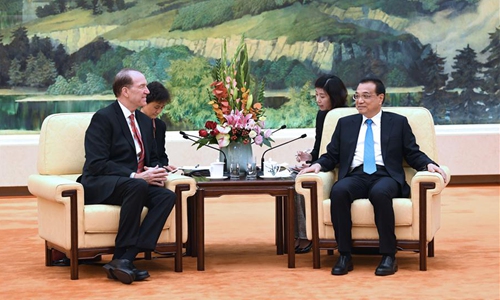 Chinese Premier Li Keqiang meets with World Bank President David Malpass at the Great Hall of the People in Beijing, capital of China, Nov. 20, 2019. (Photo: Xinhua)
Chinese Premier Li Keqiang met with World Bank President David Malpass here Tuesday, and they expected to deepen cooperation.

Li said the cooperation between China and the World Bank almost synchronized with China's reform and opening up process, while the two sides have conducted innovative, open, transparent and productive cooperation in such areas as loans and know-how over the past 40 years.

The prospects for cooperation between the two sides are broad, which will help promote poverty alleviation in the world, narrow the north-south gap, and achieve sustainable development, he said.

"As a participant, builder and contributor to the current international economic and financial system, China is willing to deepen cooperative partnership with the World Bank to send positive signals to the world which are in line with the globalization process and jointly promote global development and prosperity," said Li.

Li said as the current international situation is complex and changing, China's economy also faces some risks and challenges. As the world's largest developing country, China is willing to fulfill its due international responsibilities and obligations while doing its own job.

Li said China will continue to invigorate the market and promote high-quality development by deepening reforms such as streamlining administration and delegating power, as well as implementing large-scale tax cuts and fee reductions. The Chinese government is committed to creating a market-oriented, law-based and international business environment.

Malpass said China has made outstanding achievements in economic growth and development, and lifted a large number of people out of poverty, and continuously promoted innovative development and environmental protection.

The World Bank looks forward to deepening multi-field cooperation with China within bilateral framework or globally, in efforts to realize mutual benefit and promote global development, said Malpass.