Italy threatens to throw EU migration summit into chaos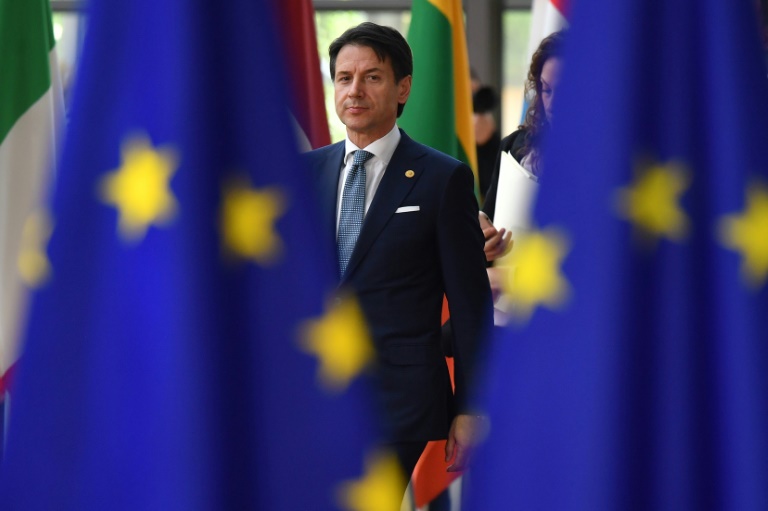 Italian Prime Minister Giuseppe Conte arrives at the EU summit threatening to block a joint statement on migration unless Italy gets more help.(Photo: AFP)
Italy's hardline new premier threatened Thursday to block a joint EU statement on migration at a summit that embattled German Chancellor Angela Merkel warned could decide the bloc's fate.
Rome has recently refused to let several migrant rescue boats dock at Italian ports, reviving fresh tensions despite the fact that numbers of arrivals have dipped sharply since the height of Europe's migration crisis in 2015.
Prime Minister Giuseppe Conte, who heads Italy's month-old populist and anti-immigration government, said he would refuse to endorse the conclusions of the meeting in Brussels if fellow leaders fail to do more to help Italy.
"Italy does not need more words, but concrete actions," Conte told reporters as he arrived at the summit. "It's a possibility I hope not to consider, but if we reach that point, on my behalf we will not have shared conclusions."
Italy comes to the European Union gathering emboldened by the announcement that Conte will on July 30 visit US President Donald Trump, who has hailed Rome's tough stance, and who himself blocked the conclusions of a recent G7 leaders meeting on trade.
The EU summit is taking place amid warnings that authoritarian and "anti-European" movements will profit from any failure by the 28 leaders to deal with a flare-up of tensions over migrants that has put Merkel's political future in the balance.
"Europe has many challenges but migration could end up determining Europe's destiny," Merkel told German lawmakers hours ahead of the summit.
The bloc can decide to "overcome the challenge in a way that people in Africa or elsewhere believe that we are guided by our values," she said.
Or, she added, in a manner where "no one will believe in our value system that has made us so strong."
'Really tough guys'
Merkel, for years Europe's most powerful leader, now risks seeing her fragile coalition collapse if she cannot reach migrant deals with other countries including Italy.
After allowing more than one million asylum seekers into Germany since 2015, Merkel faces an end-of-the-month deadline from her own interior minister to seal pacts that would let Germany turn back asylum seekers already registered in other EU states.
EU President Donald Tusk meanwhile issued a fresh warning on the need for action on migration to stave off rising populism and authoritarianism.
"Some may think I am too tough in my proposals on migration, but trust me, if we don't agree on them, then you'll see some really tough proposals from some really tough guys," the former Polish premier added.
The leaders hope at the summit to approve work on migrant "disembarkation platforms" in countries outside Europe, most likely in Africa, according to a draft prepared by Tusk.
In a bone to Merkel, the leaders will also agree to "closely cooperate" on stopping secondary movements of migrants, according to draft summit conclusions, although the language may be weaker than she would have hoped.
Tusk warned on the eve of the summit that "the stakes are very high and time is short."
A "mini-summit" of 16 leaders in Brussels on Sunday failed to make much headway.
'Mother of all summits'
But there is no chance of agreement on a plan for mandatory "burden sharing" by moving refugees from frontline Mediterranean states like Italy and Greece to other countries.
The plan is strongly opposed by eastern European countries, particularly the authoritarian governments of Hungary and Poland.
The EU is rapidly moving to the right on migration, a stance that is likely to strengthen when Austria under youthful conservative Prime Minister Sebastian Kurz assumes the bloc's presidency on July 1.
One senior EU official dubbed the gathering the "mother of all summits" because of the huge number of key issues in addition to migration that leaders are under pressure to resolve at the Thursday-Friday meeting.
The leaders will on Friday discuss largely French and German proposals, many watered down, to reform the euro in an effort to avert a repeat of the debt crisis and rebuild confidence in the single currency.
Notably absent is any overt support for French President Emmanuel Macron's plans for a eurozone budget, given the bitter opposition of the Netherlands and others.
On Brexit, EU leaders are expected on Friday to deplore a lack of progress and say talks, which have stalled on the issue of the Irish border, must be stepped up with a view to reaching a deal by October.
Leaders would "appreciate" if Prime Minister Theresa May would give them more details on Thursday as to the "intentions of the British government", particularly on relations after Britain leaves in 2019, a senior EU official said.