May wins backing for her Brexit plan from ministers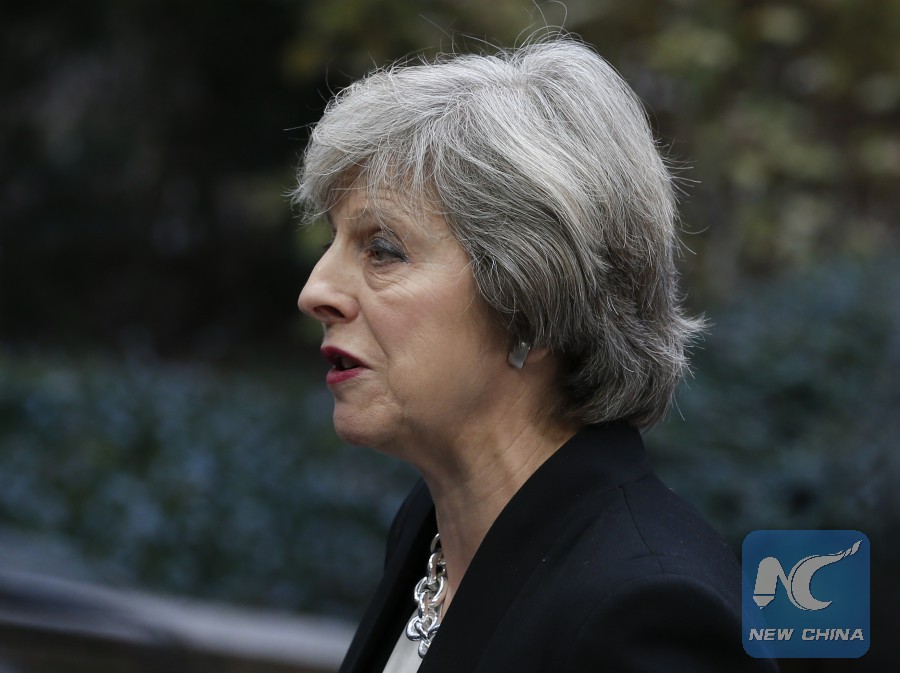 British Prime Minister Theresa May [Xinhua]
British Prime Minister Theresa May won backing from her top ministers Friday for her so-called soft Brexit proposals for a deal with the European Union (EU) after Britain's departure from the bloc.
May started the marathon meeting at her country retreat Chequers amid warnings that hard Brexiteers among her ministerial ranks could resign or be replaced if they failed to support the government line.
The prime minister emerged from the meeting, saying her cabinet had agreed a collective position for the future of Britain's negotiations with the EU.
May described the agreement as an important step in the process of negotiating Britain's smooth exit from the EU.
Addressing media at Chequers later, she said: "Of course we still have work to do with the EU in ensuring that we get to that end point in October. But this is good we have come today, following our detailed discussions, to a positive future for the UK. Today in detailed discussions the cabinet has agreed our collective position for the future of our negotiations with the EU."
"Our proposal will create a UK/EU free trade area which establishes a common rule book for industrial goods and agricultural products. This maintains high standards in these areas, but we will also ensure that no new changes in the future take place without the approval of our parliament," she explained.
"As a result, we avoid friction in terms of trade, which protects jobs and livelihoods, as well as meeting our commitments in Northern Ireland," May added.
May said her cabinet had also agreed a new business-friendly customs model with freedom to strike new trade deals around the world.
"Next week we will be publishing a white paper which will set out more details of how we will be taking back control of our money, laws and borders," she said.
Included is a proposal to create a post-Brexit UK-EU free trade area which establishes a common rule book for industrial goods and agricultural products.
It would also mean no hard border between Northern Ireland and the Irish Republic, and it would end free movement of Europeans, allowing Britain to control its own borders.
The battle for May is far from over, and everything now hinges on the reaction of her own MPs who support a harder Brexit, and also the reaction to the proposals in Brussels.
And possibility of Britain quitting the EU without a future trade deal is far from over, according to leading political commentators Friday night.
The Guardian newspaper reported that the agreement reached at Chequers among cabinet ministers represented a rapid turnaround in a 24-hour period, after the prime minister had been forced on to the defensive.
Britain would, according to the proposals, accept continuing harmonisation with EU rules on the trade in goods, covering just those necessary to ensure frictionless trade. But the British Parliament would have the final say over how the rules are incorporated into UK law.
Although freedom of movement would come to an end, a mobility framework will ensure British and EU citizens can continue to travel to each other's territories and apply for study and work.
Britain would also be able to control its own tariffs and develop an independent trade policy, and the jurisdiction in Britain of the European Court of Justice will come to an end. Instead Britain will pay regard to its decisions in areas where common rules are in force.