80 killed in armed confrontations, airstrikes in Yemen's Hodeidah: medics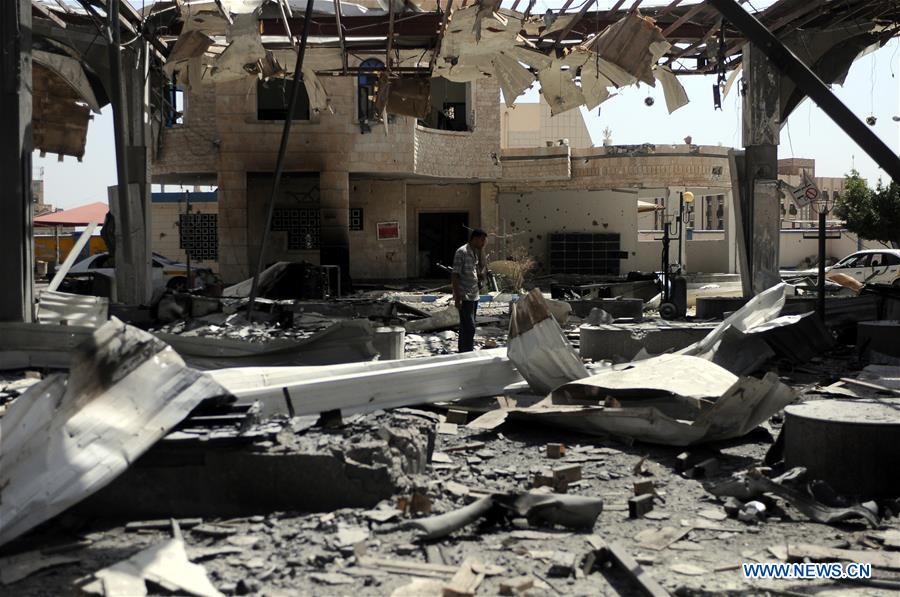 A man inspects the headquarters of the state-run Oil Company after it was hit by airstrikes in Sanaa, Yemen, on May 27, 2018. (File photo: Xinhua)
ADEN, Yemen, Nov. 11 (Xinhua) -- Armed confrontations between Yemen's government forces and the Houthi rebels in the Red Sea port city of Hodeidah left around 80 dead within the past 24 hours, local sources said on Sunday.
A medical source based in the city confirmed to Xinhua that "the majority of the killed people were Houthi fighters targeted by Saudi-led airstrikes during the ongoing fighting in Hodeidah."
"Hospitals in Hodeidah received up to 61 bodies of Houthi fighters who were killed either by airstrikes or during fighting with the government forces," the source added.
In the government-controlled province of Aden, a medical source at Jamhuriah public hospital provided Xinhua with the death toll of soldiers who were killed in fighting with Houthis in Hodeidah.
"A total of 19 soldiers were killed in Hodeidah. They were transferred to Aden and then to different areas in neighboring southern provinces," the source said.
He added that most of the killed soldiers were from Abyan while others from Lahj and joined the anti-Houthi campaign in Hodeidah a few days ago.
Meanwhile, warplanes of the Saudi-led coalition launched heavy airstrikes and targeted a number of Houthi-controlled areas in Hodeidah, causing huge blasts.
Earlier in the day, the Houthi fighters and pro-government Yemeni forces exchanged heavy artillery bombardment, according to local residents.
On Saturday, forces loyal to the Saudi-backed Yemeni government continued heavy clashes and pushed deeper toward the strategic port city of Hodeidah following several days of ferocious fighting with the Houthi rebels.
Air-covered by warplanes of the Saudi Arabia-led coalition, the pro-government forces largely advanced on-ground and managed to enter a number of neighborhoods in Hodeidah after expelling the Houthi rebels.
The Saudi-backed government forces vowed to continue to push forward in an attempt to seize full content over the city's strategic port, but Houthis face the offense with stiff resistance.
Yemen's Internationally-backed government and Saudi Arabia have repeatedly accused the Houthi rebels of using Hodeidah's port to smuggle Iranian weapons. Both Houthis and Iran denied the accusation.
Hodeidah is the most important and only point of entry for food and basic supplies to Yemen's northern provinces controlled by Houthis, including the capital Sanaa.
The Arab coalition intervened in Yemen's conflict in March 2015 to roll back Shiite Houthi rebels and reinstate Yemen's legitimate President Abdu-Rabbu Mansour Hadi.