British PM bids to win over the public in Brexit deal battle
British Prime Minister Theresa May faced the public on Friday to defend her Brexit deal as she battles to salvage the agreement and her own political future.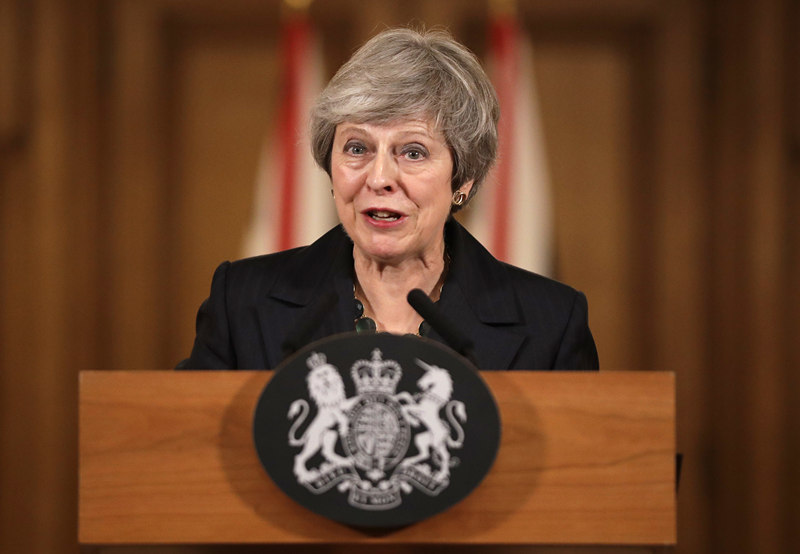 Britain's Prime Minister Theresa May speaks during a press conference inside 10 Downing Street in London, Thursday, Nov. 15, 2018. (File photo: AP)
May made a rare outing on a radio phone-in during which she faced a call to step down after a tumultuous Thursday in which ministers resigned and members of her own party plotted to oust her.
"I truly believe this is the best deal for Britain," May said of the proposed EU withdrawal agreement, adding that she was "very sorry" that ministers including Brexit secretary Dominic Raab had quit.
All eyes were on Environment Secretary Michael Gove, the highest-profile pro-Brexit campaigner left standing in May's cabinet, to see whether he would follow others out the door.
But a source close to Gove, a Vote Leave figurehead in the 2016 referendum on Britain's European Union membership, said the minister would remain in his post "to ensure the best outcome for the country".
Many media outlets reported that Gove had been offered the position of Brexit secretary.
May told LBC radio she had a "very good conversation" with Gove and would be appointing a new Brexit chief "over the next day or so".
"I don't want to see any of my cabinet colleagues who've been doing a good job in the cabinet feeling the need to resign," she added.
- 'Stand down' -
One caller, a local councillor in her centre-right Conservative Party, urged May to "do the right thing in the national interest and stand down".
She also faced comparisons with prime minister Neville Chamberlain and his 1938 appeasement of Nazi Germany's dictator Adolf Hitler.
"We are not going to be locked in forever to something that we don't want," May insisted.
Brexiteer MPs fear the deal would keep Britain shackled to the Brussels, while EU supporters say it would leave the UK on worse terms than it has inside the bloc and are calling for a second Brexit referendum to break the logjam.
May could yet face a vote of no confidence from her own MPs.
Conservative lawmaker Jacob Rees-Mogg, the high-profile leader of the Brexit hardline European Research Group, submitted a letter of no-confidence on Thursday.
At least 48 letters from Conservative MPs are required to trigger a vote of no confidence in the party leader. But a majority of the party's 315 lawmakers would have to vote against May in order for her to be ousted -- and if she wins, she cannot be challenged for 12 months.
- Allies back away -
May's Conservatives do not have a majority in parliament's lower House of Commons and MPs from all sides lined up in the chamber on Thursday to say her draft deal would be voted down, satisfying neither Brexiteers nor pro-EU loyalists.
The Conservatives rely on Northern Ireland's Democratic Unionist Party for a slim majority but the DUP are prepared to vote against the deal, fearing it splits the province off from the rest of the UK in order to prevent a hard land border with the Republic of Ireland.
Asked whether DUP leader Arlene Foster had withdrawn her party's backing, May said: "I haven't had a testy exchange with Arlene on that" and insisted the DUP's overall support for the government was still intact.
The 585-page draft deal aims to ensure a smooth divorce from the EU after more than four decades of membership and outlines a transition period for both sides.
Key provisions seek to avoid a hard border on the island of Ireland, protect citizens' rights and settle Britain's last bill.
The pound steadied versus the euro and rose against the dollar, having been hammered on Thursday over the Brexit turbulence.
Sterling was up 0.4 percent at $1.2822 in morning trading, while one euro was worth 88.61 pence.
London's benchmark FTSE 100 index gained 0.5 percent to 7,071.59 points.
EU member states have until Tuesday to examine the deal and to agree the wording of a parallel political statement setting out goals for the bloc's future relations with London.
A special EU summit to seal the hard-fought Brexit agreement will be held on November 25.