Muslims, advocates saddened over court's travel ban decision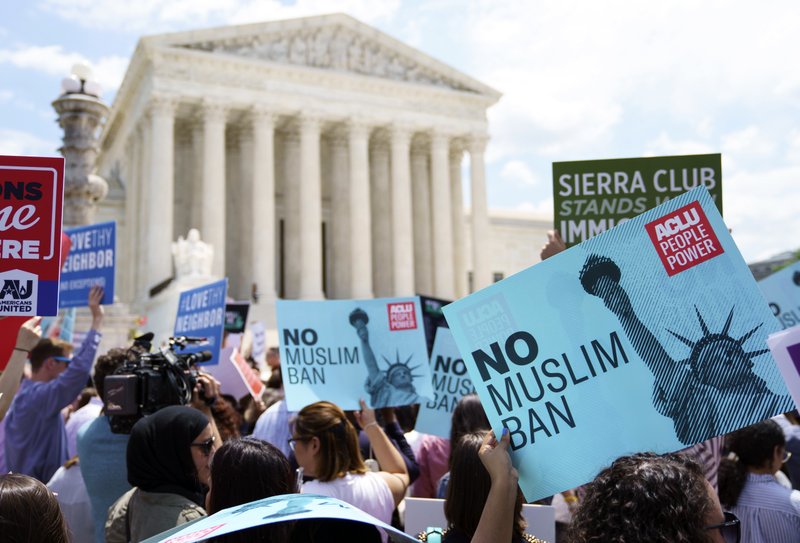 (Photo: AP)
Maryam Bahramipanah is torn between staying with her husband, who came to Michigan from their native Iran, and returning home to see her mother, who suffered a stroke.
With the US Supreme Court's decision Tuesday to uphold President Donald Trump's ban on travel from several mostly Muslim countries, she expects that she won't be able to do both.
"I'm very sad," said Bahramipanah, who cried when she heard about the decision. "I don't know what to do. I really don't know. Now it's official and I don't know."
Muslim individuals and groups, as well as other religious and civil rights organizations, expressed outrage and disappointment at the high court's rejection of a challenge that claimed the policy discriminated against Muslims or exceeded the president's authority. Protests were being planned or staged across the country.
The travel ban has been fully in place since December, when the justices put the brakes on lower court decisions that had blocked part of it from being enforced. The policy applies to travelers from five countries with overwhelmingly Muslim populations — Iran, Libya, Somalia, Syria and Yemen. It also affects two non-Muslim countries, blocking travelers from North Korea and some Venezuelan government officials and their families.
In a statement emailed to The Associated Press, American Civil Liberties Union attorney Lee Gelernt said it's clear "that the president for political reasons chose to enact a Muslim ban despite national security experts, both Democrat and Republican" who counseled against it. Heidi Beirich of Southern Poverty Law Center called the ban "hateful and discriminatory," and added that "immigration policy should never be decided based on race or religion."
Detroit-area immigration attorney Farah Al-Khersan expects chaos at border crossings and other points of entry.
"For anybody who has a non-immigrant visa who is here — even someone with a green card — I would not recommend that they leave right now," she said. "Once you're outside of the country and you're trying to come in, that's going to be a problem."
Mark Doss, a lawyer with the International Refugee Assistance Project, said the decision "leaves people in total uncertainty." People wishing to travel from banned countries must apply for waivers to be granted travel documents, but he said the waiver application process remains unclear.
Doss was part of the legal team that sued on behalf of Hameed Khalid Darweesh, who was detained at New York's Kennedy Airport after the initial ban took effect. Darweesh came from Iraq, where he worked as a translator for the US Army, and his lawsuit led to the first federal judge issuing a temporary stay on the travel ban.
Iraq was later dropped from the list of banned countries, but its status remains a concern for him and Al-Khersan, whose husband is from Iraq, and has Canadian citizenship and a US green card. The couple was detained for several hours after crossing from Canada into the US on the day Trump issued the first travel ban.
As Syrians face violence in their native country and a ban on entering the US, the executive director of the Syrian American Council says many are scared.
Suzanne Meriden, the council's executive director, choked up as she said, "It's sad on so many levels. I never cry. We're here to calm people but I just get stressed out about it all. You try to hold yourself together but sometimes it's too hard."
Jehan Hakim, program coordinator for the Islamic Scholarship Fund in San Francisco, said the ban in unconstitutional, "regardless of what the government says."
"It's unconstitutional as the Chinese Exclusion Act, it's unconstitutional as the incarceration of Japanese Americans and it's unconstitutional as the detainment of Latino immigrants," said Hakim, a Yemeni-American. "We will not stop fighting."
Meanwhile, the Federation for American Immigration Reform, a conservative group that supports tighter immigration policies, heralded the Supreme Court decision, calling it "a great victory for the security of the American people and the rule of law."
Bill O'Keefe, Catholic Relief Services' vice president for government relations, said in a statement many of the people seeking refuge in the US are victims of the same terrorists that Americans are trying to fight, and denying them entry won't make the nation safer.
Bahramipanah, the Iranian woman who lives in Ann Arbor, Michigan, received an H-4 visa, which is given to immediate family of foreign workers in the US Her family had hoped the Supreme Court would end the ban for good this time so her mother would be able to come to the United States to celebrate Bahramipanah's birthday next week.
"My mother told me what do I buy you for your birthday?" Bahramipanah said, choking back tears. "I said just pray that this ban does not hold forever."