Venice to recreate lost treasure of world's first public opera house
China Daily Global
1592184388000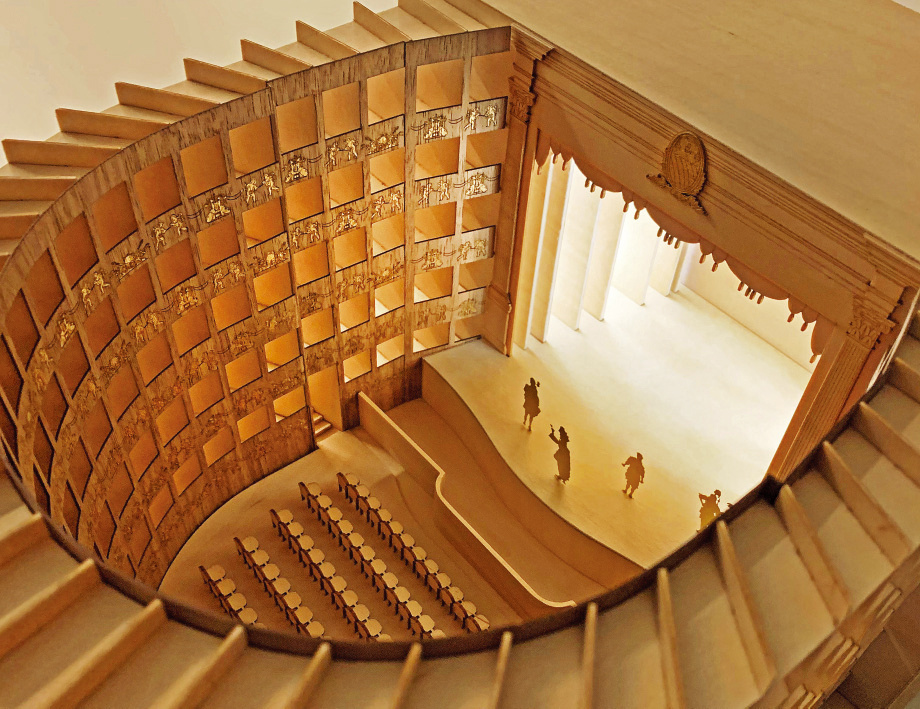 Atkin aims to recreate an experience as close as possible to how opera was first seen and heard. (Photo provided to CHINA DAILY)
Residents of Venice, famed for its canal network and artistic treasures, are used to enduring the batterings of high tides and flooding, but this year they had barely recovered from that before the Veneto region found itself one of the hotspots of Italy's devastating novel coronavirus outbreak.
After four months of suffering, the country is coming out of lockdown, and a beacon of hope is offered by the restoration of a lost Venetian cultural jewel that could soon be back on the map, as plans are afoot to recreate the world's first public opera house, Teatro San Cassiano, which opened in 1637.
This event inspired opera's mass popularity but in 1812, the theater was demolished, meaning there are no professionally active opera houses from the baroque period anywhere in the world.
Recreating it is the dream of British musicologist Paul Atkin, who was inspired by a similar project at Shakespeare's Globe theater in London, which has been a critical and commercial success.
"Cultural exchange always leads the way in international relations, and in that era there were few places in the world as important as Venice," Atkin told China Daily.
"It was the entry point into Europe for Chinese traders as the end of the Silk Road, it's the home of Marco Polo, one of Europe's greatest explorers, and every modern opera house is descended from San Cassiano. What the Globe means to London and Shakespeare, this means to Venice and opera."
Opera became popular in the 16th century but only for the elite, until commercially-minded theater owners in Venice rebuilding San Cassiano decided to make it suitable for opera as well as theatrical performances, changing music history.
"The first opera staged there, Francesco Manelli's L'Andromeda in 1637, was so popular that by the end of the century Venice alone had 11 opera houses," Atkin said. "But as opera grew more popular, theaters got bigger and the intimacy was lost. That's what we're bringing back."
Having recreated the blueprints from later architectural drawings, Atkin thinks his team have made the theater as close to the original as possible.
"We've pulled it from the grave," he said. "You can't get everything right but musically and historically, it'll be as close an experience as possible to how it was originally.
"The capacity will be just 405, with 99 seats in the stalls over six rows, then five tiers of boxes, with six singers on stage at any one time, and eight musicians. When you hear it like that, the experience will be closer to how it was envisaged by composers and musicians at the time.
"When I started, the locals thought 'who is this crazy Englishman?' but as it's gone on, they've seen it isn't just a project for Venice, it's with Venice. Whenever possible, we use local people, even to design our website and print our publicity material, and the local builders know what they're doing."
Days before the novel coronavirus hit the city, the project took a meaningful step forward which gives Atkin a real sense of post-lockdown optimism.
"Finally we had a meeting with the mayor's office that we'd been working up to for three years, and his chief of staff made it very clear they back the project and gave us a letter of endorsement," he said. "Not only that, but we got approval for our preferred site.
"If Venice says it wants something to happen, it will happen. In Italy, it's not about the detailed legislation, it's about the will. We think we can deliver this now, and it will be beyond our dreams."
Fortunately for Atkin, the project fits into the new era locals want for their city.
"People are saying they don't want a return to the old ways, they've had enough of what they call hit and run tourism, they want something that's better for the city," he said.
"Environmentally and commercially, this is sustainable for Venice. We always use local companies, and this will create about 160 jobs in Venice, for Venetians. If the mayor is seen to back something like this in the current climate, our timing couldn't be better.
"The reason Shakespeare's Globe works is because it's historically informed. I imagine most people take it to be the real thing, not a reconstruction. That's what we're aiming for here," he added.
"The one thing I won't change at all is measurements. The original builders knew what they were doing, so we trust them. People might be taller now, but we won't alter the dimensions for that. The modern world is just one step away, but once you go into that box, it'll be like a time warp."
Once funding is secured, the build time is just under five years. "If you're an opera lover, this is your chance to write your name in history-what greater legacy could you leave the world?" he said.
"In times of so much global discomfort, we owe it to ourselves to create culture people can enjoy. This is what we're doing here, building something the world can share, to bring people together."