Pompeo arrives in North Korea to hammer out denuclearization details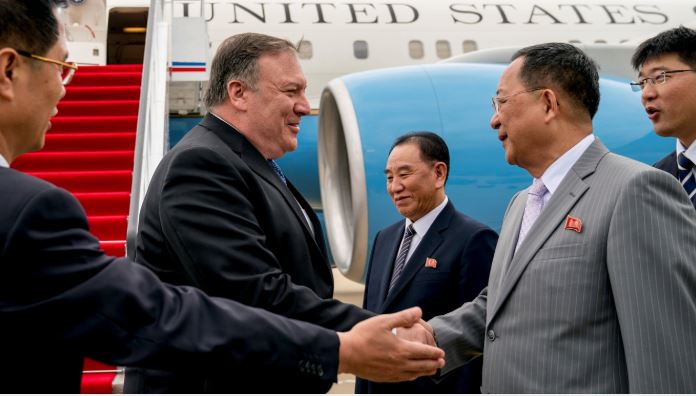 (Photo: CGTN)
US Secretary of State Mike Pompeo arrived in Pyongyang on Friday for his third visit to the Democratic People's Republic of Korea (DPRK) to press for further progress in the denuclearization process following the Trump-Kim summit in June in Singapore.
In Pyongyang, Pompeo met Kim Yong Chol, a senior aid to DPRK leader Kim Jong Un, who played a central role with Pompeo in arranging last month's Singapore summit.
Pompeo was greeted in the DPRK capital by Kim Yong Chol and Foreign Minister Ri Yong Ho, pool reports said.
"Today's meeting is a really meaningful meeting," Kim Yong Chol told Pompeo.
"Yes I agree," Pompeo answered. "I look forward to it and I count on it being very productive."
"The President told me he believes that Chairman Kim sees a different, brighter future for the people of North Korea (DPRK). We both hope that's true," Pompeo said on Twitter after a phone call with Trump as he headed for the DRPK.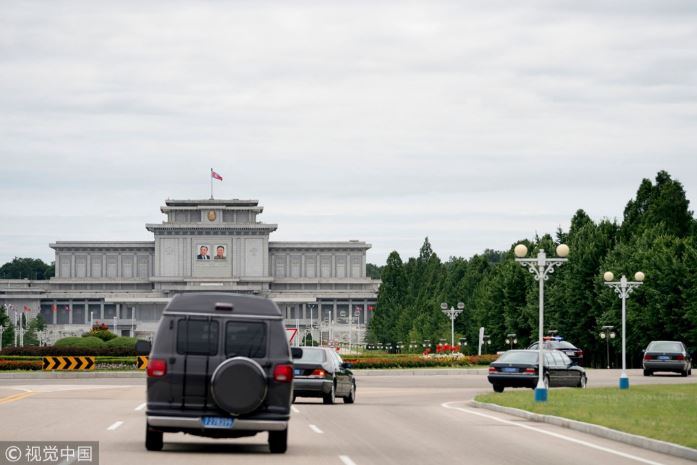 The motorcade carrying US Secretary of State Mike Pompeo drives toward Kumsusan Palace of the Sun following his arrival in Pyongyang on July 6, 2018. (Photo: VCG)
"Next stop: Pyongyang. I look forward to continuing my meetings with North Korean (DPRK) leaders. There's much hard work ahead but peace is worth the effort."
Pompeo's mission is to hammer out a roadmap for the DPRK's complete nuclear disarmament. He said he expects the DPRK to "fill in some details" of the commitments on its denuclearization.
Can the art of the deal work this time?
This is Pompeo's first overnight stop in the DPRK.
His high-stakes objective, which Harry Kazianis, a Fox News analyst, called his "Mission: Impossible," is to help convert the DPRK government's promises of denuclearization into concrete action that would eliminate the threat posed by Kim's nuclear facilities.
While the DPRK leader made promises during the summit, many in the US do not consent to its denuclearization determination as well as the Trump administration's ability to enforce such an act, and say the administration has been soft on the DPRK following the historic summit.
The US State Department says pressure will remain until the DPRK denuclearizes, but in statements this week, has redefined the US goal as "the final, fully verified denuclearization of (the DPRK) as agreed to by Chairman Kim."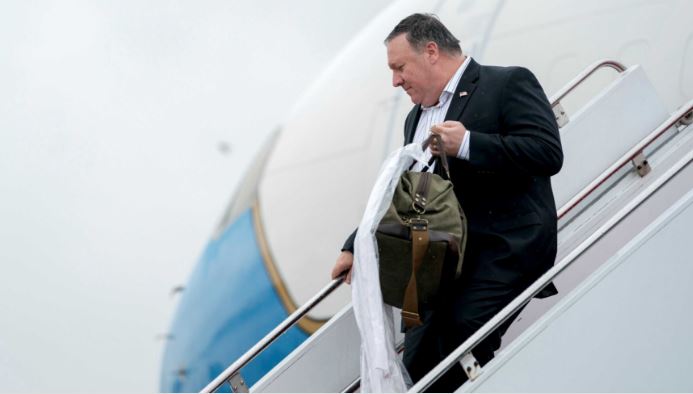 Pompeo arrives at Yokota Air Force Base in Fussa, Japan, for a refueling stop on the way to Pyongyang, on June 6, 2018. (Photo: Reuters)
Some analysts consider it a critical meeting because the Trump administration and the DPRK government still do not share the same timeline for the Korean Peninsula's denuclearization, according to a Bloomberg article published on Tuesday.
While Trump wants more progress, the DPRK government would prefer a more gradual process toward its own nuclear disarmament.
During his visit, Pompeo may press the DPRK into allowing for the recovery of some of the almost 7,700 American soldiers still unaccounted for after the 1950-1953 Korean War, the most concrete agreement to come out of Trump-Kim summit.
Mixed messages from the Trump administration
On Friday, speaking to reporters aboard Air Force One as he flew to Montana, Trump said that he really believed that DPRK leader Kim Jung Un "sees a different future" for the DPRK.
Pompeo said Friday he expects the DPRK will approach future negotiations in good faith.
"Since the summit, the consultations have continued. On this trip I'm seeking to fill in some details on these commitments and continue the momentum towards implementation of what the two leaders promised each other and the world. I expect that the DPRK is ready to do the same," Pompeo said.
John Bolton, Trump's national security adviser, who has taken a hard line on the DPRK, said recently that Pompeo would present Kim Jung Un with a plan to dismantle his nuclear and missile program in just one year, according to a report from The Telegraph this week.
US State Department spokeswoman Heather Nauert declined giving a timeframe for the DPRK's denuclearization.
"I know some individuals have given timelines; we're not going to provide a timeline for that," she said."
"A lot of work is left to be done, certainly. We go into this eyes wide open," she was quoted as saying by Reuters on Wednesday.