Schumer asks for probe into Whitaker's White House contacts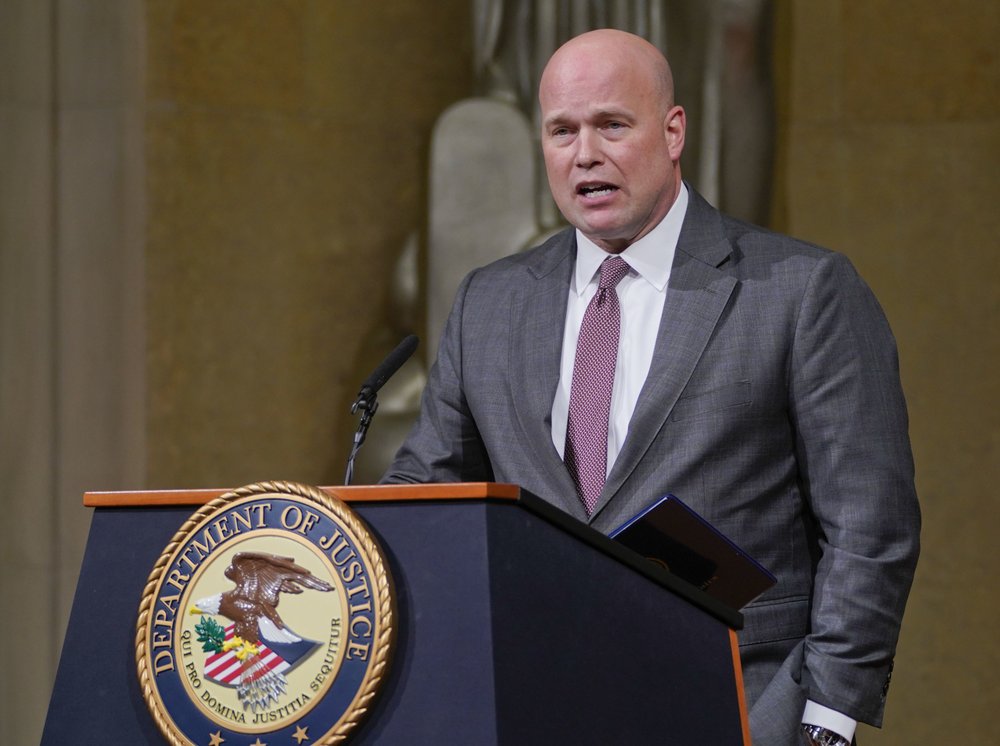 Acting Attorney General Matthew Whitaker speaks at the Dept. of Justice's Annual Veterans Appreciation Day Ceremony, Thursday, Nov. 15, 2018, at the Justice Department in Washington. (Photo: AP)
The Senate's top Democrat asked the Justice Department's watchdog on Tuesday to open an investigation into communications between acting Attorney General Matthew Whitaker and the White House.
Sen. Charles Schumer wants the Justice Department's inspector general to look into Whitaker's communications beginning in 2017, when Whitaker was appointed chief of staff to then-Attorney General Jeff Sessions. Whitaker was elevated to the top job after Sessions was ousted by US President Donald Trump earlier this month.
In a letter to Inspector General Michael Horowitz, Schumer, D-NY, said he wants inspector general's investigators to look into whether Whitaker had access to confidential grand jury information in special counsel Robert Mueller's Russia investigation. Schumer also wants investigators to examine whether Whitaker shared any information with Trump or others in the administration.
John Lavinsky, a spokesman for the inspector general, declined to comment on Schumer's request.
Deputy Attorney General Rod Rosenstein, the second-ranking Justice Department official, had been overseeing the special counsel's Russia investigation until Whitaker's appointment on Nov. 7. Whitaker is now overseeing the investigation.
Schumer and other Democrats have said they are concerned about Whitaker's past criticism of the Mueller probe, which is looking at Russian interference in the 2016 election and ties to Trump's campaign.
"I am also concerned that Mr. Whitaker, who has thus far declined to recuse himself from the Special Counsel investigation, may intend to interfere in or obstruct the investigation in other ways," Schumer wrote.
After Whitaker's appointment, Schumer called for Whitaker to recuse himself from overseeing the investigation and said he would seek to tie a measure protecting Mueller to must-pass legislation if he refuses to recuse himself.
Whitaker's past public statements have included an op-ed article in which he said Mueller would be straying outside his mandate if he investigated Trump's family finances. In a talk radio interview he maintained there was no evidence of collusion between Russia and the Trump campaign during the 2016 election.
On Monday, three other Senate Democrats — Sens. Richard Blumenthal of Connecticut, Mazie Hirono of Hawaii and Sheldon Whitehouse of Rhode Island — filed a lawsuit arguing that Whitaker's appointment is unconstitutional because he has not been confirmed by the Senate. The Justice Department issued a statement Monday defending Whitaker's appointment as "lawful" and said it comports with the Appointments Clause, the Federal Vacancies Reform Act and legal precedent.
A Justice Department spokeswoman did not immediately respond to a request for comment on Schumer's request on Tuesday.
Trump has called Whitaker "a highly respected former US Attorney from Iowa" but also has said, "I did not know Mr. Whitaker."