Oregon, Iowa voters pass opposite gun measures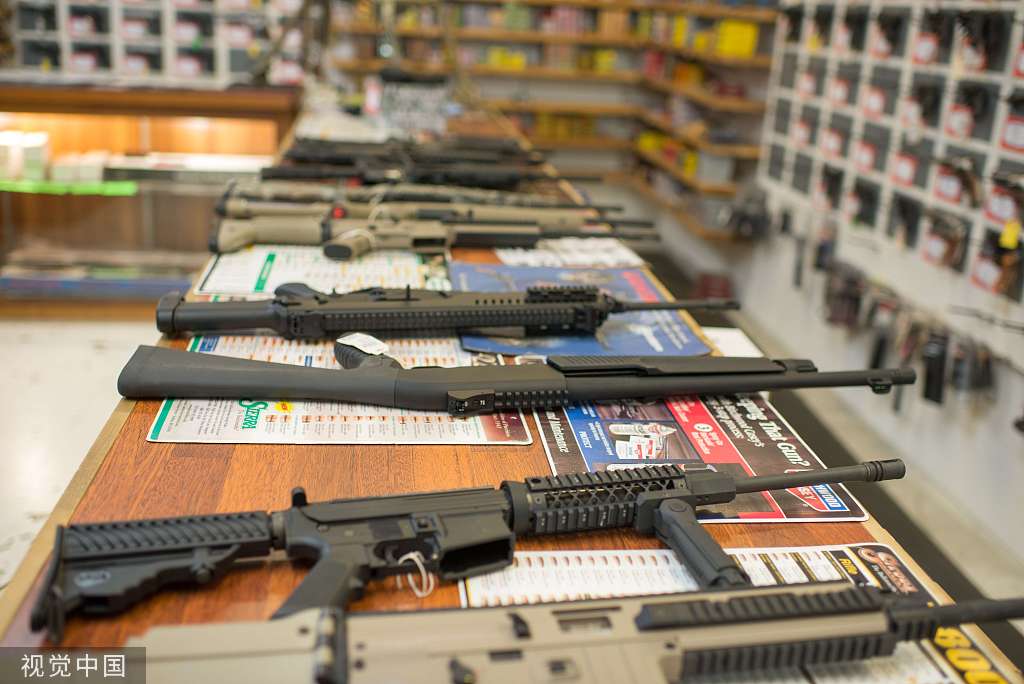 Voters in Oregon and Iowa approved two opposite ballot questions on guns in the recent election, reflecting how divided Americans are on the issue.

In the blue state of Oregon, Measure 114 was narrowly passed by voters on Nov 8 to tighten gun control in the state. It requires residents to obtain a permit to purchase a gun, bans large-capacity magazines over 10 rounds with an exception, and creates a statewide firearms database.
To get a permit to purchase or transfer ownership of firearms, an applicant needs to complete an approved, in-person firearm safety course, pay a fee, provide personal information, submit to fingerprinting and photographing, and pass a federal criminal background check.
An exception to a ban on large-capacity magazines will be applied to current owners, law enforcement or the military. The permits will be processed by local police chiefs, county sheriffs or their designees.
There were nearly 600 deaths involving a firearm in Oregon in 2020 — 77 percent of those by suicide. Oregon is among the states with the highest rates of suicide. Research shows that tighter gun laws are closely correlated with lower suicide rates.
Until now, only seven states and Washington DC have had permit-to-purchase laws for all firearms, according to the Giffords Law Center, a national gun safety advocacy organization. Eight states and Washington have high-capacity magazine bans as strict as the one Oregon has just passed, Giffords says.
In the red state of Iowa, voters approved Public Measure 1 as an amendment to the state constitution that "the right of the people to keep and bear arms shall not be infringed" and "any and all restrictions of this right shall be subject to strict scrutiny".
In Oregon, supporters of gun control welcomed the results.
"We always wonder 'is today the day' where we get the call that there is a shooting in school," tweeted Oregon resident Matt Coleman, who said he has three children in school. "It doesn't take any guns away, it simply adds some measure of ensuring that most people follow a process."
Another Oregon resident tweeted that he just went through the concealed handgun license process and learned a lot as a result. "I think a permit requirement is a good idea," he wrote. "It's a big responsibility to own a firearm. I think this is appropriate."
Opponents of the measure said it infringes on constitutionally protected rights and could reduce gun access among marginalized communities and people of color with law enforcement agencies as the arbiters of granting permits.
Paul Donheffner, legislative committee chairman with the Oregon Hunters Association, said that creating a permit system that requires a course in gun safety will be expensive and unwieldy and won't cut down gun violence or reduce mass shootings.
"It is going to put a lot of honest citizens through the wringer," he told Oregon Public Broadcast. "The people that are committing gun violence aren't going to get a [permit to purchase]; you're not going to get a background check; you're not going to go through all this rigamarole."
Numerous sheriffs had spoken out against Measure 114, claiming it was poorly written and will face a court challenge.
Sheriff Michelle Duncan in Linn County wrote on Facebook that she won't enforce magazine-capacity limits. Jefferson County Sheriff Jason Pollock said he wouldn't enforce Measure 114 at all.
"I do not have the personnel to attempt to permit every gun purchase in Jefferson County. Additionally, I believe the provisions of Measure 114 run contrary to previously decided judicial decisions," Pollock wrote on Facebook.
In Iowa, gun rights activists applauded the passage of Public Measure 1.
"This is a historical day for freedom, civil rights and the Hawkeye state," Dave Funk, president of the Iowa Firearms Coalition, said in a statement. "The right to self-defense and bear arms is here to stay in Iowa and we are grateful for the thousands of Iowans who took time out of their days to cast a vote in favor of liberty."
While the Second Amendment to the US Constitution already provides gun rights to all Americans, the amendment to the Iowa constitution adds the "strict scrutiny" legal standard to judicial review of gun laws the state Legislature may pass, according to Todd Pettys, law professor at the University of Iowa.
"It's a big deal. It kind of maximally restricts lawmakers and their ability to restrict guns in one way or another," Pettys said.
Iowa is the fourth state with "strict scrutiny" language to protect gun rights in its state constitution.