Over 535,000 children under 5 'acutely' malnourished in Burkina Faso
chinadaily.com.cn
1599659833000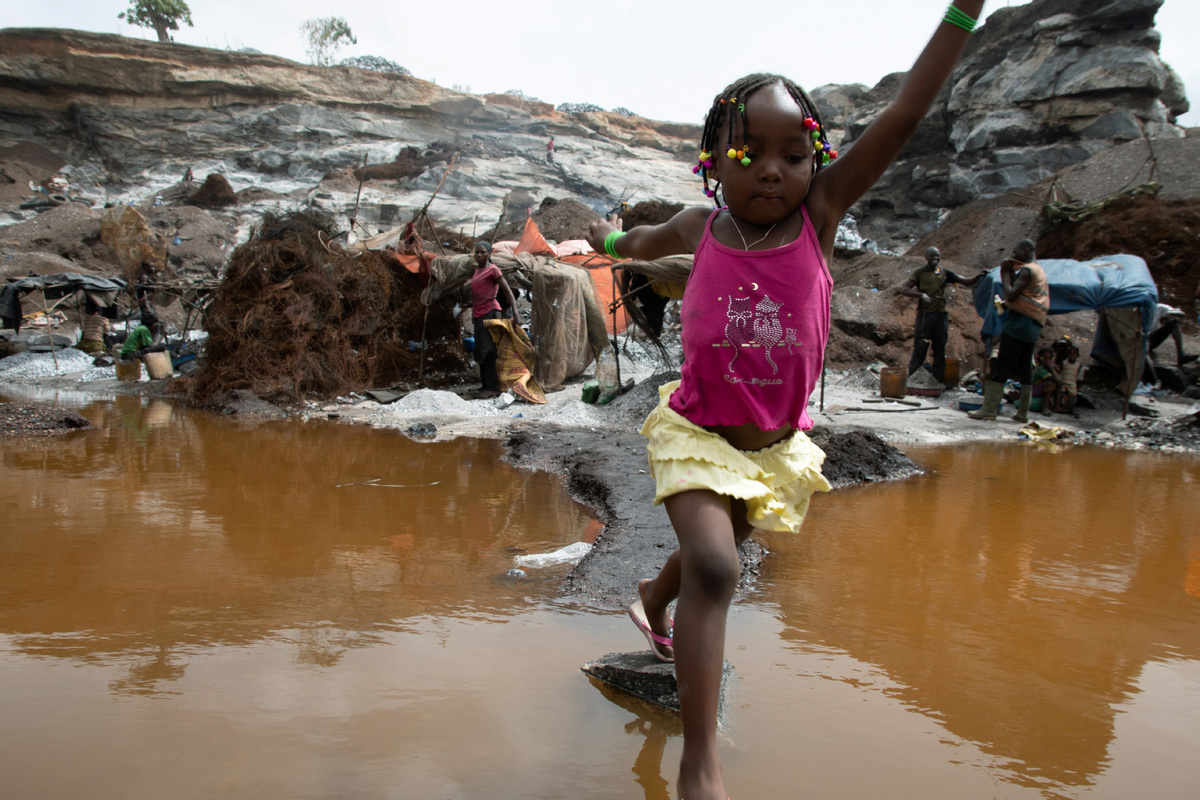 Melissa Kabore, 4, jumps over a puddle in Ouagadougou, Burkina Faso, on June 12, 2020. (Photo: Agencies)
More than 535,000 children under the age of 5 in Burkina Faso are suffering from acute malnutrition, out of which 156,500 are "severely" malnourished, leaving them nine times more likely to die than well-nourished children, according to new data released by the United Nations Children's Fund.
James Mugaju, the UNICEF deputy representative in Burkina Faso, attributed the high rate of malnutrition to the displacement of populations due to insecurity and reduced access to livelihoods, healthcare and nutrition.
Burkina Faso, a landlocked country in West Africa, has over 1 million internally displaced people, 60 per cent of whom are children, and 3.3 million suffer from acute food insecurity, UNICEF said.
Since 2018, the security situation in the country has deteriorated due to the growing active presence of non-state armed groups. This has led to increased forced displacement, which in turn has exacerbated food and nutritional insecurity across the country.
In 2019, Burkina Faso experienced one of the fastest-growing displacement crises in the world, according to the World Food Program.
The country also suffered more jihadist attacks than any Sahelian country in 2019, according to the International Crisis Group.
Over the past one and half years, armed violence in Burkina Faso internally displaced 1 million people, the Norwegian Refugee Council said.
The country also has been experiencing harsh climatic conditions characterized by low and variable rainfalls, land degradation, deforestation and desertification.
This is despite the fact that 80 percent of the country's 20.1 million population depend on agriculture for livelihood. The West Africa nation has been food deficit with more than 40 percent of the population living below the poverty line.
The situation has been worsened by the coronavirus pandemic that has had a brutal impact on households and their ability to provide for the basic needs of their children. As of Wednesday, the virus had infected 1,466 people and killed 56.
"Children are paying the highest price, facing a triple crisis: Security, health and food," Mugaju said.
Gorom-Gorom town in the Sahel region and the Barsalogho site for internally displaced persons in the Centre-Nord region are the worst affected, where children under 5 suffering from global acute malnutrition were recorded at 18.4 percent and 16.1 percent, respectively. The figures exceed the WHO emergency threshold of 15 percent.
UNICEF is calling for intensified efforts to ensure the continuity of nutrition services to provide an integrated package of prevention and treatment of malnutrition to reach children in urgent need.
"This is essential because good nutrition for children, from their first days and months, protects them from disease and infection, and helps them to recover when they fall ill," Mugaju said.
UNICEF and its partners are stepping up efforts to treat malnourished children in the country, as well as delivering therapeutic foods, such as milk, to treat acute malnutrition.
More than 52,600 cartons, or about 737 tons, of therapeutic food have been delivered to healthcare facilities and 51,685 children with severe acute malnutrition have been treated since January 2020.
The UN agency also is providing advice on the best feeding practices for infants and young children, including in emergency situations.