Migrants camp at Mexico City stadium as US votes
Thousands of Central Americans dreaming of getting to the United States awoke Tuesday to donations of fruit and hot coffee at a sports stadium in Mexico's chilly capital as the US held midterm elections in which President Donald Trump has made the migrant caravan a central issue.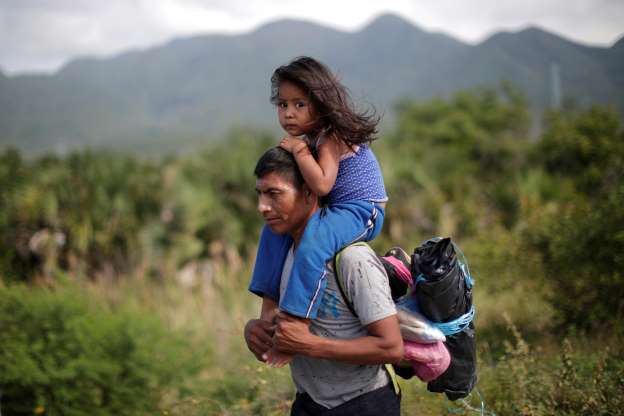 Rosendo Noviega, a 38-year-old migrant from Guatemala, part of a caravan of thousands from Central America en route to the United States, holds his daugther Belinda Izabel as he walks along the highway to Juchitan from Santiago Niltepec, Mexico, on Oct. 30, 2018. (Photo: AP)
Authorities counted more than 2,000 migrants at the Jesus Martinez stadium late Monday, and a steady flow continued into the night. The facility has capacity to hold 6,000, officials said, and four big tents set up for sleeping filled up. Women and children slept apart from the men_who were relegated to concrete bleachers_while the city's central market supplied 3.5 tons of bananas and guavas to refuel the crowd.
Still hundreds of miles from the US border, the migrants dozed on thin mattresses with blankets to ward off the chill in a city some 7,300 feet (2,240 meters) above sea level, a big change after trudging for three weeks in tropical heat. Temperatures dropped below 52 degrees Fahrenheit (11 Celsius) during the night.
Nashieli Ramirez, ombudsman for the local human rights commission, said the city was preparing to accommodate as many as 5,000 people. The lead caravan is estimated to have about 4,000 participants and several smaller groups are trailing hundreds of miles to the south.
"We have the space in terms of humanitarian help," Ramirez said.
Many of the migrants sought treatment for blistered and aching feet, respiratory infections, diarrhea and other maladies. City officials administered vaccines for tetanus and influenza. The Oxfam charity offered to donate 20 portable toilets.
Tania Escobar, a nurse with Mexico City's public health department, said from a medical tent that demand was high for consultations. "Since we got here, we have not stopped," she said.
Melvin Figueroa, a 32-year-old from Tegucigalpa, Honduras, was with his pregnant wife and two children, 6 and 8. He took the 6-year-old girl to the tent because her eyes were irritated and "she throws up everything she eats."
More migrants were trudging along the highway between the city of Puebla and the capital, trying to hitch rides from passing vehicles.
Trump has seized on the caravan and portrayed it as a major threat, though such caravans have sprung up regularly over the years and largely passed unnoticed.
He ordered thousands of troops to the US-Mexico border, threatened to detain asylum seekers in tents cities and insinuated without proof that there are criminals or even terrorists in the group.
In dozens of interviews since the initial caravan set out from Honduras more than three weeks ago, migrants have said they are escaping poverty and rampant violence. Many are families traveling with small children. Some say they left because they were threatened by gang members or had lost relatives to gang violence. Others say they hope to work, secure a good education for their children and send money to support relatives back home.
Alba Zoleida Gonzalez, 48, from Valle, Honduras, said she walked for five hours Monday before catching a ride on a tractor-trailer with about 150 other migrants. Her calf muscles were aching, but that was a small price to pay for the chance at a life better than the one back home.
"I looked for work, and nothing," Gonzalez said, adding that her husband had been robbed and had to hand over everything he made selling crabs so his assailants wouldn't do worse. "And when one does find a little job, they kill you for the money," she said.
Upon arrival in Mexico City, some migrants visited the Basilica of Our Lady of Guadalupe, a major pilgrimage site, to thank the Virgin Mary for watching over them during the journey.
The caravan had spread out in recent days, with many participants advancing at a faster pace. The caravan now plans to regroup in Mexico City, where the migrants will rest and seek legal advice.
The 178-mile (286-kilometer) route followed Monday to Mexico City from the city of Cordoba in the Gulf state of Veracruz was the longest single-day journey attempted by the group.
There were obstacles on this latest stretch. Truck after truck denied migrants rides as they trudged along the highway into the relatively colder November temperatures of central highland Mexico. Migrants converged on tractor trailers, forcing the big rigs to stop so they could climb aboard. Such impromptu hitchhiking is precarious, with dozens scrambling onto vehicles at a time.
Mexico City is more than 600 miles (1,000 kilometers) from the nearest US border crossing at McAllen, Texas. A caravan last spring opted for a much longer route to Tijuana in the far northwest, across from San Diego. That caravan steadily dwindled to only about 200 people by the time it reached the border.
Many in the latest group said they remain convinced that traveling together is their best hope for reaching the US.
But Edgar Corzo, an official with the National Human Rights Commission, said that based on experiences with previous migrant caravans, the group probably will begin to break up now that it is in the capital.
"Each one goes to the place that he considers best," mainly wherever is closest to where they have relatives or friends already in the United States, he said.