US meat supply chain strained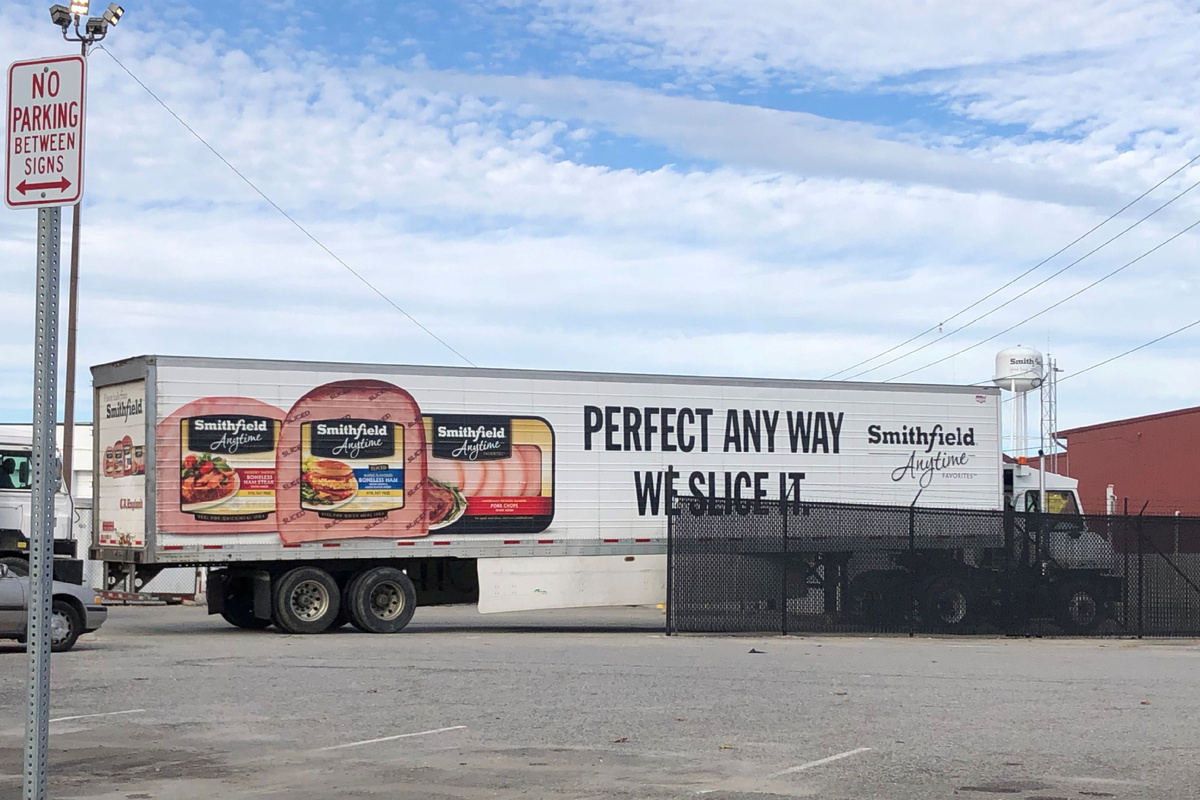 A truck arrives at Smithfield Foods' pork plant in Smithfield, Virginia, US, Oct 17, 2019. (Photo/Agencies)
America's meat supply chain could become strained after several producers have been forced to temporarily close plants because hundreds of workers have contracted the coronavirus, according to meat industry experts.
Smithfield Foods, Tyson Foods, Cargill, JBS USA and several other businesses all have announced closures of plants across the nation after hundreds of employees were diagnosed with the virus, with at least three deaths and 14 hospitalizations.
Smithfield, the world's biggest pork producer, announced Sunday that it was closing its plant in Sioux Falls, South Dakota, where 293 of its 3,700 workers have contracted COVID-19. The facility provides 4 to 5 percent of all of the pork produced in the United States.
Chris Young, executive director of the American Association of Meat Processors (AAMP), told China Daily: "Normally the closure of a plant would not have a huge impact on supply, but the demand on meat and poultry during this pandemic has been vast. There is an effect not only on supply to consumers but also on producers.
"The supply chain starts with the birth of an animal and ends with the purchase of meat and poultry by consumers. Any time you remove a large processing plant in the middle of that chain, it is certainly going to impact supply in a negative way because of current demand."
Smithfield, owned by Hong Kong-listed WH Group, also was forced to close poultry plants in Georgia, Tennessee and Alabama, after more than 80 employees tested positive for the coronavirus.
Smithfield Foods CEO Kenneth Sullivan echoed AAMP's warning: "It is impossible to keep our grocery stores stocked if our plants are not running.
"The closure of this facility, combined with a growing list of other protein plants that have shuttered across our industry, is pushing our country perilously close to the edge in terms of our meat supply," Sullivan added.
Nationwide, employees at meat-processing plants are susceptible to catching the novel coronavirus, as they tend to stand close to each other while cutting and packing chicken and beef. That makes it more difficult to practice social distancing (staying 6 feet apart) as the US grapples with 572,587 positive COVID-19 cases and 23,078 deaths.
Tyson Foods, one of the world's largest meat processors, closed its pork plant in Columbus Junction, Iowa, after 24 workers tested positive for the coronavirus.
Cargill stopped operations at its protein plant in Hazleton, Pennsylvania, where around 900 employees produce meat for grocery stores.
At JBS USA, the world's largest meat processor, two workers — Conchas de la Cruz, 60, and Saul Sanchez, 78 — died of COVID-19.
JBS, which had closed its beef-processing plant in Souderton, Pennsylvania, for two weeks, plans to reopen Thursday.
Enock Benjamin, a 70-year-old union steward at the plant, died April 3 from "respiratory failure brought on by the pandemic virus", according to The Philadelphia Inquirer.
JBS also has reduced production at its plant in Greeley, Colorado, after scores of employees did not show up for work.
The United Food & Commercial Workers Local 7 labor union represents 3,000 employees at JBS USA in Greeley. The union said it had urged Governor Jared Polis to shut the facility after the deaths and criticized the delay in closing it.
Kim Cordova, Local 7 president, wrote: "One death is a tragedy — two deaths at the same plant is simply beyond human understanding."
Cordova said she knew of at least five JBS employees who were hospitalized after contracting the virus. A further 42 union members and eight non-union JBS employees had tested positive.
The United States Department of Agriculture (USDA) acknowledged that food businesses face a challenge in balancing employee safety with the need to serve the public.
"The food supply chain is a critical industry in the United States, and Secretary [Sonny] Perdue fully recognizes the need to keep workers and inspectors safe during the COVID-19 national emergency," a USDA spokesman told China Daily.
"USDA recognizes and supports the efforts of private industry and companies to maintain operational status of their facilities while also maintaining the safety and health of their workforce. USDA, together with the FDA and CDC, will continue to support a whole-of-America approach to ensure the food supply chain remains safe and secure."
Last week, National Cattlemen's Beef Association President Marty Smith also sounded the alarm over the food supply chain in a letter to President Donald Trump.
"The onset of COVID-19 has resulted in the steep decline of both the cattle futures market and cash trade — resulting in significant financial challenges for our members," he wrote. "The market woes for cattle producers will only grow if packing plants shut down or slow down for an extended period."
However, Vice-President Mike Pence said, "America's food supply is strong."