Japanese, South Koreans react to Trump's Asia tour
People's Daily app
1509701254000
From Nov. 5 to Nov. 14, US president Donald Trump will visit Japan, South Korea, China, Vietnam and the Philippines, his first Asian tour in his term of office.
Before his visit, wide reactions in Asian area showed up.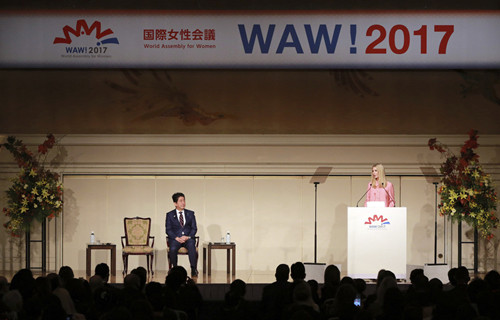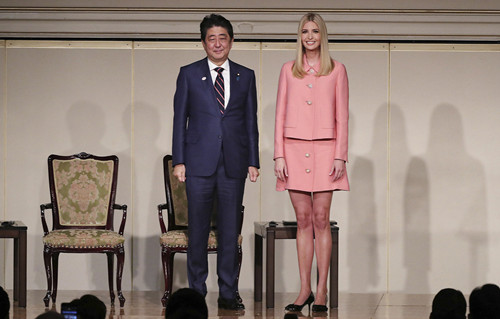 Ivanka Trump, right, the daughter and advisor to U.S. President Donald Trump delivers a speech as Japanese Prime Minister Shinzo Abe listens at World Assembly for Women: WAW! 2017 conference in Tokyo Friday, November 3, 2017. (Photos: IC)
November 3, Tokyo Japan, US first daughter Ivanka Trump visits Japan for the World Assembly for Women (WAW) as a rehearsal of her father—Donald Trump's Asian Tour.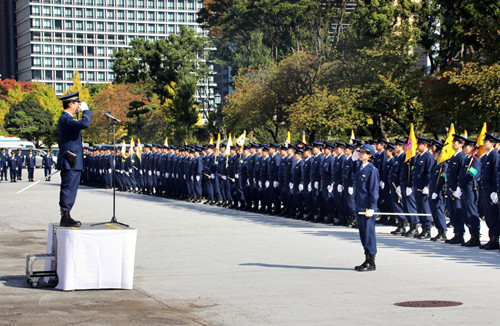 While Japanese police officers gather for a ceremony before going on special duty tightening security in major facilities in Tokyo ahead of the visit by U.S. President scheduled from Nov. 5 through Nov. 7, North Korea has prepared a "surprise" for their "unwelcome" guest. Trump will visit South Korea from 07 to 08 November.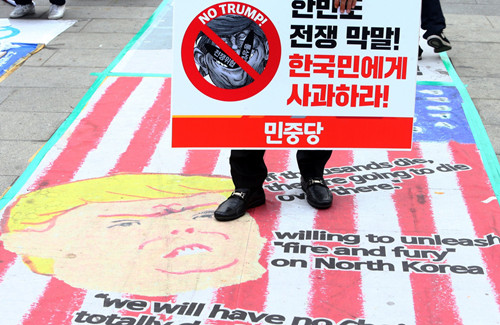 A South Korean protester stands on a cartoon depiction of US President Donald J. Trump during a rally held to show opposition to the US President's upcoming visit to South Korea, in front of the US embassy in Seoul, South Korea, 02 November 2017.