Russian military warns of more terror attacks with drones after assault in Syria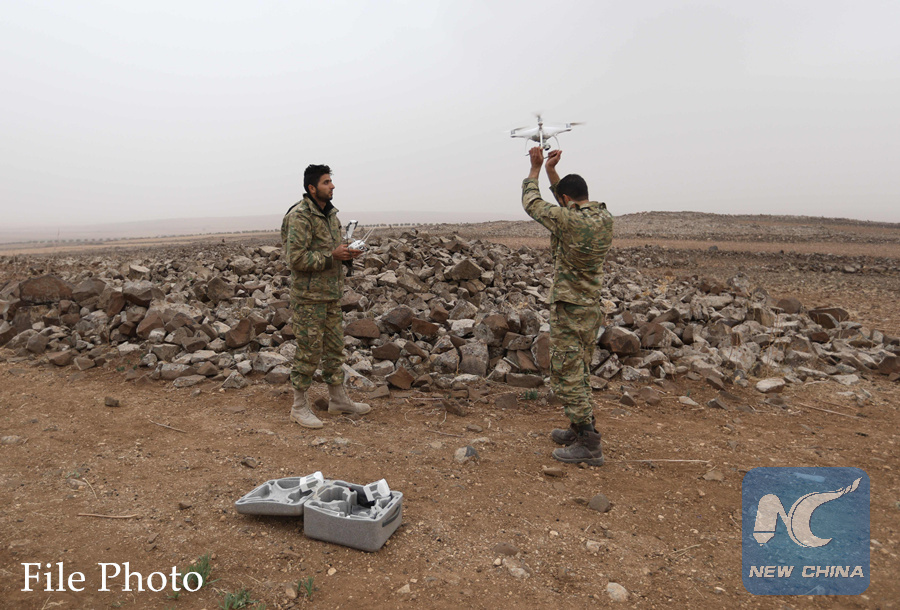 Syrian rebel fighters use a drone as they battle government forces near the village of Arafa, east of the city of Hama, in the central Hama province, on November 20, 2017. Photo: AFP
The Russian Armed Forces said Thursday it was concerned over the emerging threat of Unmanned Aerial Vehicles (UAV) used by terrorists after recent drone attacks on Russia's military bases in Syria.
On January 6, terrorists attempted to attack Russia's Hmeymim and Tartus military bases in Syria with 13 drones, seven of which were destroyed by Russian air defense systems and six others were captured by its electronic warfare means, according to Maj. Gen. Alexander Novikov who heads the department of the UAV system of the General Staff of the Russian Armed Forces.

"The drones used by the militants to strike the facilities of the Russian Armed Forces in Syria...were applied for the first time," he said.

After a detailed assessment of the captured drones, specialists established that homemade production of such drones is only possible when there are assembly schemes and necessary components previously tested for numerous times, and also requires specialized knowledge and practical experience in assembling and using such devices in a single system, Novikov said.

"The creation of drones of this class is impossible in handcraft conditions. Their development and use involved specialists who have received special training in countries producing and using systems with unmanned aerial vehicles," he said.

According to Novikov, terrorists started using foreign-made drones in 2016, but those drones were primitive and mainly for the use of reconnaissance.

In the light of the results of the assessment, the general warned of the possibility of the use of UAV for terrorist purposes across the world.

"The fact that terrorists received the technology to assemble and program the drones from abroad shows that the threat is not limited in Syria. Similar deadly drones can be used by terrorists in other countries and not only against military targets," he said.

It requires joint work at the international level and appropriate measures to neutralize the threat, Novikov said.