3.7 mln Afghan children have no access to school: UNICEF
KABUL, Nov. 19 (Xinhua) - The United Nations Children's Fund (UNICEF) office in Afghanistan said on Monday that about 3.7 million Afghan children have no access to school due to insecurity and poverty in the country.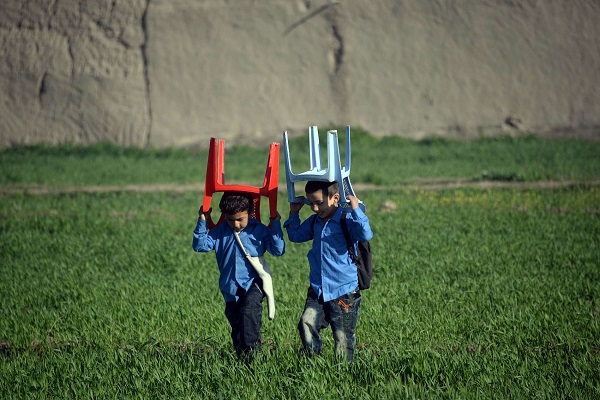 Aghan school children carry plastic chairs on their heads as they walk to school in the morning in Mazar-i-Sharif on March 26, 2014. (File Photo: VCG)
"An estimated 3.7 million children are out-of-school in Afghanistan with 60 percent of them girls," Ahmad Jan Nawzadi, an official at the UNICEF office in Kabul, told reporters in a ceremony to observe the World Children Day which falls on Nov. 20.

Celebrating the World Children's Day in Kabul, UNICEF officials expressed concerns over the situation of Afghan children, their poor access to school, child labor and recruitment of child soldiers.
In conflict-hit Afghanistan, many parents, mostly in the countryside, are reluctant to send their girls to school due to security concerns and cultural barriers.
However, around 9 million Afghan children with some 40 percent of them girls are attending school regularly.
As armed groups including Taliban and Islamic State (IS) outfits are active, hundreds of schools have reportedly remained closed, mostly in the countryside.
"To pave the way for access of children to school, UNICEF and the Afghan government have established over 5,000 community-based schools in rural areas, where 176,000 students can study there," Nawzadi said.