Tight election leaves Malaysia in limbo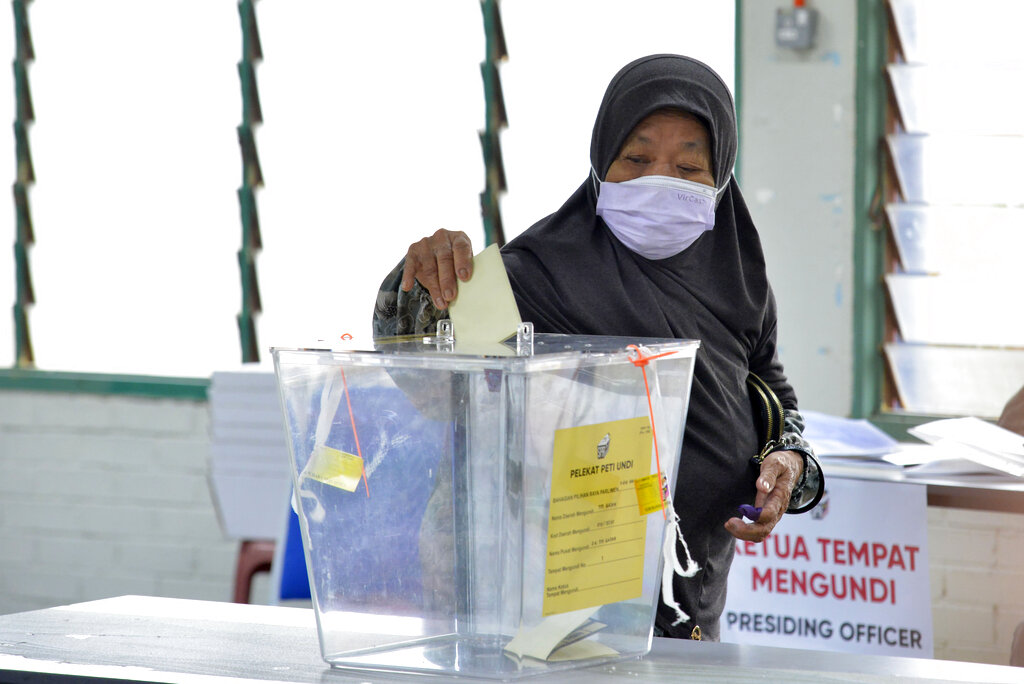 Two parties vie for power as they hold talks with possible coalition partners
Malaysia faces its first-ever hung parliament after a general election that produced major upsets.
The opposition Pakatan Harapan and Perikatan Nasional secured the most number of seats in the elections on Saturday, with PH winning 82 seats and PN 73. This result also pits PH's Anwar Ibrahim, a former deputy premier, and PN's Muhyiddin Yassin, a former prime minister, as top contenders for the premiership.
However, with no party winning a simple majority, either PH or PN needs to ally with other parties to form a ruling coalition. King Sultan Abdullah Ahmad Shah has asked all parties to declare their respective alliances and nominate an MP who can command a parliamentary majority by Monday.
Analysts credited PN's strong showing to its alliance with Parti Islam Se-Malaysia (the Pan-Malaysian Islamic Party, or PAS) and how PAS appealed to young Muslim Malays. Ethnic Malays are the majority ethnic group in Malaysia.
The ruling Barisan Nasional alliance, crushed in the 2018 elections, suffered the same fate on Saturday, winning only 30 seats. Some BN members were calling for its chairman, Ahmad Zahid Hamidi, to resign, local media reports said.
Ahmad Zahidi himself only won with a razor-thin margin as a representative of his hometown of Bagan Datuk in Perak state. The former prime minister Mahathir Mohamad suffered his first electoral defeat in 53 years, finishing fourth in a five-way parliamentary race in the resort island of Langkawi.
With no party winning a majority, Malaysia faces an increasingly polarized political environment, said one analyst, Khor Swee Kheng. A confidence-and-supply arrangement between political parties "could help increase societal cohesion and reduce instability, and civil society should work to strengthen Malaysia's secular institutions", he said.
The hung parliament is the result of feuding among political elites and a highly polarized electorate, said Khor Yu Leng, director of Segi Enam Advisors, a consultancy in Singapore. Election Day produced "surprise upsets as big names were easily toppled by the green Islamic wave", she said.
She was alluding to PAS, which has adopted green as its party color, and how linking up with PN has "harnessed youth support" and won among swing voters.
Bilveer Singh, associate professor of political science at the National University of Singapore, said Malaysians had spoken, and the result was "many casualties "among senior politicians.
"Old political forces are seen as irrelevant, concerned with self-interest and divisive politics," Singh said.
More than 80 percent of the 21 million registered voters cast ballots in the election. Seventeen parties vied for 220 seats in parliament. The election was held after years of political infighting, with three prime ministers heading the government at that time.
Azmil Tayeb, a senior lecturer at the School of Social Sciences of the Universiti Sains Malaysia, said the ethnic Malay vote was fragmented, with both BN and PN vying for it. However, PN's solid campaign won the day. He said he expects PN to coalesce with BN again, as happened in 2020.
With the elections over, Anwar and Muhyiddin were meeting with possible allies to build a coalition government.
"Alliances are tricky to build," Segi Enam's Khor said. Both PH and PN have to deal with two "strong individual parties" within their fold, she said.
"PH did very well considering it was considered the underdog at the outset," said Geoffrey Williams, dean of the Institute of Postgraduate Studies at Malaysia University of Science and Technology. "It is the biggest overall coalition and the most united but it has not won quite enough to be certain of forming the government."
Williams said that parties in the states of Sabah and Sarawak in East Malaysia will emerge as kingmakers as their support will provide the majority that will allow either PH or PN to form a government. Gabungan Rakyat Sabah won six seats, and Gabungan Parti Sarawak won 22.
"So it will fall to the East Malaysia parties," Williams said. "The best role for GPS in Sarawak will be to ensure that the largest coalition from Western Malaysia forms the government to avoid creating an ad hoc arrangement between multiple groups."