EU moves to discipline Italy over budget, Rome remains defiant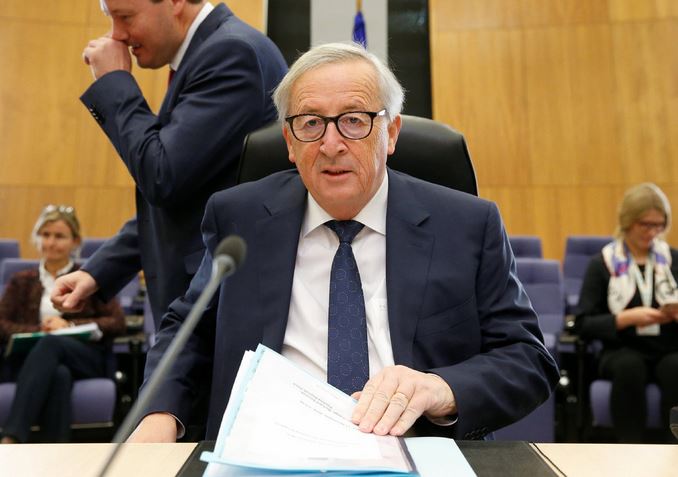 European Commission President Jean-Claude Juncker chairs the EU Commission's weekly college meeting in Brussels, Belgium, on Nov 22, 2018. (Photo: Agencies)
The European Commission took the first step on Wednesday toward disciplining Italy over its expansionary 2019 budget after Rome refused to change it, raising the stakes in a dispute that has alarmed the whole eurozone and could eventually lead to fines.
The commission said the Italian draft increased the 2019 structural deficit, which excludes one-offs and business cycle swings, by 1 percent of gross domestic product rather than cut it by 0.6 percent as required by EU laws.
Italy also would not trim its huge debt in a "a particularly serious case of noncompliance" with the rules, the Commission said, warranting the launch of an excessive deficit procedure.
Valdis Dombrovskis, the commission's vice-president for the euro currency and social dialogue, said he disagreed with claims from Italian leaders that the budget plan was necessary to help jump start Italy's sluggish economy.
"The impact of this budget on economic growth is likely to be negative," Dombrovskis said in a statement. "With what the Italian government has put on the table, we see a risk of the country sleepwalking into instability."
The 19 countries in the euro currency zone "are on the same team and should play by the same rules", Dombrovskis said.
The commission called for the eurozone finance minister to launch an "Excessive Deficit Procedure" against Italy. That would require the country to produce a strategy and timetable for "corrective action" or risk massive fines.
"Sanctions are very likely, but the big risk for Italy isn't the money they could be forced to pay but rather the future credibility of the Italian government," said Valentina Meliciani, an economist with Rome's LUISS University.
Italian Prime Minister Giuseppe Conte, scheduled to meet commission President Jean-Claude Juncker on Saturday, said on Wednesday that the government was convinced the budget was excellent and in the interest of Italy and Europe.
Economy Minister Giovanni Tria and Deputy Prime Minister Luigi Di Maio also made some conciliatory remarks that Rome and the EU had the same objectives and would seek a shared solution.
"We want the same thing: to reduce the debt," Di Maio said on Facebook. Tria said Italy believed the "moderately expansionary" budget was needed to counter a slowdown in the economy and that he would "continue dialogue with the commission to seek a shared solution in our mutual interests".