Return to school puts pupils in the spotlight
China Daily Global
1600134930000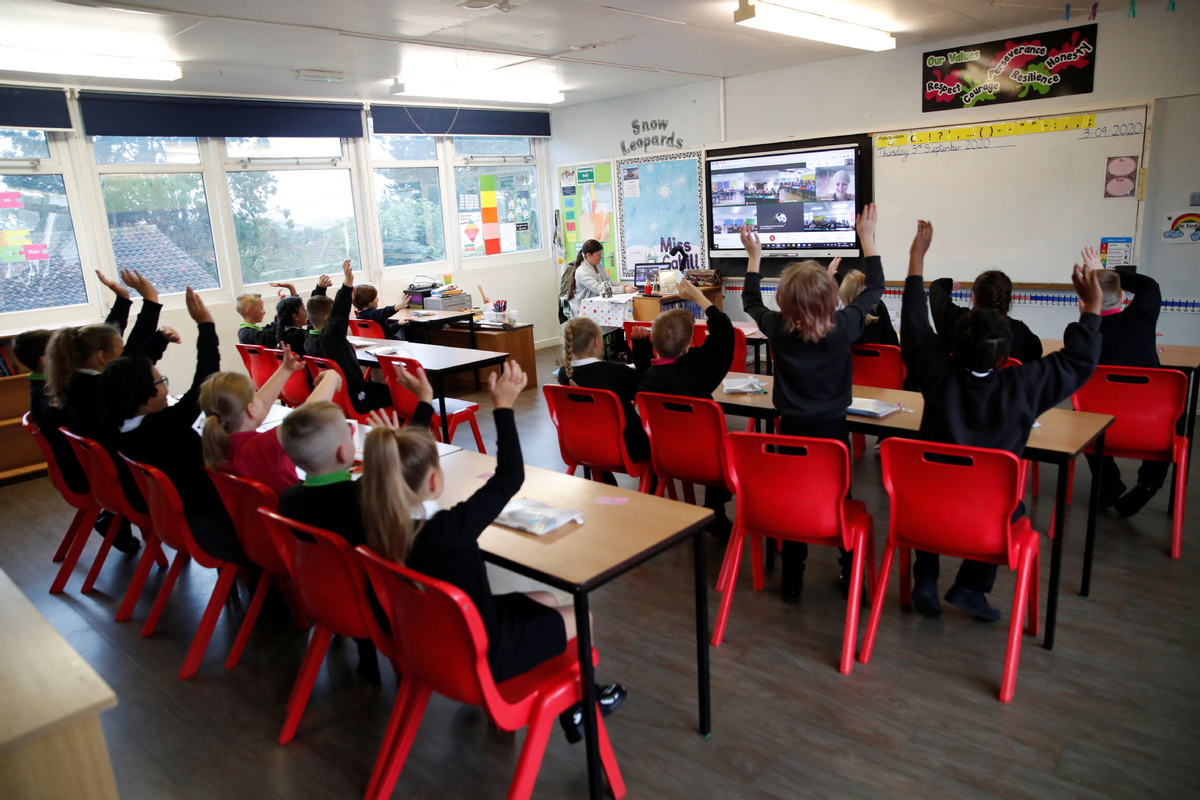 Children wave to friends from separate classes during an online assembly, as normal assemblies will not take place at the moment, on their first day of school at Holne Chase Primary School, amid the outbreak of the coronavirus disease (COVID-19), in Milton Keynes, Britain, Sept 3, 2020. [Photo/Agencies]
New study set to focus on how virus transmission works among youngsters
Scientists in the United Kingdom are ramping up research into COVID-19 in children, amid concerns that recent school reopenings will contribute to the spread of the virus.
Hundreds of pupils and teachers are currently isolated at home across Britain following outbreaks at schools, which have staged staggered openings over the last three weeks.
Health authorities have advised the full closure of a handful of schools and confirmed cases at more than 90 schools in England and Wales. The true number of affected institutions is likely to be far higher, especially given that children are often asymptomatic carriers of the virus.
Over the weekend, Imperial College London and Bristol University both announced they had received government funding for major studies into COVID-19 in children in order to strengthen the nation's back-to-school strategy.
Bristol will saliva-test 4,000 students and 1,000 teachers for COVID-19 every month for six months, as part of a study that was granted 2.7 million pounds ($3.5 million) from the UK National Institute for Health Research, or NIHR.
The university said that limiting transmission of coronavirus in schools is challenging because children with COVID-19 often show no obvious symptoms and schoolchildren normally interact with a large number of other children and adults. The study will aim to map transmission in schools and into the wider community.
"It's important we increase our understanding of infection patterns in schoolchildren, so schools can keep managing their operation as effectively as possible," said Caroline Relton, an epidemiologist at Bristol Medical School who is leading the study. "This study proposes to combine measures of current and previous coronavirus infection as well as working with schools to enhance approaches to prevent and control infection as and when it does arise."
Imperial College London will track the spread of the virus at a number of London schools, in order to ascertain how quickly and efficiently transmission occurs between students and from children to adults.
"Children all over the country have begun returning to school after a long period away, but a number of questions remain around the risk from COVID-19-both for the children themselves and also among the wider public," said Shiranee Sriskandan, a professor of infectious disease at Imperial College London.
The studies come as a UK teachers union has warned that school openings have been "undermined by widespread problems in accessing COVID-19 tests". UK schools have each been provided with an initial supply of 10 testing kits, which the Association of School and College Leaders, or ASCL, argues is an inadequate number.
The ASCL, which represents 19,000 teachers, said that available tests are rapidly being depleted, and many teachers are struggling to book appointments at local testing sites.
"School and college leaders feel utterly let down by the fact that within days of term starting it is immediately apparent that there are significant problems in accessing COVID-19 tests," said Geoff Barton, ASCL general secretary.