Turkey and Russia issue calls for Libya ceasefire
Turkey's President Recep Tayyip Erdogan and his Russian counterpart Vladimir Putin have used the inauguration of the new Turkstream gas pipeline to call for a ceasefire in the on-going war in Libya.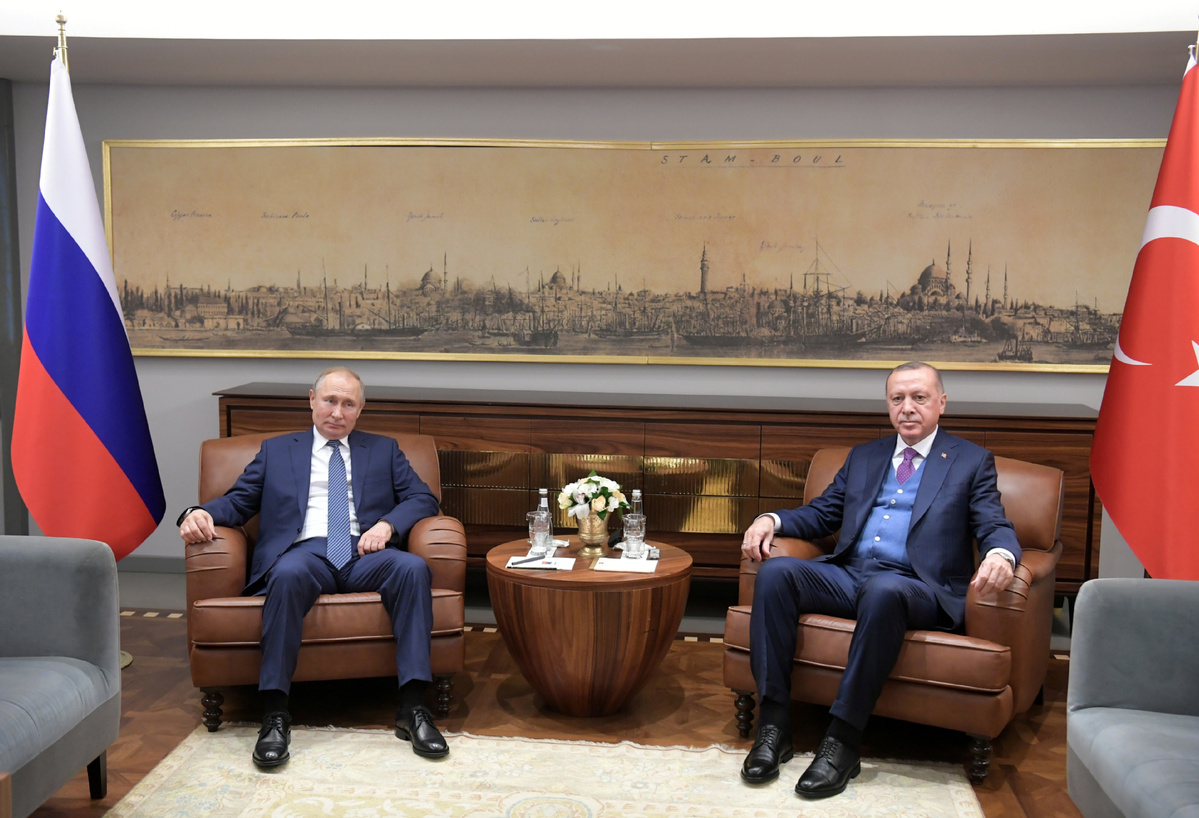 Turkish President Tayyip Erdogan meets with his Russian counterpart Vladimir Putin in Istanbul, Turkey, on Jan 8, 2020. (Photo: Agencies)
The 930-kilometer pipeline will carry Russian natural gas to southern Europe across the Black Sea and through Turkey, helping Russia reduce shipments through Ukraine.
Libya has Africa's largest oil reserves and its position on the Mediterranean coast means it is the launching point for many migrants trying to reach Europe.
The country has been in a state of political flux since the overthrow of military leader Muammar Gaddafi in 2011. The United Nations-recognized Government of National Accord, or GNA, forces are backed by most Western powers, and countries including Turkey and Qatar.
Russia backs opposition forces in the east of the country, led by military commander Khalifa Haftar, who are also supported by countries including Egypt, Saudi Arabia, the United Arab Emirates and Jordan.
Against a backdrop of rising tensions in the Gulf region following the United States attack that killed Iranian general Qassem Soleimani, the two presidents put aside their differences to call for a ceasefire.
"Today our President Erdogan and Russian head of state Putin are making a call for a truce in Libya, starting from midnight on Jan 12, the night from Saturday to Sunday," said Turkey's Foreign Minister Mevlut Cavusoglu.
In a joint statement, the leaders called for all sides to "declare a sustainable ceasefire, supported by the necessary measures to be taken for stabilizing the situation on the ground and normalizing daily life in Tripoli and other cities".
The conflict, the statement continued, is undermining regional security and "triggering irregular migration, further spread of weapons, terrorism and other criminal activities including illicit trafficking".
Although it did not address the joint call specifically, the GNA said it welcomed any "serious call" to return to political talks, and the idea was also positively received by the United Nations, who urged all parties to respond positively.
But the timing of the announcement will annoy the European Union, with several of its member states having made peacemaking efforts of their own.
Wolfram Lacher, Libya specialist at the German Institute for International and Security Affairs, told the Financial Times it was an attempt to "steal the initiative" and render a conference on the issue taking place in Berlin later this month "irrelevant".
"Turkey never made it a secret that it wants to strike a deal with Russia to divide up control over Libya," added Jalel Harchaoui, research fellow at Dutch thinktank the Clingendael Institute.
"By being involved militarily the two countries have been creating leverage to protect their influence when they go to negotiations."
Speaking in Istanbul, Erdogan praised Putin as "my valued friend".
The call from the two leaders came amid growing concern, voiced by German Foreign Minister Heiko Maas, that Libya could descend into a civil war similar to the one in Syria.
"We want to avoid Libya becoming the scene of proxy wars," he said. "Libya cannot become a second Syria and so we need rapidly to enter a political process, an agreement on an effective ceasefire and an arms embargo."
The pipeline further tightens already close bonds between Ankara and Moscow, coming after Turkey's decision to buy the S-400 Russian missile defense system last year.