How Lancang-Mekong Cooperation is changing the region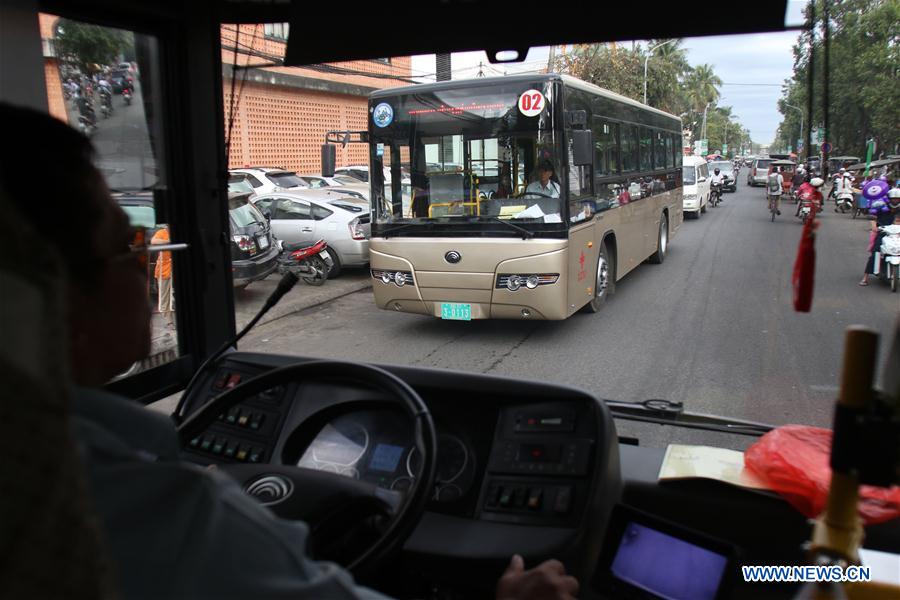 A Chinese Yutong bus runs on a road in Phnom Penh, Cambodia, Jan. 5, 2018. (Photo: Xinhua)
For Seng Voleak, a 23-year-old bank employee in Phnom Penh, Cambodia, her commute home has become easier thanks to buses donated by China.
Voleak rides the city bus twice a month to travel from where she lives in central Phnom Penh to the city's western suburb, where she takes a taxi to her hometown in the southwestern Kampot province.
"The distance between my house and the taxi station is more than 10 km, and if I take tuk-tuk (auto rickshaw), the fare is pretty high -- between 20,000 riel ($5) and 25,000 riel ($6.25) -- but riding the bus costs me only 1,500 riel (0.37 cents)," she told Xinhua. Besides the advantage in ticket price, the bus is equipped with GPS, cameras and air-conditioners.
China's Zhengzhou Yutong Group built 98 such buses and donated them to Cambodia in July 2017 under the Lancang-Mekong Cooperation (LMC) framework established in March 2016 by China, Laos, Cambodia, Myanmar, Thailand and Vietnam.
The mechanism, as its name suggests, is made possible because the six countries share the same river -- called the Lancang River in China and the Mekong River when it flows through the other five countries before emptying into the sea.
WIN-WIN COOPERATION
Capable of carrying 80 passengers each, the Yutong buses are tailored to better suit the climate and road conditions in Cambodia.
"Phnom Penh has both wet and dry seasons with a hot climate, so the buses were tailored according to these local conditions," Yutong's sales manager for Asia & Pacific Division Jiang Lin told Xinhua.
Through Yutong's on-bus intelligent transport system (ITS), the Phnom Penh City Bus Authority (CBA) could monitor the real-time condition of the 98 buses via a computer or a smart phone, he added.
Meanwhile, a raft of projects within the LMC framework are well under way, such as the Kunming-Bangkok Road, China-Laos Railway, China-Thailand Railway, Long Jiang Industrial Park in Vietnam, Vientiane Saysettha Development Zone of Laos, and Sihanoukville Special Economy Zone in Cambodia.
In addition to those construction projects, the six countries are also expected to strengthen media cooperation as the two-day 2018 LMC media summit kicked off on Monday. The Chinese delegation, led by Huang Kunming, head of the Publicity Department of the Communist Party of China Central Committee, attended the summit.
INNOVATIVE MODEL
The LMC offers a new path of sub-regional development featuring equality, sincerity, mutual assistance and kinship.
"On a grander scale, I believe that the LMC could be considered a new model of South-South cooperation that supports the LMC member countries to deliver economic prosperity to their people under the framework of the United Nations 2030 Agenda for Sustainable Development," Cambodian Foreign Minister Prak Sokhonn said.
At an exhibition showcasing LMC achievements in Phnom Penh in January, Chinese telecommunications giant Huawei exhibited its various cooperation projects in Cambodia, Laos, Thailand and Myanmar. The Chinese company is currently the largest information and communication technology provider in Cambodia, serving more than one third of its population.
Besides mobile phones and base stations, Huawei has also been building a submarine optical fiber cable (SOFC) connecting Thailand, Cambodia and Malaysia.
"We are also planning with the Cambodian government to build a China-Cambodia SOFC," said Li Xiongwei, CEO of Huawei Cambodia.
Another notable project is the "Mekong Bright Journey" plan launched in 2016, which has treated more than 600 cataract patients in Myanmar, Laos and Cambodia, improving the eye sight of some 3,000 patients.
Daw Thein Khin is a 70-year-old woman from Myanmar's northern Mandalay region. Having suffered from cataracts for three years, she underwent surgery for free by a Chinese medical team last year.
"I can now finally see the blue sky and white clouds, and my daughter's face! I'm so happy!" she told Xinhua.
"I'm really thankful to the Chinese doctors who helped me. Thank you for bringing light into my life again," she added.
SUSTAINABLE DEVELOPMENT
The LMC platform has so far set up the Water Resources Cooperation Center, Lancang-Mekong Environmental Cooperation Center and the Global Mekong River Studies Center to protect water resources and the overall environment in the region.
In November 2017, Power Construction Corporation of China achieved synchronous water closure of its Phase II Nam Ou River-1 and Nam Ou River-7 hydropower stations in Laos, marking a leap in the hydropower construction project.
The Nam Ou drainage basin hydropower development plan is a seven-dam cascade project with a total installed capacity of 1,272 mega-watts and annual generating capacity of some 5,000 gigawatt hours, which will greatly alleviate the landlocked country's power shortage.
Bo Ou, 58-year-old chief of Thong Kham village, where a Nam Ou cascade hydropower plant is located, has witnessed the huge changes in his village.
"Since the project started, many villagers have been employed by the project, and we can sell a lot of things to the Chinese employees here. Our lives are so much better," he said.
Now, many Chinese companies have signed contracts to provide electricity for Laos, facilitating the country's development plan to become the "storage battery on the Indochina Peninsula."
In 2016, China helped relieve a massive drought in Vietnam by releasing water from the Jinghong Dam in southwest China's Yunnan Province, located at the upper stream of the Lancang-Mekong River.
"I had to spend millions of Vietnamese dong (hundreds of US dollars) to buy a powerful pump and long pipes, but still failed to save our field because the water left in the canals was too salty," Vo Van Chien, a farmer in Vietnam's southern province of Ben Tre, recalled, saying, "The best news was that fresh water arrived."