Tanzania and Côte d'Ivoire set to go to polls
chinadaily.com.cn
1603802292000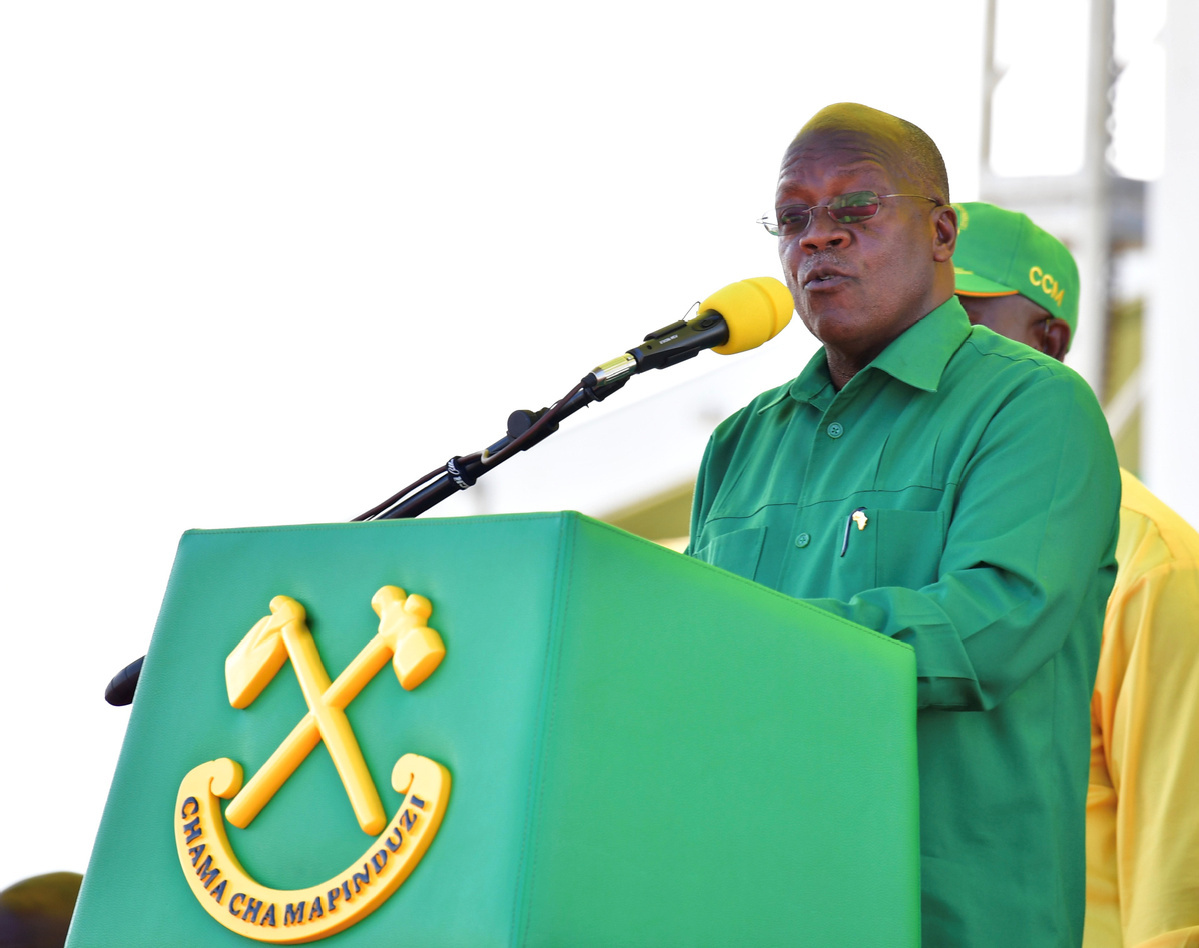 Tanzania and Côte d'Ivoire are set to hold presidential elections, on Oct 28 and 31 respectively, to elect leaders who will steer the countries' economies for the next five years.

President John Magufuli of Tanzania, who took office in 2015, is seeking re-election for a second term and faces competition from 14 other candidates.
In his campaigns, Magufuli, 60, has been promising to boost the country's gross domestic product once re-elected, as well as boost tourism earnings, create more jobs and revive the national carrier.
Magufuli also promised to complete pending projects like the Julius Nyerere Hydropower Station, which is expected to produce 5,920 gigawatts of power annually once complete.
The construction of the $3 billion project, set to be the fourth-largest in Africa and ninth-largest in the world, kicked off in July 2019.
The country is also constructing a standard gauge railway that will link its port city of Dar es Salaam with Rwanda, DR Congo and Burundi. Another project under construction is an international airport in the country's capital Dodoma.
Magufuli has also used his response to the coronavirus pandemic as a campaign tool. In June, he declared Tanzania coronavirus-free, attributing the achievement to prayers and fasting.
Magufuli thus allowed all economic activities to resume. The country stopped publicly publishing data on coronavirus cases on April 30.
Over the last five years Magufuli, whose Chama Cha Mapinduzi party has ruled since the country gained independence in 1961, has been accredited with steering Tanzania's economic growth.
The country's gross domestic product growth in 2019 was 6.8 percent according to the African Development Bank.
While Magufuli is facing Tundu Lissu as his main challenger, many analysts see him having strong chances of winning re-election.
Lissu, 52, had been in exile in Belgium after surviving an assassination attempt in 2017 that saw him shot 16 times. He returned to the country in July and has since been campaigning vigorously, attracting large crowds.
Tanzania has been politically stable and one of the fastest-growing economies in Africa.
In Côte d'Ivoire President Alassane Ouattara, who took office in 2011, is seeking a third term.
Ouattara, 78, announced in March he wouldn't run but changed his mind after the July death of Amadou Coulibaly, his preferred successor.
The decision has triggered outrage from the opposition and civil society groups, terming it as a violation of the constitution. However, Ouattara said constitutional changes in 2016 allow him to vie for a third term.
He argues his first term in office should not be counted, as the constitutional changes that limit presidents to two terms were enacted during his second term.
This has resulted in clashes between his supporters and the opposition ahead of the Saturday elections.
In a statement on Saturday, the government confirmed at least 16 people had been killed due to a civil disobedience campaign called by the opposition.
In 2010, the country experienced post-election violence that claimed at least 3,000 lives after then-President Laurent Gbagbo refused to concede defeat to Ouattara.
In a statement on Oct 22, Antonio Guterres, the UN secretary-general, expressed concerns over the tense situation in Côte d'Ivoire ahead of the election.
Guterres condemned the violent events in Bonoua and Dabou, which has caused several fatalities.
He called on political and opinion leaders to reject the use of hate speech and the incitement of violence along ethnic political lines.
Guterres encouraged all political actors and their supporters to embrace meaningful dialogue and forge an environment conducive to the holding of an inclusive and peaceful election.
Ouattara will be running for the presidency against three other candidates. His main challenger Henri Konan Bedie, 86, was the country's president from 1993-1999.
Côte d'Ivoire, one of the world's biggest producers of coffee and cocoa, has ethnically been a divided country and experienced several military uprisings and armed conflicts over the past two decades.