Pakistan's ex-PM Sharif returns home to face jail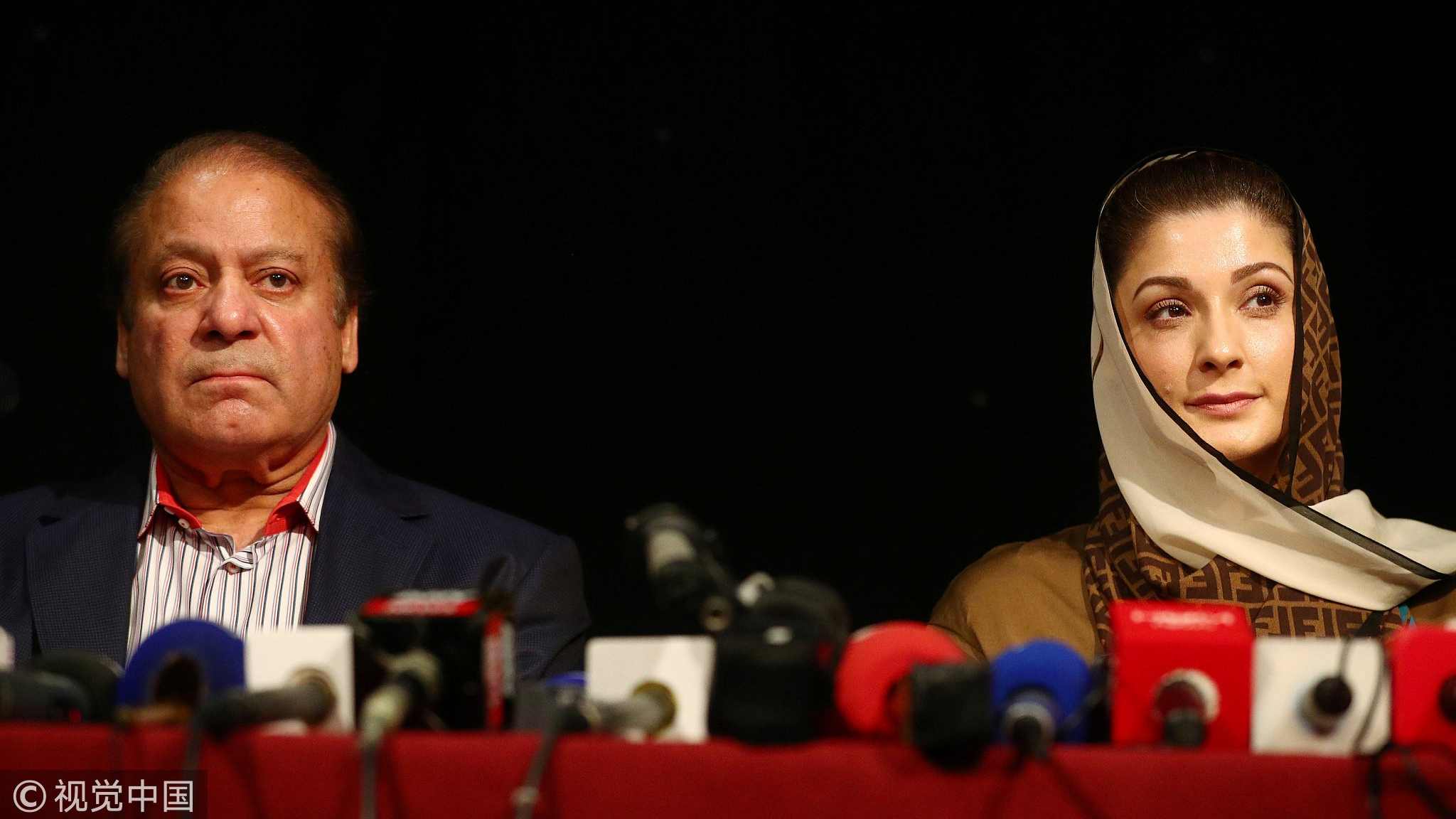 (Photo: CGTN)
Pakistan's former Prime Minister Nawaz Sharif and his daughter Maryam are expected back in Pakistan on Friday, where they face jail sentences for corruption, in a risky bid to boost their party's chances in July 25 elections.
Authorities have mobilized more than 10,000 police officers ahead of their arrival and plan to block roads with shipping containers to shut down the city of Lahore, where the former prime minister is due to land.
Supporters of Sharif's Pakistan Muslim League-Nawaz (PML-N) party have said they will march to the Lahore airport, in defiance of a ban on all public rallies.
To prevent a hero's welcome on the streets, authorities said they will arrest Sharif and his daughter upon landing and transport them to the capital Islamabad by helicopter, local media reported.
Sharif, 68, is returning from the UK one week after an anti-corruption court in Pakistan handed him a 10-year jail term over the purchase of luxury London flats and sentenced his daughter and political heir to seven years in prison.
The pair's return could now shake up the race ahead of general elections in the country, which currently has a caretaker government, on July 25.
Recent opinion polls suggest Sharif's PML-N party – which was considered a run-away favorite to retain power one year ago – has lost its lead nationally to the Pakistan Tehreek-e-Insaf (PTI) party of arch-rival and ex-cricket hero Imran Khan.
Sharif, who served three terms as prime minister, the most recent one ending last year, has cast himself as a defender of democracy.
"Nawaz really believes this is about democracy and his legacy," Musadik Malik, Sharif ally and former PML-N cabinet minister, told Reuters.
"That is why he is willing to lose 10 years of his life over this."
"Despite seeing the bars of prison in front of my eyes, I am going to Pakistan," Sharif told Pakistani journalists this week in London.
Khan, whose anti-corruption message has resonated with many Pakistanis, has on the other hand painted Sharif as a "criminal" who looted the state for decades, and has welcomed his prison term as overdue accountability.
Sharif was ordered jailed after failing to explain how his family acquired London flats, which they owned through off-shore companies, according to 2016 Panama Papers revelations.
Maryam was convicted for concealing ownership of the apartments. Both deny any wrongdoing.
The kind of reception Sharif receives on the streets of Lahore will be viewed carefully in Pakistan, where political popularity is often measured by the size of rallies that politicians can attract.
After the Supreme Court ousted Sharif last July, the courts barred him from heading the PML-N party he founded. His brother Shehbaz became PML-N's president, but Sharif remains the power behind the throne.