Dismissal of US government official criticized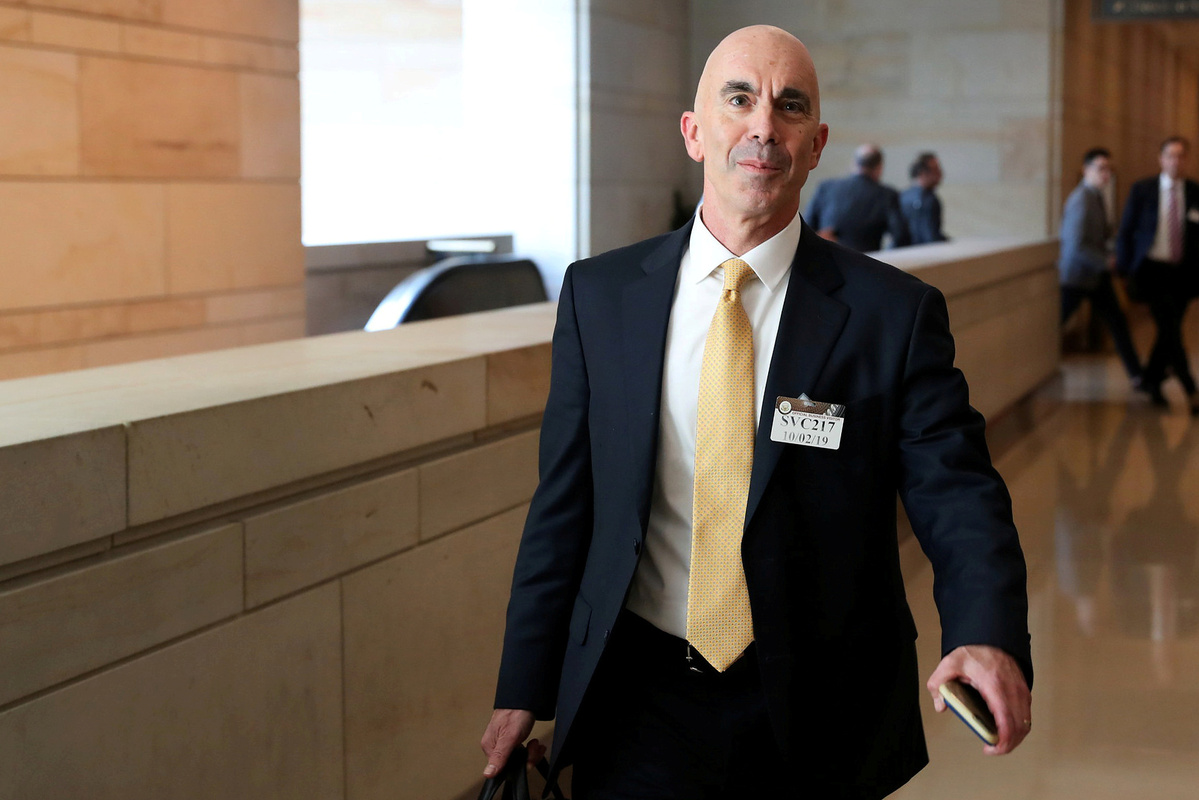 US State Department Inspector General Steve Linick departs after briefing House and Senate Intelligence committees at the US Capitol in Washington, US, Oct 2, 2019. (Photo: Agencies)
Congressional Democrats have launched an inquiry into US President Donald Trump's "politically motivated" dismissal of a government watchdog.
The announcement came on Saturday after Trump told House of Representatives Speaker Nancy Pelosi late Friday that he planned to dismiss Steve Linick, who began his tenure as the State Department Inspector General in 2013.
"It is vital that I have the fullest confidence in the appointees serving as inspector general," Trump said. "That is no longer the case with regard to this inspector general."
Trump's announcement has sent shock waves across Congress, triggering strong pushback, especially from Democrats.
Pelosi said on Friday that Trump's decision "has accelerated his dangerous pattern of retaliation against the patriotic public servants charged with conducting oversight on behalf of the American people".
The California Democrat warned that the action will set back the Office of Inspector General's duties to perform "critical audits, investigations and inspections of US embassies and programs around the world "during the coronavirus pandemic.
Eliot Engel, who heads the House Foreign Affairs Committee, said he had learned that Linick had opened an investigation into Pompeo.
'Act of retaliation'
"Linick's firing amid such a probe strongly suggests that this is an unlawful act of retaliation," the congressman said.
A Democratic congressional aide, speaking on condition of anonymity, said Linick was probing complaints that Pompeo misused a political appointee to perform personal tasks for himself and his wife, Susan Pompeo.
CNN, citing a senior State Department official, reported that it was Pompeo himself who had recommended the firing and who hand-picked Stephen Akard, a former aide to Vice-President Mike Pence, to succeed Linick.
Trump has moved to fire three other watchdogs from the federal government: Intelligence Community Inspector General Michael Atkinson; acting Pentagon Inspector General Glenn Fine, and Principal Deputy Inspector General of the Department of Health and Human Services Christi Grimm.
Walter Shaub, who resigned as director of the US Office of Government Ethics six months into Trump's presidency, tweeted on Saturday that "Trump has waged war on oversight and accountability from day one, and this purge is a dangerous escalation".
"Downplaying Trump's assault on the primary internal integrity mechanism is a game of trying to look bipartisan or nonpartisan in defiance of the facts."
Senator Chuck Grassley, an Iowa Republican, said on Saturday that "inspectors general are crucial in correcting government failures".
"Congress requires written reasons justifying an IG (inspector general)'s removal," Grassley said.
"A general lack of confidence simply is not sufficient detail to satisfy Congress."