US, China need more robust dialogue: former senior US diplomat Christopher Hill
WASHINGTON, Nov. 7 (Xinhua) -- With cooperation and competition always coexisting in US-China ties, what the two sides really need is to solve the problems through negotiation and more robust dialogue rather than resort to tariffs, said former senior US diplomat Christopher Hill.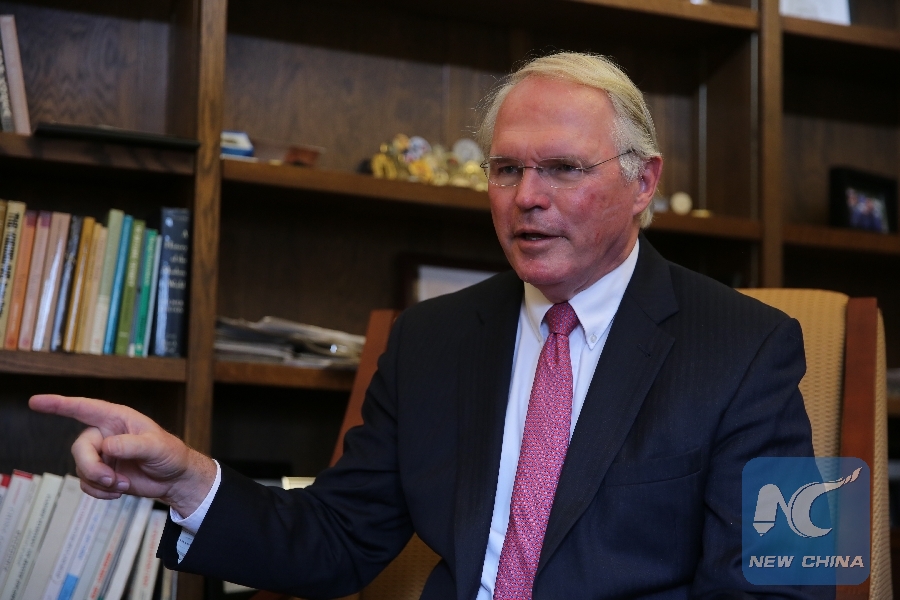 Former senior US diplomat Christopher Hill receives an exclusive interview with Xinhua in Denver, the United States, Nov. 1, 2018. (Photo: Xinhua)
"Whether China likes it or whether the United States likes it, we're going to have to be looking at each other for a long, long time," said Hill, who once served as the Assistant Secretary of State for East Asian and Pacific Affairs from 2005-2009, in a recent exclusive interview with Xinhua.
Washington and Beijing need an "even more robust dialogue" on trade, regional security and many other issues, added Hill, now a professor of diplomacy at Denver University.
The veteran diplomat made it clear that he didn't believe the tariffs were a right answer for current US-China problems.
"Obviously to me, some of these surpluses are quite understandable given China's stage of economic development, and given the US stage of economic development," the 66-year-old said.
He said that tariffs cause far bigger problems than they solve, which is proved by history, facts, and analysis from experts.
During the interview, Hill more than once called on the two countries to handle their differences through negotiation and dialogue.
"I don't think that (tariff) is a way to deal with problems," he said. "Where I would want to see those problems dealt with is through a negotiated process and a much more robust dialogue between the United States and China."
The US-China relationship is a "very important relationship to the United States," noted Hill, who once served as America's leading negotiator in the six-party talks on the Korean peninsula denuclearization.
"I think this relationship is too big to fail and I would humbly suggest that we need to find some areas where we can work on things together," he added.