Macron stokes anger by calling Petain 'great' WWI soldier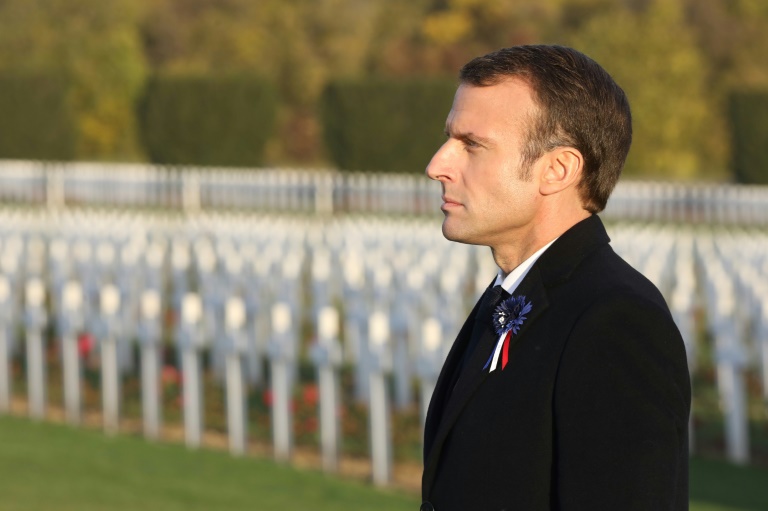 French President Emmanuel Macron, seen here visiting a WWI cemetery, faces a storm of criticism for describing army commander turned Nazi collaborator Philippe Petain as a "great soldier" (Photo: AFP)
President Emmanuel Macron faced a wave of criticism Wednesday after defending Nazi collaborator Philippe Petain, who led France's authoritarian Vichy regime, as a "great soldier" during World War I.
Army spokesman Patrik Steiger announced late Tuesday that a ceremony would be held Saturday to commemorate the eight marshals who commanded French forces during WWI, including Petain.
"It's right that we honour the marshals who led France to victory," Macron said in the town of Charleville-Mezieres, part of a tour of northern France marking the centenary of the war's end.
"He was a great soldier, it's a fact," Macron said, though he stressed that Petain had made "disastrous choices" during World War II.
His comments drew fierce criticism from rival politicians as well as Jewish leaders, while reopening a painful chapter in France's history which continues to divide the nation decades on.
Francis Kalifat of the CRIF association of French Jewish groups said he was "shocked" by Macron's comments praising a leader who helped deport thousands of Jews to their deaths.
"The only thing we will remember about Petain is that he was convicted, in the name of the French people, of national indignity during his trial in 1945," Kalifat said in a statement.
"Petain is a traitor and an anti-Semite," tweeted Jean-Luc Melenchon of the far-left France Unbowed party, echoing a flurry of angry postings.
"Macron, this time you've gone too far!"
- 'Complicated' -
For years French leaders have treaded lightly when dealing with Petain's tortuous legacy, which his critics say left an indelible stain on the country.
Yet the marshal has long been considered an excellent tactician during the Great War, not least for halting the German advance at Verdun in 1916.
He also earned soldiers' admiration by advocating strategies which avoided unnecessary fighting and deaths -- though he nonetheless condoned the execution of attempted deserters.
Hailed as a hero after the armistice, Petain would be called on to lead again after Germany invaded in 1940, taking over much of France.
But as head of the Vichy regime, he actively collaborated with the Nazi occupiers, pursuing French resistance fighters while enacting second-class status for Jews and helping German soldiers round them up for the death camps.
After the war's end he was arrested for treason and given the death sentence, which was commuted into life imprisonment given his age. He died in 1951, aged 95.
"I'm not overlooking any page in our history," Macron said Wednesday.
"Political life, and human nature, are sometimes more complicated than we might like to believe," he said.
- 'Fake controversy'? -
Former socialist president Francois Mitterrand provoked similar outrage by placing flowers on Petain's tomb on the anniversary of the armistice for years, a practice his conservative successor Jacques Chirac quickly ended.
Macron will not attend the ceremony Saturday at the Invalides military hospital and museum in Paris, sending instead his chief military advisor to represent him.
A government spokesman on Wednesday tried to play down what he called a "fake controversy", saying that even Charles de Gaulle believed Petain's glory earned at Verdun "could never be called into question".
The debate reflects a longtime divide along political lines, with rightwing groups often praising Petain's endorsement of what he considered traditional Catholic values.
As head of Vichy France, he replaced the country's motto of "Liberty, Equality and Fraternity" with the more paternalistic "Work, Family and Country".
The controversy came as Macron held his regular cabinet meeting in Charleville-Mezieres for the week, as part of centenary commemorations along the former Western Front.
Dozens of world leaders are expected to attend an armistice ceremony in Paris on Sunday, and many will stay to participate in a peace forum called by Macron to promote multilateralism.
The president's battlefield tour has been marked by protests over rising living costs, in particular fuel price increases which many blame on high taxes.
Angry drivers as well as pensioners have confronted Macron during his public appearances, and thousands of drivers are expected to block roads across the country on November 17 in protest.
Macron has said he understands their grievances and promised relief, but added Wednesday that "some people are sincere in their anger, and some are insincere".