Turkey's new finance chief, Erdogan's son-in-law, vows to bring inflation down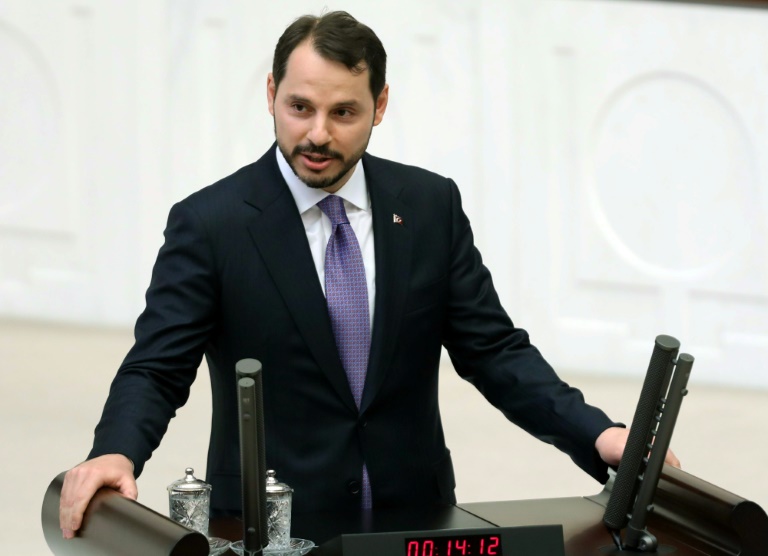 Turkey's newly appointed Minister of Treasury and Finance Berat Albayrak, son in law of President Recep Tayyip Erdogan, takes his oath of office in parliament.(Photo: AFP)
Turkey's incoming finance minister, the son-in-law of President Recep Tayyip Erdogan, on Tuesday vowed to bring inflation down to single digits as he seeks to win over investors spooked by his appointment.
Berat Albayrak, the husband of Erdogan's elder daughter Esra, was on Monday named by the president as treasury and finance minister as part of a cabinet reshuffle for his new term.
Albayrak's surprise switch from the energy ministry spooked financial markets, who were also unhappy to see there was no room for outgoing deputy prime minister Mehmet Simsek, the government's pointman on the economy.
"In the coming period we will work intensively to bring inflation down to single digits," Albayrak said at a handover ceremony with Simsek, whose post no longer exists in the new government.
Inflation in Turkey surged to over 15 percent in June for the first time in almost one-and-a-half decades, raising new fears that the economy is overheating.
Albayrak promised a "more successful performance" in the coming period based on "independent institutions".
Erdogan has repeatedly called on the central bank, nominally independent, to cut interest rates, raising concerns over its credibility.
Albayrak, 40, vowed that Turkey would set "an example for the world" in financial and budgetary discipline and also vowed "a vigorous and energetic monetary policy", without giving further details.
"Turkey will write a new story," he promised.
The lira had on Monday lost over 3.5 percent in value against the dollar after Albayrak's appointment, with markets also rattled by changes to the president's relationship with the central bank under the new system that dispenses with the office of prime minister.
Presidential decrees said the central bank governor would no longer have the power to appoint his deputies while Erdogan would now directly name the governor with no need to act in tandem with the government.
The lira on Tuesday gained back 0.5 percent against the dollar to trade at 4.7 to the greenback.
"The pace at which he (Erdogan) is moving to tighten his grip is alarming and, in response, Turkish financial assets have come under pressure," said Jason Tuvey, senior emerging markets economist at Capital Economics, in a note to clients.
Simsek, a former Merill Lynch economist who had spent much of the last year trying to reassure markets after sometimes provocative comments by Erdogan, appeared to show no bitterness over his departure.
"People are temporary, the main thing is service to our dear nation," he wrote on Twitter. "Goodbye to you all."