Africa heightens efforts to flatten infection curve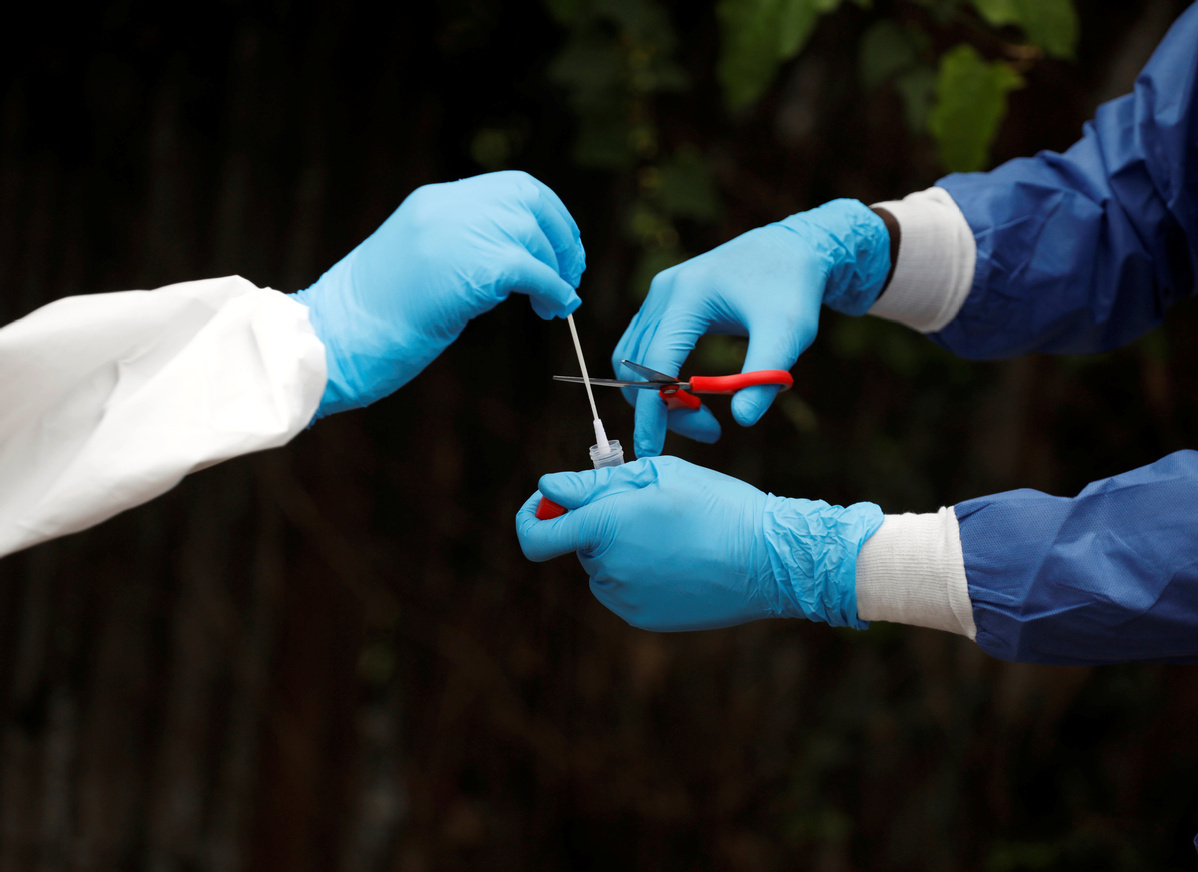 A Kenyan ministry of health medical worker puts a swab into a test tube during mass tasting in an effort to fight against the spread of the coronavirus disease (COVID-19) in the Kawangware neighborhood of Nairobi, Kenya, May 2, 2020. [Photo/Agencies]
With the new coronavirus infection rate reducing by the day, Africa is heightening efforts to flatten the curve and ensure no resurgence of the virus.
According to the Africa Centres for Disease Control and Prevention, over the past four weeks, the number of new cases being reported weekly decreased by 10 percent on average across the continent.
Between Sept 1 and Thursday, the continent recorded 53,605 new cases.
As of Sunday, the continent had recorded a total of 1,346,658 cases, 32,502 deaths and 1,083,438 recoveries.
However, the Africa CDC has warned the continent is not yet out of the woods and called on countries to continue observing preventive measures.
Kenya, which has been recording a drop in new cases and deaths since mid-August, warned the public against complacency that could trigger a second wave of infections.
A cabinet meeting chaired by President Uhuru Kenyatta of Kenya on Thursday, said the national endeavor to flatten the coronavirus disease curve is dependent on individual and communal behavior.
The cabinet urged all Kenyans to continue observing the guidelines and protocols issued by the Ministry of Health, including wearing of face masks, rigorous and frequent hand-washing, and physical and social distancing.
Building capacity
Meanwhile, efforts are ongoing at continental level to win the battle against the virus.
On Saturday, the Africa CDC and the Foundation for Innovative New Diagnostics, a global health nonprofit based in Geneva, Switzerland, announced a new partnership to build capacity in readiness for the introduction of new, high-quality antigen rapid diagnostic tests for coronavirus that are expected to become available soon.
Fast, smooth and efficient rollout of affordable, accurate antigen rapid diagnostic tests is expected to take the coronavirus response to the next level.
"Testing is the cornerstone of response to this pandemic. Without testing we will be fighting blindly. But the testing strategy must shift as countries unlock their economies," John Nkengasong, director of Africa CDC, said.
"We need to scale up testing and we need to improve the turnaround time for testing so that we can quickly identify, isolate and treat positive cases. This is where the rapid diagnostic tests play a very important role."
The Foundation for Innovative New Diagnostics and other Access to COVID-19 Tools Accelerator (a global collaboration to accelerate development, production, and equitable access to COVID-19 tests, treatments, and vaccines) partners are now engaging with countries to provide catalytic volumes of these tests to understand how they can best fit into health systems.
Lab network launched
The Africa CDC, in partnership with the World Health Organization, has also launched a network of laboratories to reinforce genome sequencing of the severe acute respiratory syndrome coronavirus 2, the virus that causes coronavirus disease.
Twelve specialized and regional reference laboratories in the network will provide sequencing, data analysis and other technical support services to the countries where they are located as well as to neighboring countries and countries in their subregions.
The establishment of a coronavirus sequencing laboratory network will help in determining the response to a given SARS-CoV-2 strain, the virus that causes COVID-19, and in helping countries manage localized or imported transmission.
Nkengasong said the establishment of the coronavirus sequencing network will help improve surveillance in the continent and help countries to effectively manage and control the pandemic.
"As the coronavirus pandemic curve flattens in Africa, we must be prepared for a possible resurgence as already observed in some countries. With genomic sequencing, we can have a better understanding of the pandemic through more precise identification of transmission clusters," he said.
Matshidiso Moeti, WHO's regional director for Africa, said through the new laboratory network dedicated to genome sequencing, Africa can better develop vaccines and treatment which are tailored to Africans and eventually bring coronavirus under control.
"As we continue to tackle the COVID-19 pandemic in Africa, being able to not only track its evolution, but also assess the possible mutation of the virus is crucial to mounting an effective response," Moeti said.