Singapore expected to continue balanced strategy, refuse confrontation in the region
Global Times
1650460766000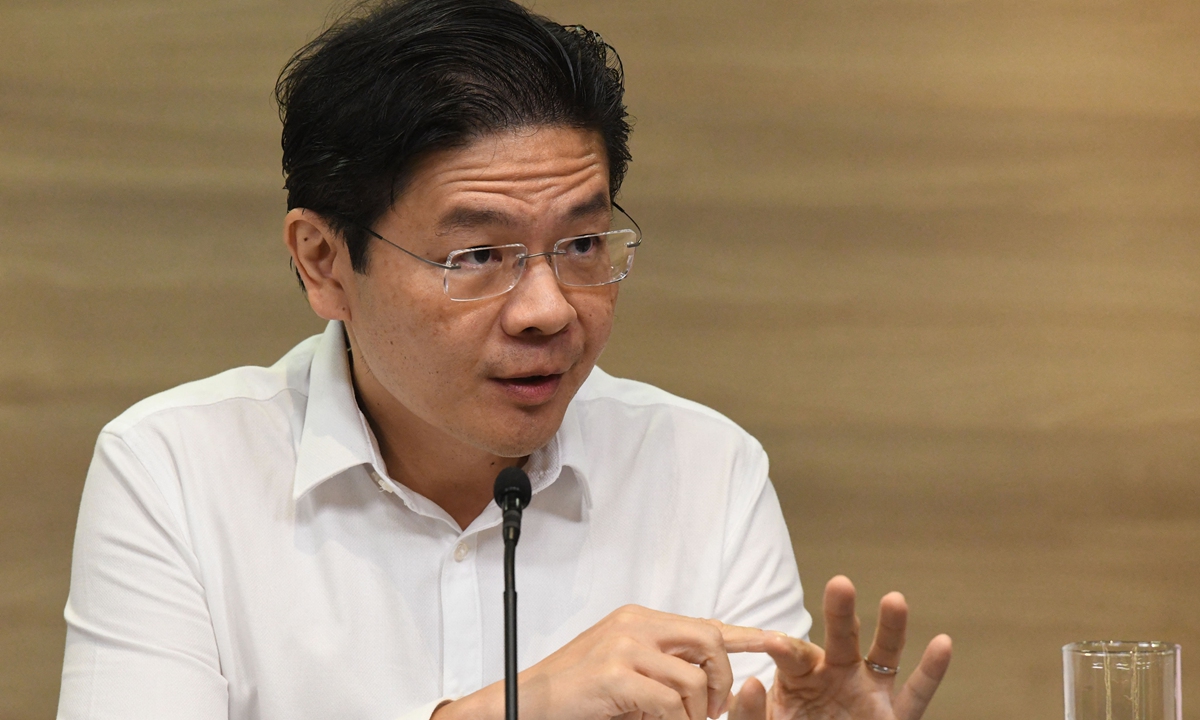 Singapore's Finance Minister Lawrence Wong on Monday urged China and the US to continue cooperating during his foreign trip after being confirmed as the next prime minister last Thursday.
Speaking at an event at the Peterson Institute for International Economics, a Washington-based think tank, Wong said that Beijing and Washington should "continue engagement [and] find ways to work together on many issues where there are … shared interests." This, instead of trying to contain China's rise, will lead to a "better outcome" for the world, he added.
Wong's remarks echo the cautious attitude Singaporean Prime Minister Lee Hsien Loong has been stressing over China-US relations. Back in 2020, Lee warned that any US effort to contain China will risk decades of confrontation that would be economically dangerous to the entire region.
Over the years, Singapore has been carefully walking a fine line on China-US relations.
According to Li Kaisheng, a research fellow and deputy director at the Institute of International Relations of the Shanghai Academy of Social Sciences, what Wong and Lee said proves that Singapore hopes Beijing and Washington can coexist peacefully, both in the region and the world.
"This is actually in the interests of Singapore. A confrontation between China and the US in the region could deal a very heavy blow to Singapore, a small city-state highly dependent on international trade," Li noted.
Even though it is still too early to predict the policies of the next Singaporean prime minister, it is certain that the country will not easily give up its balanced strategy when it comes to China and the US.
This doesn't mean such a policy can't be altered. In fact, Singapore will adjust its strategy according to how it views the development trend of China-US relations. In other words, if Singapore feels that the actions of either Beijing or Washington will potentially create a new risk to China-US relations, it will alert that nation in a suitable way to safeguard its interests.
This is why both Wong and Lee have warned the US to respond wisely to China's rise, which many misinterpreted as Singapore taking China's side. "What they tried to express is that the offensive posture of the US toward China in the Asia-Pacific region by adopting strategies, such as the formation or strengthening of alliances, run counter to Singapore's national interests," Li said.
Singapore can play a limited role in China-US relations, because the fundamental issues between the two countries are more likely to be solved through direct communication. However, there are still some institutional and cultural differences between China and the West, especially the US. As a country standing between Eastern and Western culture, Singapore may be able to bridge the gap between the two sides.
Just like Singapore, many regional countries don't want to choose between China and the US. However, such a decision is more difficult to make since the US is strengthening its Indo-Pacific Strategy to keep containing China. This is not the case for Singapore, according to Li.
"First, Singapore is not an ally of the US, but merely a security partner. For its allies, Washington tends to have lots of institutions to pressure them, but the US will not put a special pressure on Singapore. Second, unlike some regional countries, Singapore doesn't have strong anti-China voices that sometimes pressure politicians to take a less friendly stance toward China," he said.
"I think the leaders of both China and the US understand the special role Singapore plays between them, so they will allow some flexibility in Singapore's strategy, hoping the Southeast Asian nation can keep acting as a communication channel and bridge between China and the US," Li said.
The author is a reporter with the Global Times. xiawenxin@globaltimes.com.cn