Paris trial of jihadi's brother: prosecutors appeal sentence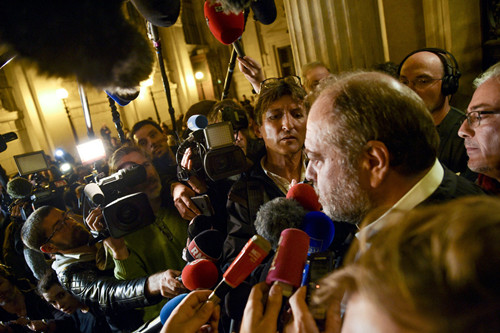 Abdelkader Merah process- Declaration of master Dupont Moretti in front of the press. (Photo: IC)
PARIS — Paris prosecutors have decided to appeal the court decision that convicted a French-Algerian man of terrorism ties but found him not guilty of complicity in his brother's deadly attacks on a Jewish school and French paratroopers in the Toulouse region.
Prosecutors said Friday that they feel that the court "didn't draw all legal consequences" from the case.
Abdelkader Merah was sentenced to 20 years in prison by a Paris court Thursday after a trial over his younger brother Mohammed's killings of three Jewish schoolchildren, a teacher and three paratroopers in the southern Toulouse region in 2012. Mohammed Merah was killed in a standoff with police.
Abdelkader Merah, now 35, was accused of radicalizing his younger brother but has always denied helping Mohammed prepare the attacks.