At least 33 killed, 23 still missing after boats capsize in southern Thailand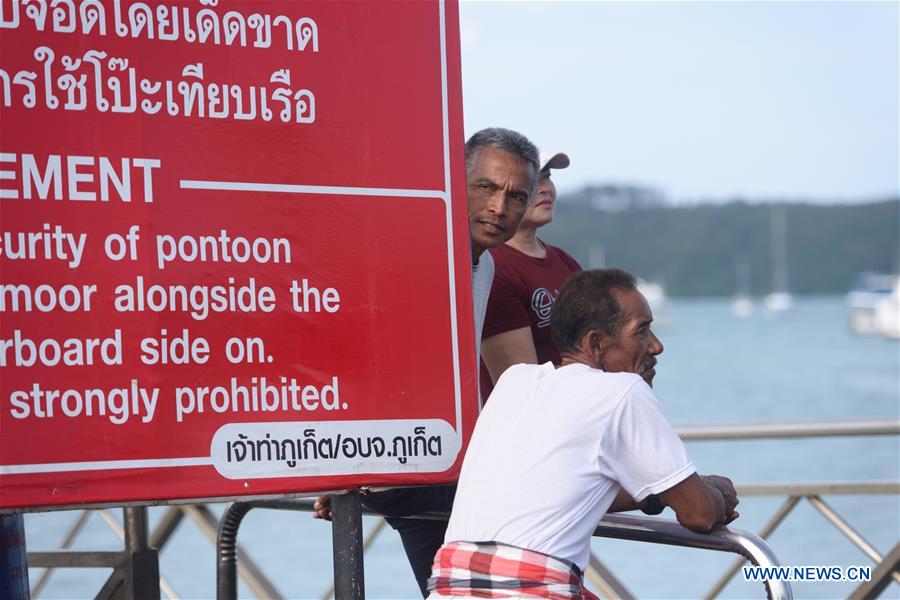 People wait for information about the rescue at a dock in Phuket, Thailand, July 6, 2018. At least 33 passengers were killed and 23 others still missing after two boats carrying some 133 tourists capsized in rough sea waters in southern Thailand, Governor of Thailand's Phuket Province Norraphat Plodthong said on Friday. (Photo: Xinhua)
At least 33 passengers were killed and 23 others still missing after two boats carrying some 133 tourists capsized in rough sea waters in southern Thailand on Thursday afternoon, Governor of Thailand's Phuket Province Norraphat Plodthong said on Friday.
Norraphat was reporting the latest statistics to Thai Tourism and Sports Minister Weerasak Kowsurat, representative of Prime Minister Prayut Chan-o-cha, at about 19:00 local time.
Norraphat said there was one dead, 58 missing this morning and Thai Navy and other authorities found two people, a Chinese and a Thai, alive who was on board a boat called Senereta earlier on Friday and thus all 42 passengers which were on Senereta survived the capsizal incident.
"Then there are still 56 missing ,who were all on board a boat called the Phoenix, and we found 33, only one alive and 32 dead, later," The governor said.
Tourism and Sports Minister Weerasak said the incident has become focus of attention of the international society and many Chinese media came to cover the incident. The minister added that Thailand has to do its best to rescue those who are missing, take care of those injured and help relatives of the victims to prepare for their funeral.
Both Senereta and Phoenix were carrying many Chinese tourists when the capsizal happened.
The Chinese Embassy in Thailand confirmed earlier Friday that 16 Chinese was killed, 78 Chinese rescued and 33 Chinese tourists are still missing.