Thai government releases first photos of Thai boys in hospital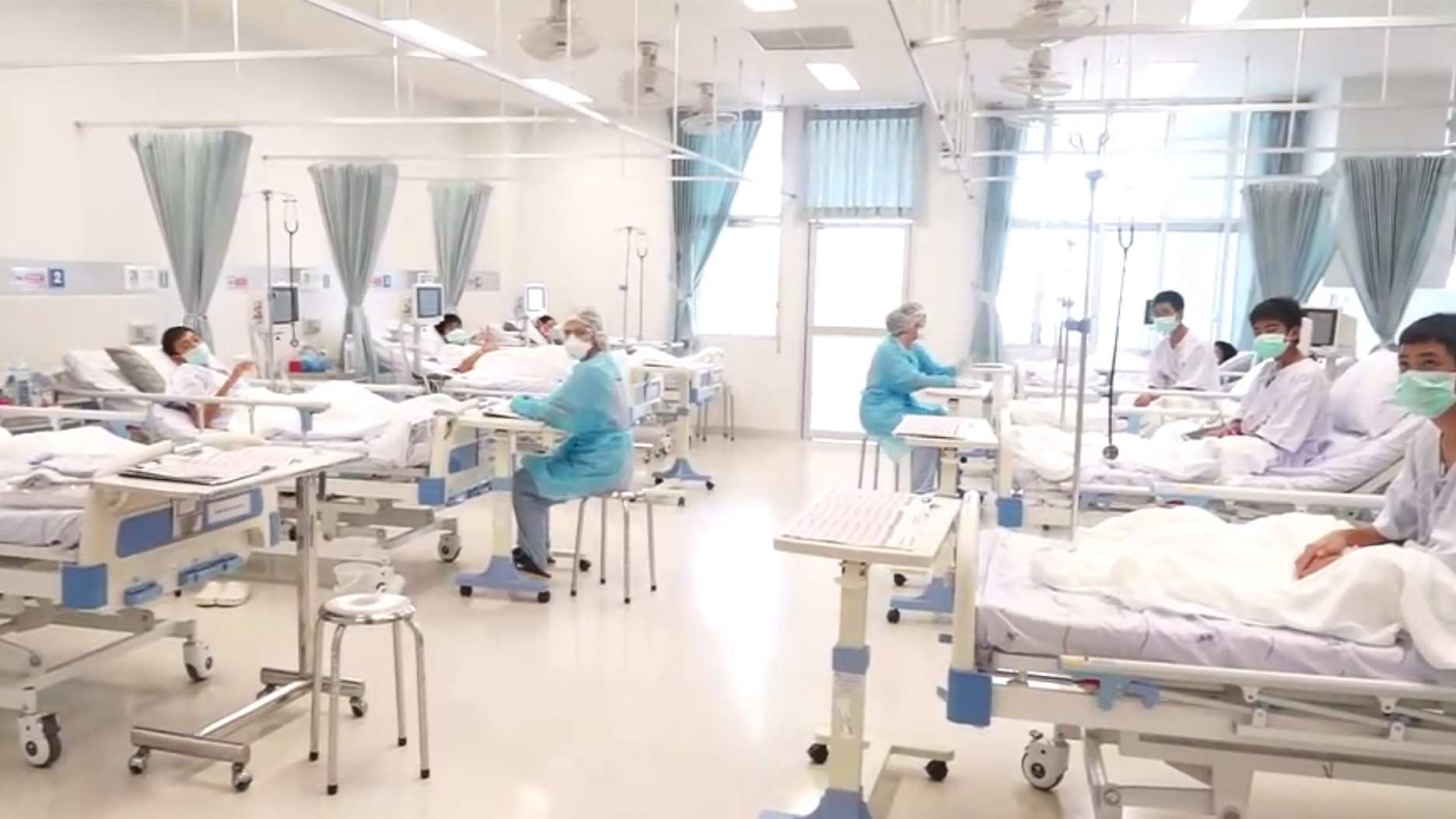 (Photo: CGTN)
Thai authorities on Wednesday released the first footage of several boys from a football team recovering in the hospital after they were rescued from a flooded cave.
The boys are wearing face masks, but appear to be in good health, nodding to the camera and making positive hand gestures, according to the footage released by the Government Public Relations Department (PRD) on Wednesday.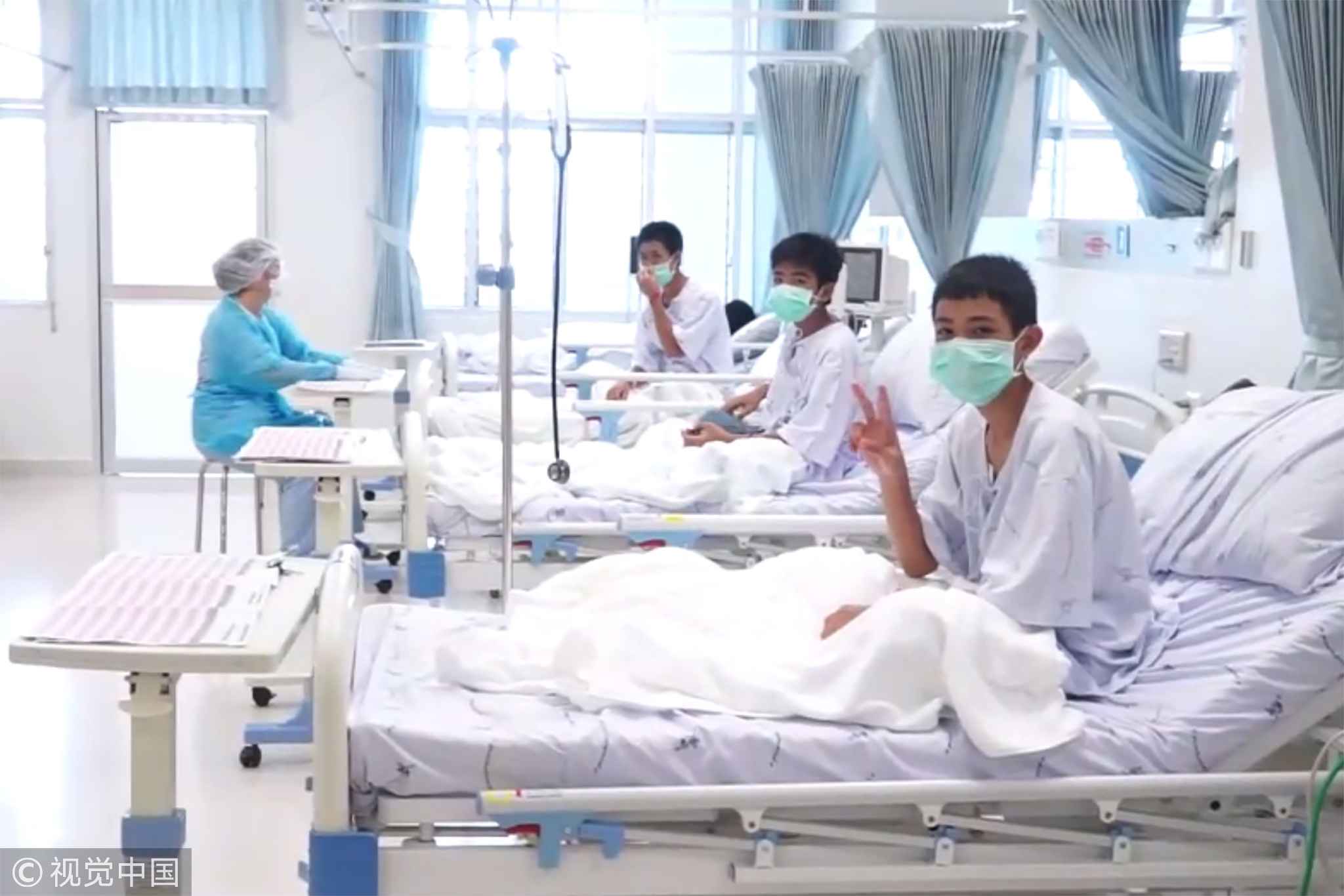 Several boys can be seen in face masks and hospital gowns, giving a victory sign for the camera. (Photo: VCG)
After three days of intense rescue, the dangerous mission to rescue the 12 boys from the "Wild Boars" football team and their 25-year-old coach from flooded Tham Luang cave in northern Thailand safely ended on Tuesday night, evoking international relief and joy.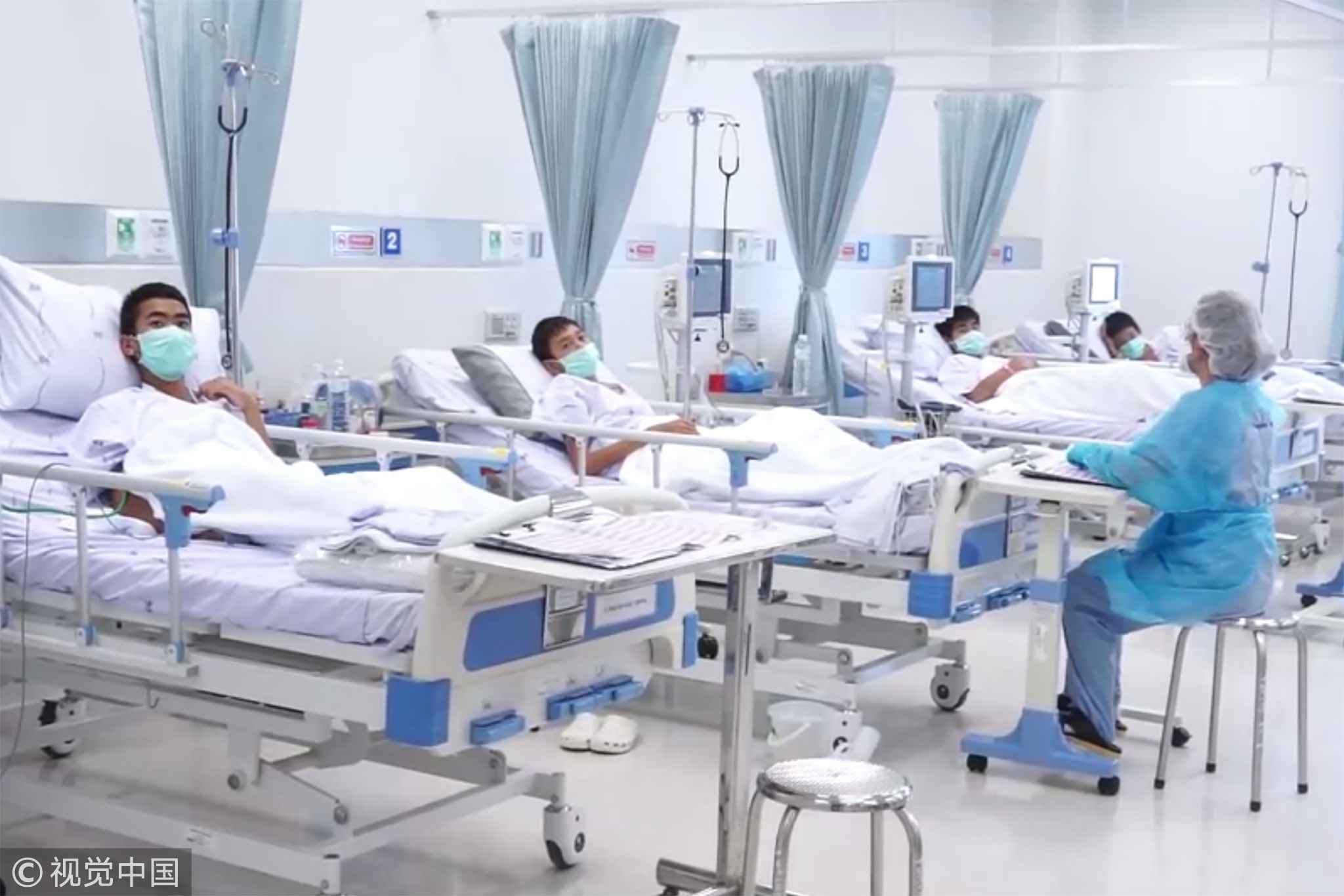 In the video released by the Thai government public relations department (PRD) and the government spokesman bureau, the boys appear to be in good condition. (Photo: VCG)
They have been trapped underground for over two weeks since June 23, when they went for an excursion to the cave to celebrate one of the members' birthday. A flood blocked their way back out.
Rescue mission chief Narongsak Osottanakorn told a news conference the boys were just being children when they got lost and no one was to blame.

"We don't see the children as at fault or as heroes. They are children being children. It was an accident," Narongsa said.
Twelve boys and the coach are now receiving medical and psychological assistance at a hospital in Chiang Rai city and would have to stay there for up to 10 days and then followed by 30 days of recuperation at home, according to hospital director Chaiwetch Thanapaisal.
The group, aged between about 11 and 17, survived in the cave nine days after being located by British divers.
A three-day rescue mission involving international efforts was officially launched on Sunday to bring them out in three batches, four boys each on day one and two, the last four boys and the coach were brought out on Tuesday.
According to the Thai navy, who released details of the mission on Wednesday, the 12 boys were sedated and passed on stretchers along the twisting, narrow passageways of the Tham Luang complex.
"Some of them were asleep, some of them were wiggling their fingers... (as if) groggy, but they were breathing," Commander Chaiyananta Peeranarong told AFP.
"My job was to transfer them along," he said, adding the "boys were wrapped up in stretchers already when they were being transferred" and were monitored at regular intervals by doctors posted along the kilometers-long escape route.