Sino-African collaboration aids in transition to green energy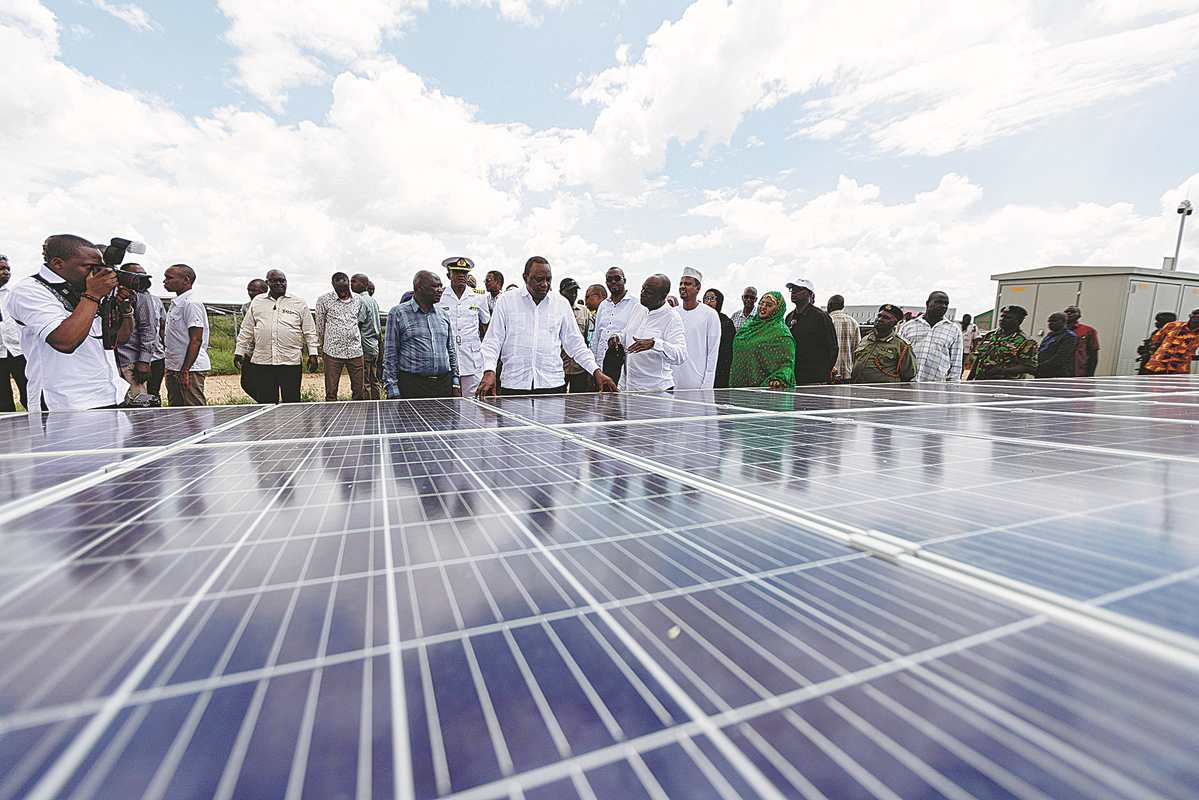 In Garissa, a small town 350 kilometers east of Nairobi, the capital of Kenya, a Chinese-funded solar plant is powering factories, schools and households while contributing to the Kenyan national grid by providing 2 percent of the national energy mix.

The Garissa solar plant is the largest grid-connected solar power plant in East and Central Africa. It is the first time Kenya has had a major power plant to harness its abundant solar energy resources, diversify the country's power generation mix and reduce energy costs.
Were it not for the collaboration between the Kenyan and Chinese governments, the 50-megawatt solar photovoltaic power plant, which was built by the China Jiangxi Corporation for International Economic and Technical Cooperation, would not have seen the light of day.
The plant is just one of many green energy projects being built across Africa through increased collaboration with China. The Sakai solar power station in the Central African Republic, the Aysha wind power project in Ethiopia and the Kafue Gorge hydroelectric station in Zambia — all products of this collaboration — are crucial at a time when climate change is causing drought, floods and famine on the continent.
During the 27th Conference of the Parties to the United Nations Framework Convention on Climate Change, which is being held in Sharm El-Sheikh, Egypt, delegates from African countries pledged to intensify efforts to develop renewable energy and called for international cooperation.
African experts expect the continent to work closer with China, which leads the world in renewable energy such as wind, solar and hydropower, in order to address climate change. Tackling climate change has been an important part of bilateral cooperation, with China having been involved in nearly 100 renewable energy and green development projects in Africa over the past two decades.
Cavince Adhere, an international relations scholar in Nairobi, said China has injected vitality into the continent's quest for climate resilience, despite Africa facing funding and technological bottlenecks in its green transition.
"China has been the leading partner in the continent's desire to switch to solar and wind energy," he said.
China has also called on developed economies to increase support for developing nations, urging them to fulfill their commitments by providing funds pledged to emerging economies to help them fight climate change, Adhere said.
Although African-Sino energy cooperation continues to grow, more efforts are still needed, he said. The International Energy Agency estimates that sub-Saharan Africa needs to invest $300 billion to achieve universal electricity access by 2030.
China is Africa's largest trading partner and top development projects constructor with increasing foreign direct investments stocks, and its role in the continent's economic and climate viability will continue to attract attention, Adhere said. "Luckily, the two sides have formalized the Forum on China-Africa Cooperation, which is an enduring platform that promotes dialogue and consultations among China and African countries."
However, Africa's challenge has more to do with energy access than energy transition, experts said.
Peter Kagwanja, chief executive officer at the Africa Policy Institute, in Nairobi, said that Africa's shift to green energy is taking place against the constraints of an insufficient energy supply on the continent.
Kagwanja said Africa's energy potential, especially in renewable energy, is enormous yet only a fraction of it is being realized. The continent is in a position to benefit from China's record on alternative energy, with the country on track to achieve carbon neutrality by 2060.
According to the International Energy Agency, 55 percent of Africa's population lacks access to electricity and the power shortfalls are also hurting industries.
Adhere commended China for helping Africa pick up the pace in the green energy sector through greater investment and funding. During last year's FOCAC in Dakar, Senegal, China promised to increase investment in renewable energy, energy-saving technologies and low-carbon industries.
Among the documents adopted at the FOCAC ministerial meeting was the Sino-African Declaration on Climate Change. The declaration states that both sides unanimously advocate innovative, coordinated, green, open and shared sustainable development, and strive to promote the green recovery of the world economy after the COVID-19 pandemic.