Norwegian lawmaker had attack suspect as driver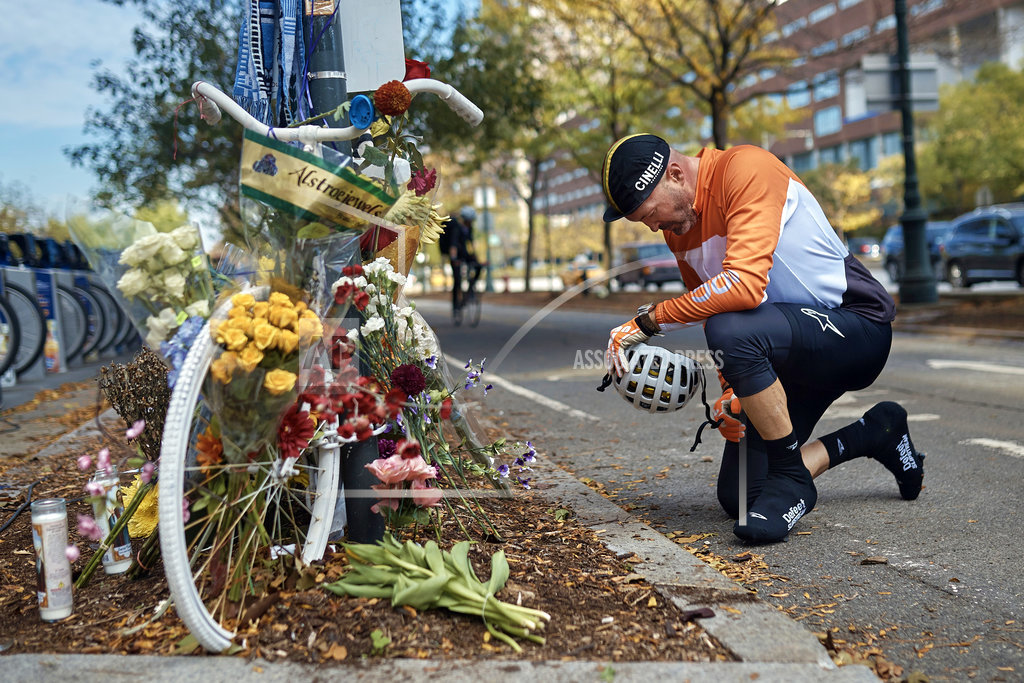 Eric Fleming, 41, stops by to express his condolences in front of a bike memorial where people leave flowers to remember the victims of the attack on November 2 in New York. Photo: AP
The latest on the investigation into the deadly bike path attack in Manhattan (all times local):
7:25 a.m.
A Norwegian lawmaker says she remembers having the suspect in the deadly New York City bike path terror attack as a driver last summer.
Asunn Lyngedal, of the opposition Labor Party, says 29-year-old Sayfullo Saipov (sy-foo-LOH' sah-YEE'-pawf) was her driver in July when she used Uber for a ride to the airport at the end of her New York vacation.
Lyngedal says Saipov struck her as "not quite stable" and stopped suddenly during the ride and left the car. She told the Norwegian daily Dagbladet on Friday that when he returned to the vehicle she understood he had argued with someone in a car behind. He also asked whether he should "beat them up."
Lyngedal said she thought he "was tired and overworked." She added that Saipov talked a lot about his life in the US, had a wife and children and said he was tired because he drove a truck for his brother in addition to being an Uber driver.
___
6:45 a.m.
One of the two high school students injured in the deadly terror attack on a New York City bike path returned to classes the day after to keep his perfect attendance record.
City Schools Chancellor Carmen Fariña says 17-year-old Noah Salz, of Brooklyn, was back at Stuyvesant High School on Wednesday, a day after being hurt when an Uzbek immigrant drove a rented truck down the West Side path, killing eight people and injuring 12.
The injured include Salz, a 14-year-old girl and two adults who were on a school bus hit by the truck. The girl remains hospitalized.
Farina says Salz told his mother he couldn't miss school because he was working on his perfect attendance. When the teen's bus didn't show up Wednesday, his mother used a car service to bring him to school.
___
12:20 a.m.
The eight people killed in a truck driver's rampage have been honored with a nighttime walk down the riverfront esplanade where the victims died as both investigators and terror-weary New Yorkers try to make sense of the crime.
Some of the marchers carried candles Thursday night. Others pushed bicycles in solidary with the victims, who were cut down on a bike path that runs the length of Manhattan's waterfront.
The walk took place hours after the city began installing protective barriers along the path.
President Donald Trump has tweeted out messages calling for the execution of suspect Sayfullo Saipov (sy-foo-LOH' sah-YEE'-pawf). While Saipov's lawyer has said he hopes "everyone lets the judicial process play out."