China, India begin joint training of Afghan diplomats in Delhi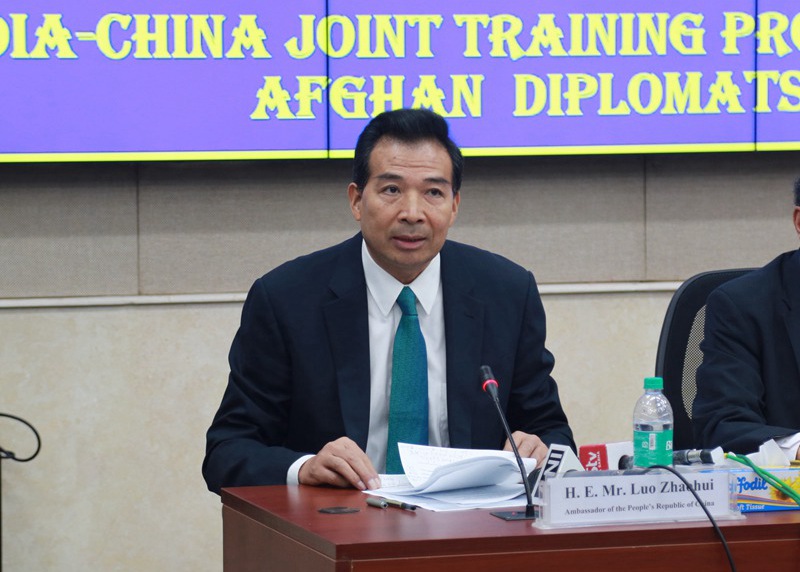 October 15, Ambassador Luo Zhaohui attended the Inauguration Ceremony of the China-India Joint Training Programme for Afghan Diplomats and read out a special congratulatory message from H.E. Mr. Wang Yi, Chinese State Councilor and Foreign Minister for this event. (Photo: official)
NEW DELHI, Oct. 15 (Xinhua) - China and India jointly undertook a ten-day training program for ten Afghanistan diplomats at Delhi-based Foreign Service Institute on Monday.
This is the first such joint initiative being undertaken by India and China for Afghanistan.
Chinese ambassador in India Luo Zhaohui read out a message from Chinese State Councilor and Foreign Minister Wang Yi on the occasion.
The message read: "The launch of this program today marks an important step forward. It reflects the closer coordination and cooperation between our two countries on regional affairs and represents a positive development in China-India relations."
"Afghanistan is an important country in our region. China and India have been active supporters of Afghanistan's peace, and reconstruction process. This Joint Capacity Building Program is an essential part of the international efforts to assist Afghanistan, and marks the start of China-India-Afghanistan cooperation," it added.
On this occasion, the Chinese ambassador said that: "China and India share a lot of common interests and similar stance on Afghanistan issue. Both of us support an Afghan-led and Afghan-owned peace reconciliation process. Both of us uphold that Afghanistan should realize peace, stability and prosperity. Both of us are against terrorism."
Luo also suggested that China-India cooperation could be extended from Afghanistan to other countries, such as Nepal, Bhutan, Maldives, Iran and Myanmar.
Indian External Affairs Minister Sushma Swaraj's message, read out on the occasion, said that the seeds for joint cooperation in Afghanistan were sown at the informal summit between Indian Prime Minister Narendra Modi and Chinese President Xi Jinping when they met in Wuhan in April 2018.
"Today, we see it blooming with the initiation of this training program. This marks the beginning of what we visualize as a long term trilateral partnership for the benefit of Afghanistan," she added.
The Afghan diplomats attending the training program felt elated and excited to undertake the first-of-its-kind training program which, they said, would help them in understanding the issues confronting their country from an international perspective.
Jahan Zeb Salimankhil, a diplomat serving in Afghanistan's foreign ministry for the past six years, said that it was a good and unique experience for them.
"It is a unique experience for all ten of us, of undertaking training at India's 'Foreign Service Institute'. It is all the more important as this is a joint training program of India and China, the two great countries in this part of the world."
According to Salimankhil, after completing this training in New Delhi, they will go to China to undertake a similar ten-day long training program.