Ethiopian ambassador hails strong bilateral health ties
People's Daily
1589858587000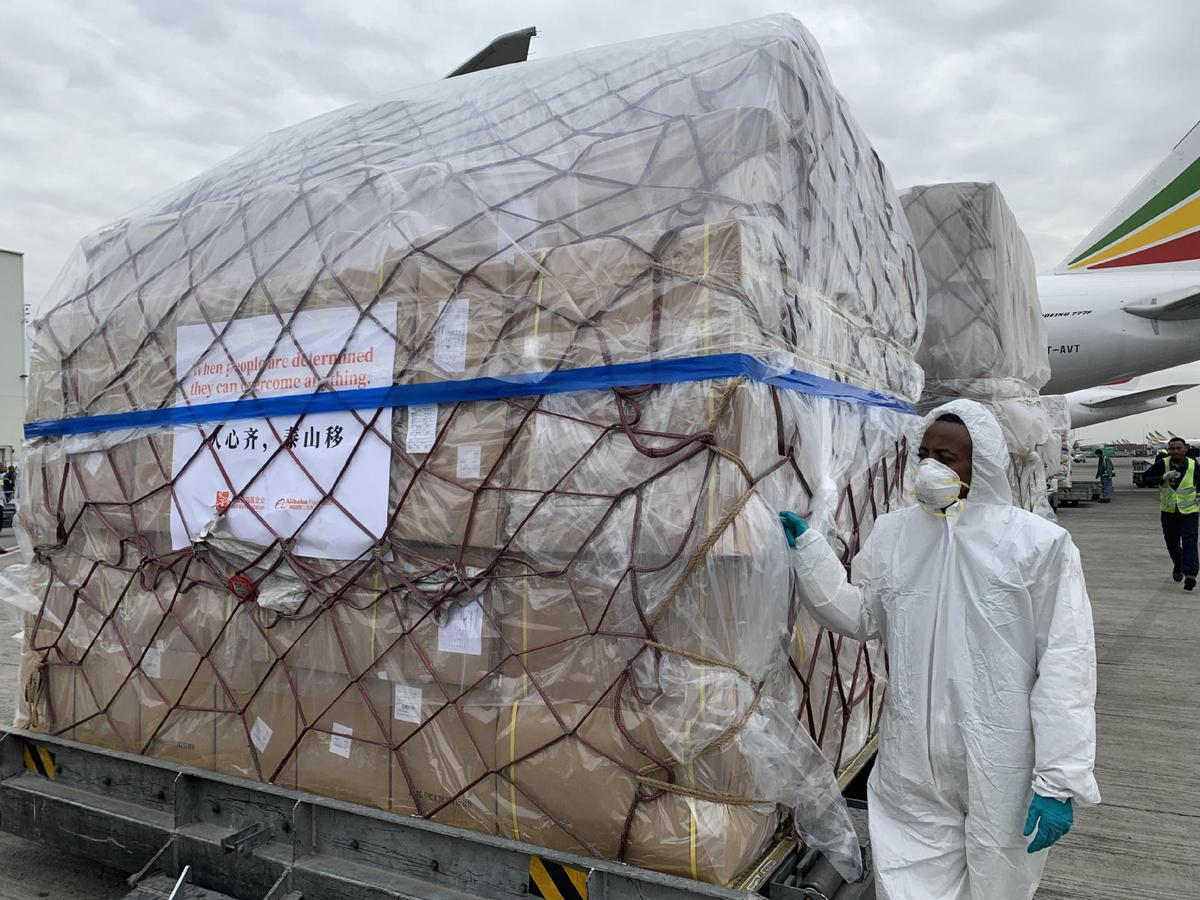 A Staff worker unloads the medical supplies from China at the airport in Addis Ababa, Ethiopia, on March 22, 2020. (Photo: Xinhua)
Diplomatic envoy applauds China's 'unprecedented' response to pandemic
The joint fight against COVID-19 will create more opportunities for China and Ethiopia to strengthen their bilateral friendship, especially in the field of public health cooperation, according to the African country's ambassador in Beijing.
The two countries have actively exchanged information since the outbreak and Ethiopia expects China to continue supporting its public health system and offering assistance on prevention and treatment of the coronavirus, Ethiopian Ambassador to China Teshome Toga Chanaka told China Daily in an interview.
In April, the Chinese government sent a group of 12 medical experts with medical equipment to Ethiopia. Sister cities and provinces across the country have collected medical supplies for their counterparts in Ethiopia. Chinese charitable foundations and enterprises have also donated materials.
Toga noted that COVID-19 has tested the capacity of health systems, political leadership, social systems and cultural values.
He said that the mobilization capability and people's willingness to comply with the directives of the government were a rarely found experience elsewhere and something others can learn from China.
The government, health workers, the Chinese people, the media and all other sectors of society have demonstrated to the world the way to protect lives and deal with such a daunting challenge, he said.
"China has done its part in an unprecedented way," he added.
Based on China's experiences, Toga said Ethiopia has taken a series of measures to combat the disease, such as enhancing public awareness, introducing mandatory quarantine for all international arrivals and suspending social, business and religious gatherings.
As of Monday, there were 317 confirmed cases of COVID-19 and five deaths in Ethiopia, according to the World Health Organization.
Noting that the pandemic is a global challenge and is not confined to any particular territory, the ambassador said that global cooperation and a global strategy are necessary to cope with the disease.
The WHO is well positioned to lead the global response, he said, adding that "it is time for more concerted and coordinated global efforts-isolated and national efforts alone could not do the job well".
Regarding earlier reports of mistreatment of African people in the southern Chinese city of Guangzhou, the ambassador said as there is no policy to target and treat Africans differently and all testing and quarantine procedures and protocols put in place apply to Chinese as well as foreigners. "The happenings in Guangzhou should not lead us to make a generalized conclusion," he said.
He added that there are over 4,000 African students in Wuhan, the nation's hardest-hit region, who have bravely and courageously fought the virus with their Chinese colleagues.
The local community in Wuhan, the universities, the city authorities and volunteers looked after and cared for African students, the ambassador said.
"There were no reports of discrimination because of their origins. I think this is a very important point we cannot forget," he said.
China and Africa should always work together based on friendly consultation and mutual respect, Toga said.