British PM defiant over EU Brexit proposals after bruising Salzburg summit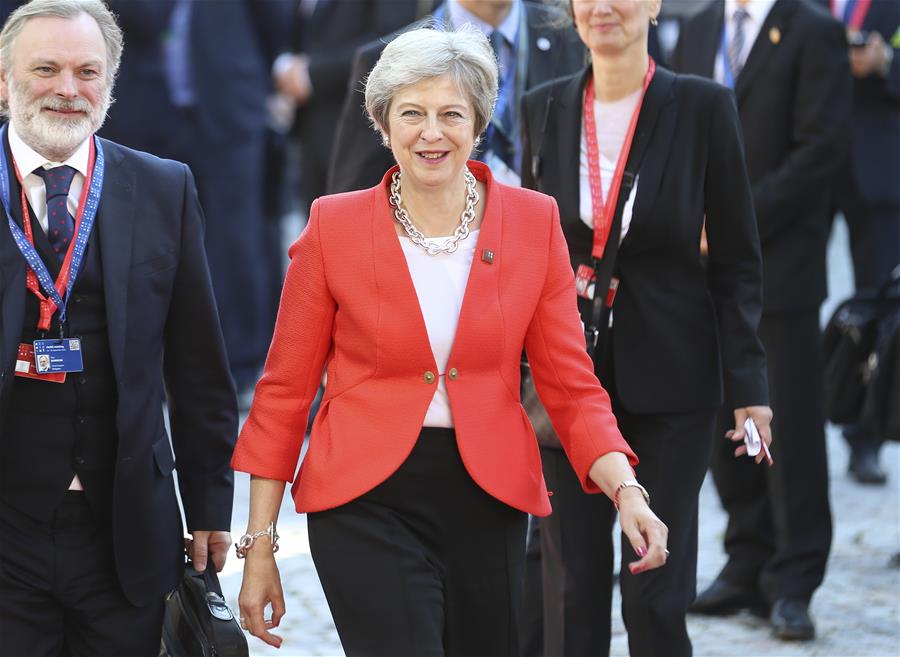 British Prime Minister Theresa May (front) arrives for an informal EU summit in Salzburg, Austria, Sept. 20, 2018. (Photo: Xinhua/Ye Pingfan)
LONDON, Sept. 21 (Xinhua) -- British Prime Minister Theresa May gave her first full reaction Friday following a two-day bruising meeting with EU leaders in Salzburg, making it clear she rejected any Brussels proposals that would mean a border to keep Northern Ireland as part of EU rules and regulations.
In a seven-minute speech in Downing Street, May said she rejected the proposal by the EU for Britain to be part of an EEA area that would tie Britain to all EU rules, including free movement of people.
MAY ASKS FOR EU RESPECT
Media in London reacted to the meeting in Austria, describing the way May had been treated as an ambush.
About the way she had been treated in Salzburg, May said she and British negotiators had always acted with "nothing but respect" and she expected the same from Brussels.
May said it was now up to the EU to explain why they were rejecting her proposals and it was now up to them to put forward their proposals.
She also gave an assurance to the 3 million EU citizens living in Britain that even if there was no deal, their rights to stay would be assured.
At the heart of the wrangle is the so-called Chequers Plan, May's blueprint for Britain's future relationship with the EU after next March. Her plan was drawn up at a meeting of her ministers in the summer at her country retreat, Chequers.
In a stark warning to Brussels, May said: "The EU should be clear, I will not overturn the result of the referendum nor will I break up my country. We need serious engagement in resolving the two big problems in the negotiations and we stand ready."
The June 2016 referendum, she said, was the biggest democratic exercise in British history.
BREXIT TALKS DEADLOCKED
The Salzburg meeting ended with European Council President Donald Tusk saying that although there were some positive elements in May's proposals, the framework she suggested for economic co-operation will not work as it undermined the European single market.
May said the EU Council president "didn't explain how in any detail or make any counter-proposal. So we are at an impasse."
The prime minister admitted that two issues stand in the way of a future relationship deal with the European Union.
The first, said May, is the economic relationship after Britain leaves the EU next March, and the second issue is that both sides need to agree that a withdrawal agreement must include a backstop to ensure that if there's a delay in implementing a new relationship, there will not be a hard border between Ireland and Northern Ireland.
On an economic relationship after Britain leaves, the EU is still only offering Britain two options, said May.
The first option would involve Britain staying in the European Economic Area (EEA) and a customs union with the EU, which means Britain still has to abide by all the EU rules with uncontrolled immigration from the EU and couldn't do the trade deals with other countries.
The second EU option would be a basic free trade agreement for Britain that effectively mean Northern Ireland remaining in the Customs Union and parts of the Single Market, which May said would permanently separate Northern Ireland economically from the rest of the UK by a border down the Irish Sea.
"Anything which fails to respect the referendum or which effectively divides our country in two would be a bad deal and I have always said no deal is better than a bad deal We will never agree to it," she added.
Pressure has been mounting on May on her leadership over Brexit talks. Jeremy Corbyn, leader of Britain's main opposition Labour Party, said: "Theresa May's Brexit negotiating strategy has been a disaster. The Conservatives have spent more time arguing among themselves than negotiating with the EU."