EU's top diplomat calls killing abuse of power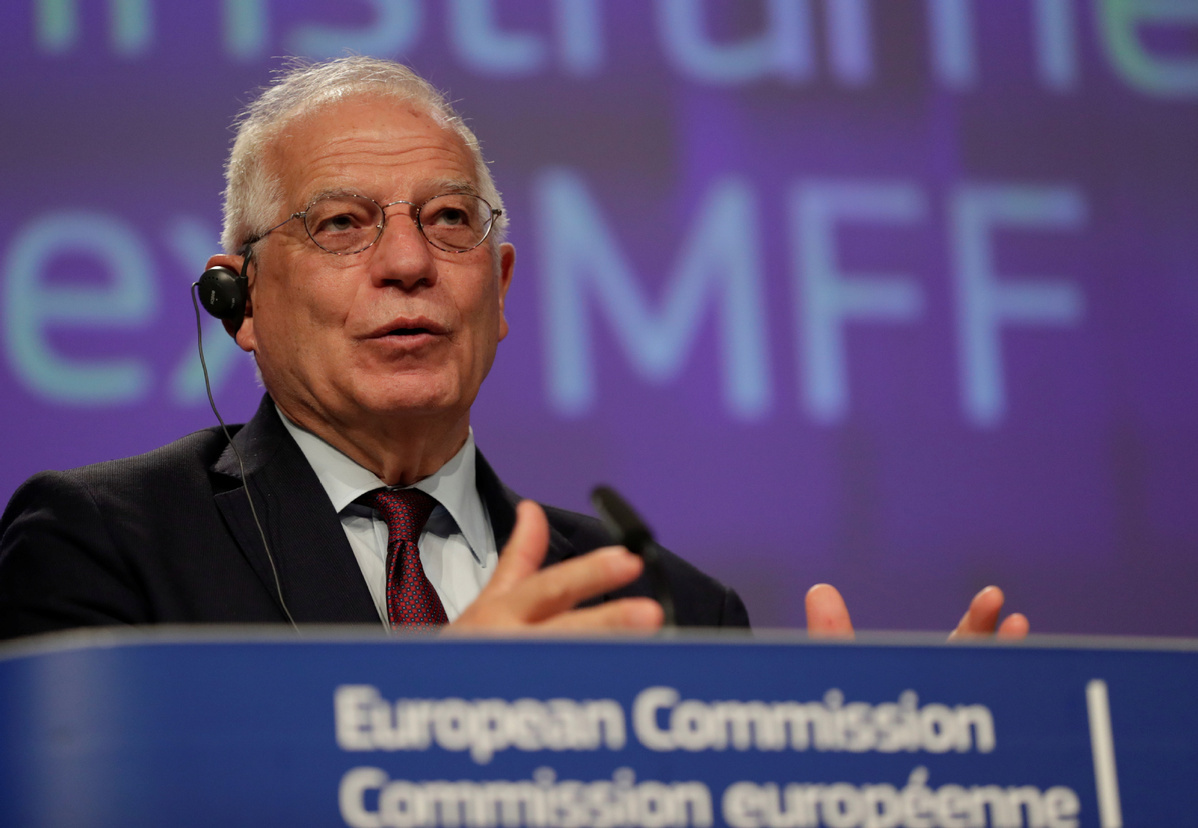 European High Representative of the Union for Foreign Affairs, Josep Borrell speaks during a video news conference on external action of the EU in the next multi annual framework in Brussels, Belgium, June 2, 2020. (Photo: Agencies)
The European Union's top diplomat has condemned the "abuse of power" evident in the death of African-American man George Floyd as protests erupted in European cities against police brutality and racial discrimination in the United States.
Floyd died last week in Minneapolis, Minnesota, after a police officer kept his knee on the right side of Floyd's neck for nearly 9 minutes despite his repeated cries of "I can't breathe".
"We here in Europe, like the people of the US, we are shocked and appalled by the death of George Floyd and I think that all societies must remain vigilant against the excess of use of force," EU foreign policy chief Josep Borrell, a former Spanish foreign minister, said on Tuesday.
"This is an abuse of power and this has to be denounced as we combat (it) in the (United) States and everywhere. We support the right to peaceful protest and also we condemn violence and racism of any kind and, for sure, we call for a de-escalation of tensions," said Borrell, in one of the strongest responses to the protests sweeping US cities over the past week.
German Foreign Minister Heiko Maas said on Tuesday that peaceful protests against police brutality in the US were "more than legitimate" and called for press freedom for those covering the demonstrations.
He was referring to a reporter of German international broadcaster Deutsche Welle, or DW, and his camera operator who were shot at with projectiles by Minneapolis police and threatened with arrest over the weekend.
'More than legitimate'
"The peaceful protest that we see in the US, involving many moving gestures, including by American police officers, are understandable and more than legitimate," he told a news conference on Tuesday.
Maas said he hoped the peaceful protests "will have an impact".
On Tuesday, police fired tear gas on protesters in Paris in an unauthorized demonstration against racial injustice and police violence, according to Euronews.
The protest kicked off peacefully at a courthouse in Paris as around 20,000 people gathered amid global outrage over the death of Floyd.
Protesters in France also demanded justice for Adama Traore, a French black man who died in police custody in 2016.
Traore's family blamed excessive force during his arrest, when he was pinned down by three gendarmes. Successive pathology reports have reached conflicting conclusions over whether his death two hours later resulted from asphyxiation or other factors including preexisting conditions.
Some protesters threw projectiles and set small fires.
Demonstrations were also reported in the French cities of Marseille and Lyon on Tuesday.
On Monday, thousands of people protested in Amsterdam in the Netherlands, and in Dublin, Ireland. They carried signs saying "Black Lives Matter".
Some 3,000 protesters packed Dam Square in the center of Amsterdam, standing close together despite the social distancing measures that had been brought in during the COVID-19 pandemic.
In Dublin, protesters marched on the US embassy on Monday afternoon, chanting Floyd's name and taking a knee at the gates of the compound in a moment of silence.
On Monday, United Nations Secretary-General Antonio Guterres expressed his support for peaceful protests in the US over the death of Floyd, and believed allegations of police violence should be investigated, according to his spokesman.
"Grievances must be heard, but they must be expressed peacefully-authorities must show restraint in responding to demonstrators," Guterres wrote on Twitter. Speaking of diversity, he commented in a following tweet: "In every society, diversity is a richness-never a threat. Racism is an abhorrence that we must all reject."
Agencies contributed to this story.