South Korea's Moon calls for efforts to move North Korea's denuclearization forward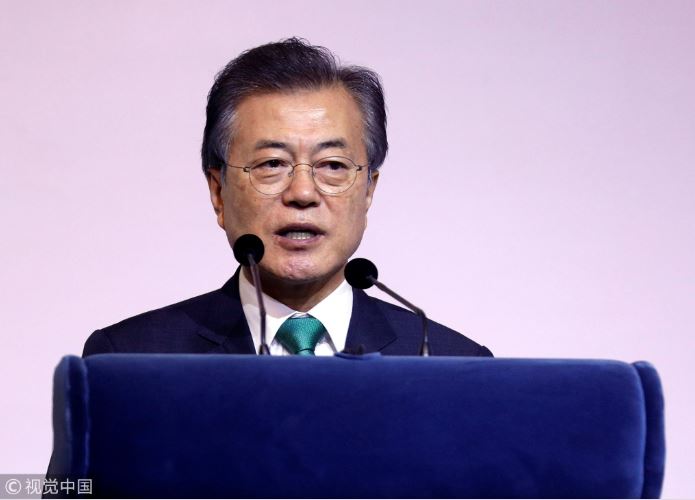 ROK President Moon Jae-in speaks at the ISEAS 42nd Singapore Lecture in Singapore, July 13, 2018. (Photo: VCG)
Republic of Korea's President Moon Jae-in on Friday urged on all sides to move the DPRK's denuclearization process forward, insisting that its leader Kim Jong Un is determined to turn his country into "a normal state."
"I have met Chairman Kim Jong Un twice so far. Chairman Kim had a great desire to break away from ideological confrontations and develop North Korea (DRPK) into a normal country," Moon said in a special lecture hosted by the Institute of South East Asian Studies in Singapore.
"If Chairman Kim Jong Un keeps his promise to denuclearize, he may be able to lead his country to prosperity," added ROK's president who has met Kim twice this year.
A new chapter?
Moon said the denuclearization process would not be easy but that the countries will reach their goal only if they sincerely implement what has been agreed upon by their leaders.
"If North Korea (DPRK) comes up with a more detailed plan for its denuclearization while South Korea (ROK) and the US swiftly take corresponding measures, the speed (of denuclearization) will further increase."
His remarks came amid the recent ambiguous ties between the US and the DPRK because of the stumbling block over how the denuclearization should proceed.
US Secretary of State Mike Pompeo's visit to the DPRK, which represents the highest level meeting between US and DPRK officials since Trump-Kim summit, ended by divergence on the outcome of two days of talks.
Pompeo cited "good-faith negotiations" and progress on central issues, but in stark contrast, Pyongyang slammed US "unilateral and gangster-like" position at the meeting on denuclearization.
Meanwhile, Trump Thursday released a letter he recently received from the DPRK leader Kim and praised the "great progress" in talks with Pyongyang as the US was asking the UN Security Council to punish the DPRK after finding that Pyongyang had violated restrictions on refined oil imports.
Separately, the DPRK's officials did not show up at planned talks with the US Thursday to discuss the issue of returning the remains of American soldiers killed during the 1950-53 Korean War, according to a Yonhap report.
Returning the remains of the troops was part of the deal signed by Kim and Trump in Singapore.
Less than a month after Trump talked about opening "a new chapter," no definite progress has been made so far on a firm timeline or some specifics on DPRK's denuclearization plan.
Normalization of inter-Korean ties
"Normalization of South-North Korea (ROK-DPRK) ties will lead to the normalization of North Korea-US (DPRK-US) ties and the normalization of North Korea-Japan (DRPK-Japan) relations," the president told the lecture.
For two Koreas, as Moon told reporters on Thursday, two sides are making the most of the opportunities they've been given to develop ties.
The first meeting of officials at the colonel level from two sides in more than seven years was held in late June with both agreed to realize restoration of military communication lines soon.
The cross-border family reunion related works and inter-Korean transportation projects are continuously progressed.
Sports ties between the DPRK and ROK are moving closer: four friendly basketball games were played in Pyongyang in early July and the DPRK will also send table tennis players to attend games in Daejeon, ROK, slated to begin on July 17.
The DPRK and ROK athletes will also march under a unified flag for the second time this year during Asian Games next month and field joint teams in three fields of sports.
Bring DPRK back
The ROK's president also called on countries to bring the DPRK back to the international community as a member and economic partners during Friday's speech.
"I hope ASEAN will include North Korea (DPRK) in its various meetings and strengthen the countries' bilateral exchange and cooperation with North Korea, if North Korea faithfully implements its denuclearization measures. We must create a chance for North Korea to fulfill its role as a responsible member of the international community," he said.
The ROK president stressed the importance of support from ASEAN, noting all its 10 member countries have diplomatic ties with the DPRK and believed the DPRK would then in return create new opportunities for ROK, ASEAN and even entire Asian region.
"The establishment of peace on the Korean Peninsula will not stop there, but create a new growth engine for all countries in the region, including ASEAN, by creating a link between the economies of ASEAN, South Korea (ROK), North Korea (DPRK) and Eurasia," Moon added.