Judge admonishes El Chapo's lawyer for opening statement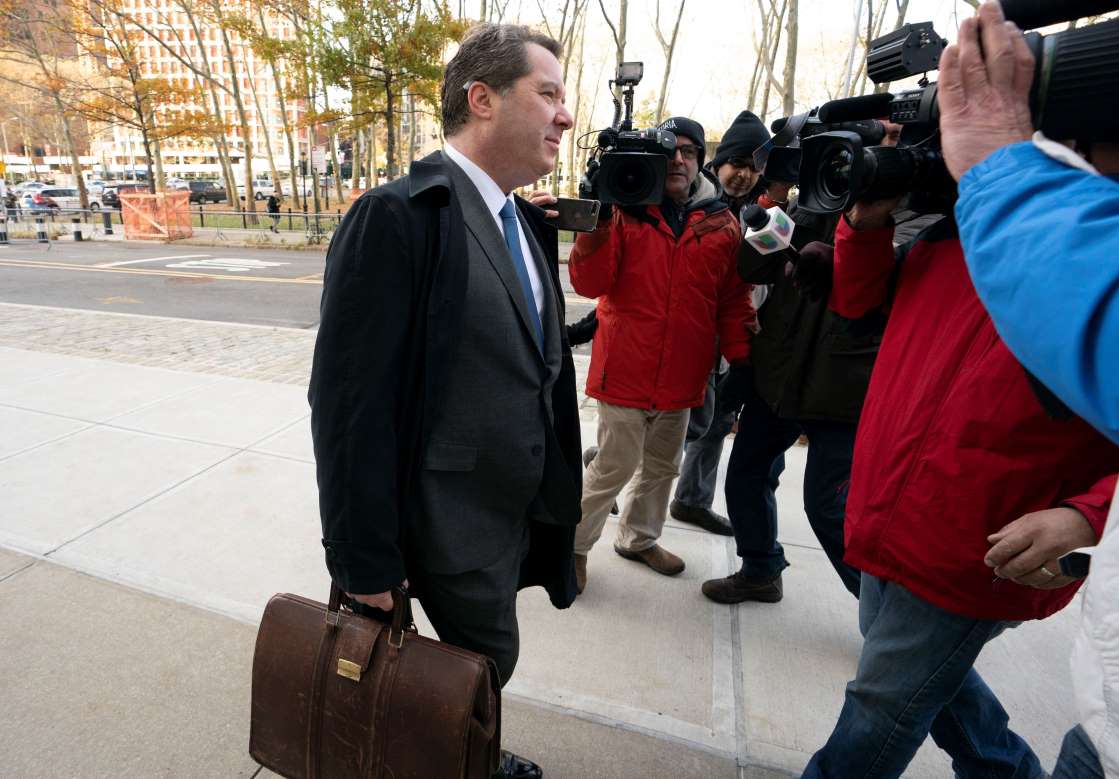 Attorney for Joaquin 'El Chapo' Guzman, Jeffrey Lichtman,arrives at the Brooklyn Federal Courthouse as the trial of Joaquin 'El Chapo' Guzman takes place inside November 14, 2018 in New York. (Photo: AP)

A federal judge admonished the lawyer for Mexican drug smuggler El Chapo on Wednesday after an opening statement that riled Mexican presidents by accusing them of taking bribes.
Federal prosecutors had asked US District Judge Brian Cogan to throw out the defense's opening statement at the New York trial of Joaquin Guzman, saying it was "permeated with improper argument, unnoticed affirmative defenses and inadmissible hearsay."
Cogan stopped short of that Wednesday but admonished defense attorney Jeffrey Lichtman for having gone "far afield of direct or circumstantial proof." He said he would instruct the jury to focus on the evidence.
"Your opening statement handed out a promissory note that your case is not going to cash," the judge said, calling Lichtman's opening misleading.
n his opening statement Tuesday, Lichtman told jurors that US prosecutors had dreamed "for decades" of convicting Guzman, adding "the world is focusing on this mythical El Chapo figure."
Lichtman said his client was not the real leader of a cartel that sent tons of cocaine into the U.S. He sought to shift blame to Ismael "El Mayo" Zambada, another reputed drug trafficker in the cartel's leadership. Zambada remains on the loose in Mexico, Lichtman claimed, because of bribes that "go up to the very top," including hundreds of millions of dollars paid to the current and former presidents of Mexico.
"This is a case that will require you to throw out much of what you were taught to believe in about the way governments work and how they behave, governments in South and Central American and Mexico and even the United States," Lichtman said. "This is a case which will require you to open your minds to the possibility that government officials at the very highest level can be bribed, can conspire to commit horrible crimes— that American law enforcement agents can also be crooked."
A spokesman for Mexican President Enrique Pena Nieto called the allegations "completely false and defamatory." Former President Felipe Calderon dismissed them as "absolutely false and reckless."
Guzman, who has been held in solitary confinement since his extradition to the United States early last year, has pleaded not guilty to charges that he amassed a multibillion-dollar fortune smuggling tons of cocaine and other drugs in a vast supply chain that reached well north of the border.
Despite his diminutive stature and nickname that means "Shorty" in Spanish, Guzman was once a larger-than-life figure in Mexico who has been compared to Al Capone and Robin Hood and been the subject of ballads known as narcocorridos.
Lichtman resumed his opening statement Wednesday, describing "the myth of El Chapo" as "very strong." He said law enforcement agents had his client autograph $100 bills for them upon his arrest.
"Mr. Guzman was somebody who enjoyed the publicity," Lichtman said. "He enjoyed the notoriety."
The defense attorney also described the government's witnesses as liars seeking to mitigate their own jail sentences. "They're here because they want to get out of jail by any means necessary," Lichtman said.
Federal prosecutors gave jurors a video tour of a tunnel between Mexico and an Arizona warehouse — a corridor Guzman allegedly used to speed drug deliveries to America. The warehouse was just two blocks from a US Customs office.
The tunnel was half the length of a football field and large enough that a 5-foot-8-inch man barely had to lower his head to walk through it. It was equipped with electric lights and a hydraulic system to lift away flooring that was covered by a pool table.
Retired US Customs Agent Carlos Salazar, the trial's first witness, told jurors that agents were surprised at how sophisticated the tunnel was. Authorities used heavy tools to smash through concrete, he said, only to realize later that it all would have opened up on the Mexican side with the twist of a water faucet valve.
"We didn't know there was a hydraulic system," Salazar said. "We didn't know the floor came up."