Photo goes viral as Toys R Us closes its remaining stores in the US
People's Daily app
1530266325000
A photo of Geoffrey the Giraffe leaving an empty Toys R Us store with his little suitcase has gone viral, leaving many people heartbroken and nostalgic. This photo has received nearly 300,000 shares on Facebook.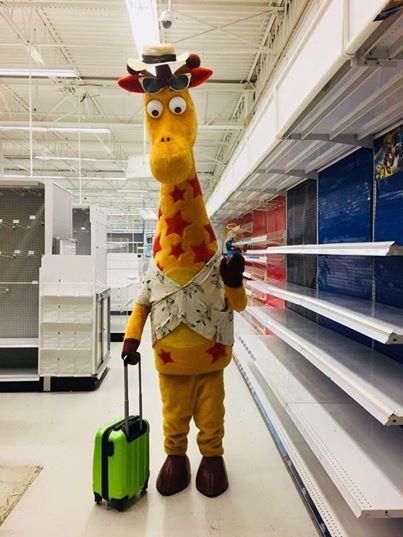 Photos: CBS
Geoffrey the Giraffe was a symbol of youth and happiness, bringing excitement and joy to generations of people for 60 years. Many people were saddened by the toymaker's exit, saying that Toys R Us was a part of their childhood. The absence of the toy store will mark the end of an era and the end of childhood for many.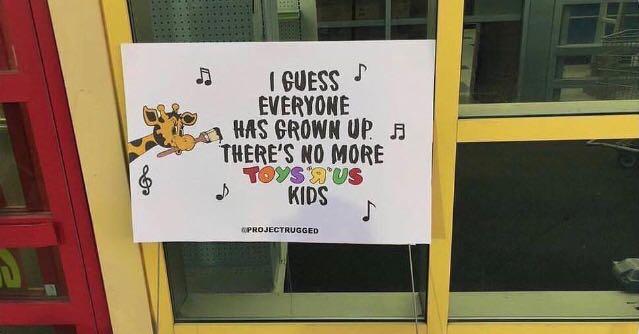 A sign that says "I guess everyone has grown up. There's no more Toys R Us Kids." has people reminiscing the past. Comments filled social media sites in response to the bittersweet message posted on a closed down Toys R Us store.
Toys R Us, a large toy company based in the US, has filed for bankruptcy and is in the process of shutting down its stores. The toy company has been losing customers to rising online stores and other competitors such as Amazon and Walmart. Efforts to increase sales have proven ineffective compared to the cheaper prices and convenience of other toymakers.
The collapse of Toys R Us will significantly impact customers, employees, and competitors in the toy industry. The company plans to close all 800 US stores, leaving 33,000 employees jobless. Loyal Toys R Us customers will also lose their favorite toy store.
At its height, Toys R Us had a towering flagship store in New York's Times Square (now closed) and a ubiquitous icon, Geoffrey the Giraffe. Its catchy jingle, "I don't wanna grow up, I'm a Toys R Us kid," was a long-running television staple. However, the toy giant has fallen, leaving behind empty store racks and wonderful memories.