Mexico's Lopez Obrador claims historic win in presidential election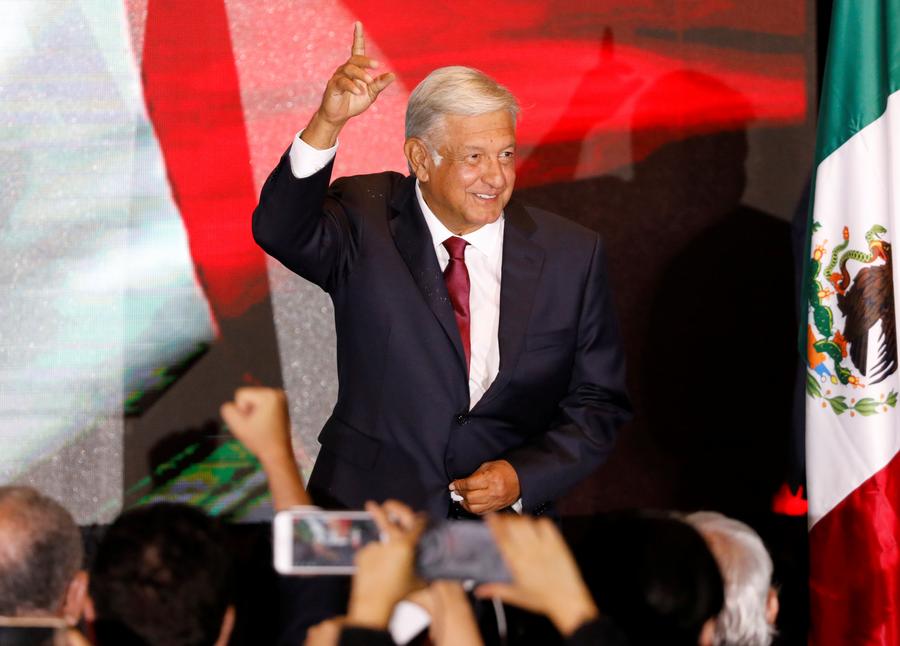 Presidential candidate Andres Manuel Lopez Obrador addresses supporters after polls closed in the presidential election in Mexico City, Mexico July 1, 2018. (Photo: AP)
Mexican voters unleashed a political earthquake Sunday by electing a leftist firebrand as president and giving him a broad mandate to overthrow the political establishment and govern for the poor.
A late-night official quick count from electoral authorities forecast that Lopez Obrador would win with between 53 percent and 53.8 percent of the vote, a remarkable margin not seen in the country for many years. A prominent exit poll predicted that his party allies were poised to score huge wins in the Senate and lower house, possibly absolute majorities in both.
Lopez Obrador, who campaigned on vows to transform Mexico and oust the "mafia of power" ruling the country, rode widespread voter anger and discontent with the governing Institutional Revolution Party, or PRI, of President Enrique Pena Nieto and had led opinion polls since the beginning of the campaign.
The PRI, which dominated Mexican politics for nearly the entire 20th century and recaptured the presidency in 2012, was set to suffer heavy losses not just for the presidency but in down-ballot races as well.
In brief remarks at a hotel in central Mexico City, Lopez Obrador called for reconciliation after a polarizing campaign and promised profound change that respects the law and constitutional order.
"I confess that I have a legitimate ambition: I want to go down in history as a good president of Mexico," said Lopez Obrador, who won after losses in the previous two elections.
"I desire with all my soul to raise the greatness of our country on high." The president-in-waiting devoted much of his speech to appealing to citizens of all stripes and seeking to reassure those who have eyed his candidacy nervously.
Supporters began wild celebrations in Mexico City, cruising up and down the central Paseo de la Reforma boulevard honking horns to the tune of "Viva Mexico!" and waving Mexican flags from car windows and moon roofs.
Thousands poured into the sprawling main square known as the Zocalo, where the 64-year-old former mayor had called on his backers to rally Sunday night. Many danced to the trills of mariachi music.
Lopez Obrador spoke to the crowd there around midnight, saying to loud applause: "Today one stage has ended and we are going to begin another one — we are going to transform Mexico!"
Lopez Obrador, commonly known by his initials, "AMLO," was making his third bid for the country's highest office, having falling short in the 2006 and 2012 elections.
Sunday was the first time that an independent candidate appeared on the ballot.
It was also the first time Mexicans living abroad were able to vote for down-ballot races like senators. More than 181,000 received ballots and the 97,000 that the National Electoral Institute had gotten back by Friday morning were already double the number received in 2012.
Sunday's vote was largely peaceful and electoral authorities reported only isolated incidents.