New military reinforcements arrive in Yemen's Hodeidah to continue fighting
ADEN, Yemen, Nov. 14 (Xinhua) -- Large pro-government army reinforcements arrived in Hodeidah Wednesday to participate in the military operations aimed at seizing the strategic port city from the Houthi rebels despite the international pressure to cease fire.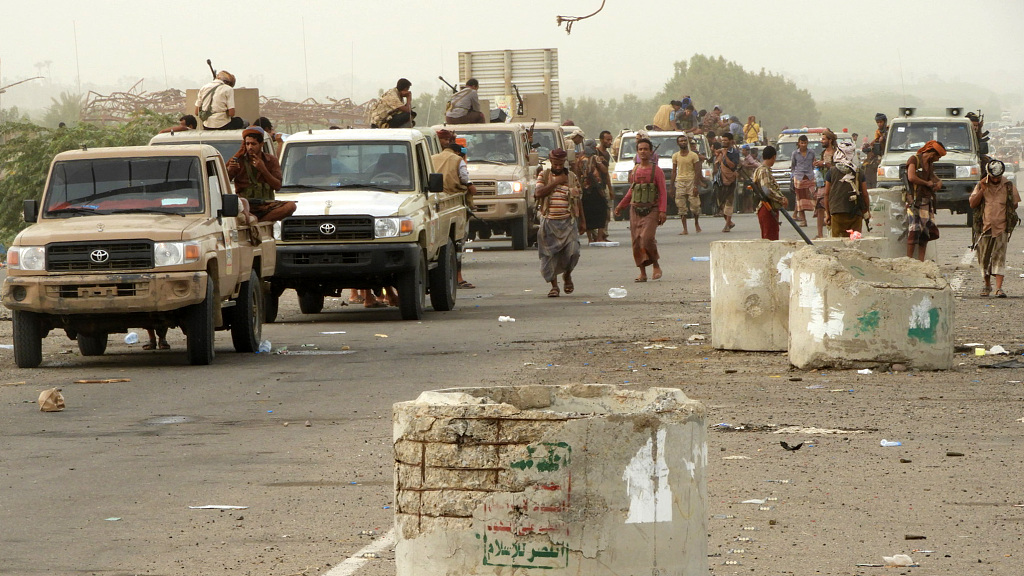 A view of huts sheltering displaced people from the Red Sea port city of Hodeidah near Aden, Yemen November 12, 2018. Pictures taken November 12, 2018. (Photo: VCG)
An army commander loyal to the Saudi-backed government said on condition of anonymity that "the fighting stopped for hours only just to rearrange the soldiers for a new offensive to seize the rest of Hodeidah from the Houthis."
New well-trained army battalions arrived in Hodeidah and will join the next anti-Houthi military assault in order to liberate the strategic Red Sea port city, the commander said.
He confirmed that the armed confrontations with Houthis will continue in Hodeidah and won't stop because it reached "a point of no return."
During the past few days, the government forces made significant progress in Hodeidah despite a large number of landmines and booby-trapped buildings, in addition to professional Houthi snipers who took positions on buildings inside residential neighborhoods, according to local military sources.
The Saudi-backed government forces vowed to continue to push forward in an attempt to seize full control over the city's strategic port, but Houthis face the offensive with stiff resistance.
Yemen's internationally-backed government and Saudi Arabia have repeatedly accused the Houthi rebels of using Hodeidah's port to smuggle Iranian weapons. Both Houthis and Iran denied the accusation.
The Houthis-held Hodeidah port is a main entry point of about 80 percent of Yemen's commercial imports and UN humanitarian aid. The port was still operating normally without disruptions.
The impoverished Arab country has been locked into a civil war since Iran-backed Shiite Houthi rebels overran much of the country militarily and seized all northern provinces, including the capital Sanaa, in 2014.
The government troops, backed by the Saudi-led coalition, have recaptured most coastal areas south of the port city since last July.
The fighting has escalated in Hodeidah following the collapse of peacemaking efforts by the UN in Geneva on Sept. 8, as Houthi rebels refused to attend.
The Yemeni troops have advanced to near the city center in Hodeidah in the past few days, fighting with Houthi rebels sparking nonstop street-to-street clashes that killed nearly 600 people.
Capturing the port city of Hodeidah would be a major victory for the government since the civil war erupted four years ago, and could force the loser to sit down at the negotiation table.